By Mike Searson
Gun writer Mike Searson reviews Radical Firearms RF Silencers lineup and discovers two dirt cheap cans worth owning.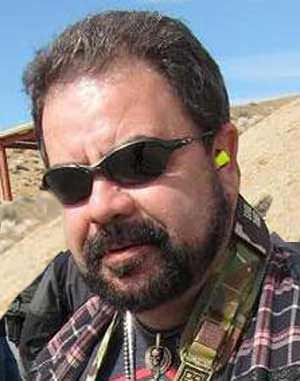 USA –  -(Ammoland.com)- Radical Firearms is mostly known for their value based line of AR rifles.
We built a 300 Blackout Pistol using one of their uppers last year and have been nothing but pleased with our choice.
When they announced a value line of suppressors at SHOT Show 2016, they really got us thinking.
They did not go the route of giving them fancy names like the "Whispering Death " Model or "The Hellion".
They are made without proprietary QD mounts and aesthetically they are a simple black tube with no checkering, fluting, gimping, etc.
Radical Firearm's strictly utilitarian, direct thread suppressors designs are made to be used, period. That keeps the costs down.
We reached out to our good friends at Silencer Shop for some review samples and despite their herculean workload at getting everybody's Class 3 goodies before 41F took effect in July, Silencershop.com pulled through and got us two center fire rifle cans at breakneck speed.
Again, their names belie their simplicity: the Radical Firearms RF-556 is the 5.56 can and the Radical Firearms RF-762 is their 7.62 silencer.
These are completely sealed monocore units and direct-thread. Because they are machined from 304 stainless steel these cans have a bit of weight to them. The Cerakote finish acts as a nice protective coating.
We tried ours on our 300 Blackout Black Friday Frankengun build that we completed last year and on a Stag Arms 5.56 rifle that we had on loan.
Radical Firearms RF Silencers – The Good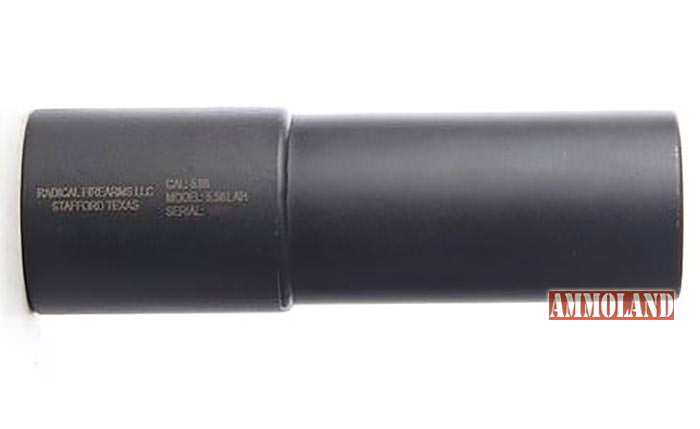 Before you think Radical is some "tacticool" entity based on the price, think again. The company recently became a Tier One supplier to USSOCOM for 150 rifles based on the Mk18 platform, so this little company is now playing with the big boys.
As an avid NFA enthusiast, we like the simplicity of the Radical Firearms RF Silencers designs. Reviewing rifle suppressors that use a proprietary mounting system can be painful when you are testing things out on loaners or even your own firearms and you end up with stuck parts. For that reason our preference is direct thread without the hassles of using Rocksett Adhesive, only to have to remove it in a week or two.
Surprisingly we found the weight beneficial on our 300 Blackout pistol. So much so, that we may look into permanently attaching the Radical Firearms RF762 to the barrel. Should we do this we will add a longer rail to use it as a dedicated suppressed rifle. We may do a BHD Build with an 11.5" A2 upper and go the same route with the RF-556.
Both Radical Firearms RF Silencers took the roar down about 30 decibels. An occasional shot of 5.56 did sound a little louder at times, but that is just the nature of sound.
We did not run the RF762 on a 308 rifle, but ran subsonic and supersonic rounds through the 300 Blackout. The can is suitable for use on a 7.62 X 39 barrel as well.
The Radical Firearms RF Silencers best feature is their low cost: $399 for the RF-556 and $499 for the RF-762. That is MSRP and actual pricing may be a bit cheaper.
Radical Firearms RF Silencers – The Bad
Our main gripe here is the weight issue. We fully felt the weight on the 5.56 rifle, wheras on the pistol it was not as noticeable. The thing is that Titanium costs money as does Inconel and Stellite, not to mention the machining with regard to tooling and labor involved in those materials.
For the NFA super users out there: be advised that these cans from Radical Firearms are not full-auto rated. We may see that in a future model, just not today.
Radical Firearms RF Silencers – The Reality
A few words about baffles and longevity:
Rifle suppressors wear with use, particularly the baffles. Despite the material, they erode over time with every shot. Typically this is from the center, out. As that hole gets wider, the leve of suppression will deteriorate as if you were sandblasting the metal.
Some materials are more resistant to this than others. Stellite and Inconel are at the top of the list and will be more resistant over time. Aluminum alloys are probably the least resistant. Stainless steel makes a good middle ground, but definitely adds weight.
Shorter rifle barrels will increase this erosion as well.
That is not to say that your can will be useless in a year, unless you mount it on an M240 with an 8" barrel and fire hundreds of thousands of rounds every day. [If only…]
The fact is that most shooters will not see this in their lifetime unless they are firing several cases of ammunition on a monthly basis. If that is your category, then you might want to look elsewhere.
If you are looking for a dedicated rifle silencer for occasional use and don't mind the extra weight, these might do it for you.
We found these two as perfectly functional utilitarian cans at a price point that will let any shooter give each rifle its own dedicated silencer. We are fans of running 300 Blackout with 308 suppressors, only so we do not have to worry about destroying a pistol can with an "accidental" supersonic load.
Currently these are available directly from Radical Firearms and Silencershop.com. We think if you are looking for a low cost, dedicated silencer for one rifle, one of these may be your golden ticket. You can easily buy two of these for the cost of a higher end silencer plus the QD mounts to allow two rifles to share one can.
Radical is looking at bringing a mini 5.56 can to market at about 2.5" shorter with a wider dual tube endcap for extra strength. We are looking forward to running that one in the future.
Radical Firearms RF-556 & RF-762 Full Specifications:
Radical Firearms RF-556
Calibers: 5.56 NATO, 223 Remington, FN 5.7
Weight: 20.4oz
Length: 7″
Diameter: 1.5″
Thread Pitch: 1/2×28
Finish: High Temp Cerakote
MSRP: $399
Radical Firearms RF-762
Calibers: 7.62 NATO, 308 Winchester, 7.62 X39, 300 Blackout
Weight: 20.4oz
Length: 8″
Diameter: 1.5″
Thread Pitch: 5/8×24
Finish: High Temp Cerakote
MSRP: $499
About Mike Searson
Mike Searson's career as a shooter began as a Marine Rifleman at age 17. He has worked in the firearms industry his entire adult life as a Gunsmith, Ballistician, Consultant, Salesman, Author and was first certified to teach firearms safety in 1989.
Mike has written over 2000 articles for a number of magazines, websites and newsletters including Blade, RECOIL, OFF-GRID, Tactical Officer, SWAT, Tactical World, Gun Digest, Examiner.com and the US Concealed Carry Association as well as AmmoLand Shooting Sports News.
Home page: www.mikesearson.com
FB: www.facebook.com/mike.searson
TWITTER: www.twitter.com/mikesearson