By Major Van Harl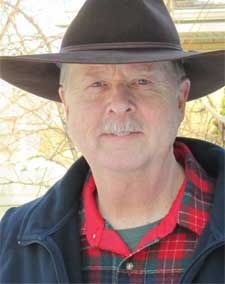 Wisconsin –-(Ammoland.com)- One of my pre-Revolutionary War grandfathers was a Horton from Long Island, New York.
Many of his direct descendants with that surname were in Iowa when the Civil War broke out. Three brothers from Muscatine, Iowa joined the Union Army, Charles, James and Edwin. Lt. James L. Horton became an officer in the 8th Iowa Cavalry.
In August of 1864 the 8th Iowa Cavalry was with Sherman on his march to Atlanta, Georgia. As the Confederates were being pushed out of Atlanta, they fell back to Lovejoy's Station, which was a major supply depot.
Sherman wanted it destroyed and this turned into the last win for the Confederates on the battlefield in the Civil War.
Young Lt. Horton had just taken command of his unit.
On the morning of 20 August, in a rush to arms, he grabbed one of his Sergeant's jackets and rode off into battle. Lt. Horton was killed that day.
He was wounded so many times that he either took a volley of rifle fire or was the victim of artillery grape shot.
Grape shot is where you substitute the large cannon ball for a cloth packet of small rifle balls. When the bag is fired into a crowd of men, it opens up, spreads out and works like a giant shotgun. It is extremely nasty stuff and to this day the military still uses a form of grape shot.
Lt. Horton's body was not really recognizable, but his men knew it was him and they buried their young leader at Lovejoy's Station.
In 1866 James' two brothers drove a horse and wagon team from Muscatine, Iowa to Lovejoy's Station to remove his body from the battlefield grave site and return it to Iowa. On the Iowa State Civil War Monument there is a statue of Lt. James Horton representing the cavalrymen of that state. The family was never really sure it was James they buried until years later at a reunion of the 8th Iowa Cavalry. The Sergeant whose jacket James had mistakenly put on that morning of his death was there to tell the family the story. With sadness the Horton family was relieved.
Several years ago I got a phone call from a man named Hord. He had the pistol his Civil War grandfather had carried and wanted some information on restoring the handgun. We had such an enjoyable time speaking on the phone that we met for lunch later that week. Mr. Hord's grandfather was in the First Texas Light Artillery known as the Douglas Artillery. It was the only Texas artillery unit to fight east of the Mississippi River. My civil war grandfather Private George Bennett (on my mother's side) was in the 24th Indiana Light Artillery. The 24th Indiana and the Douglas Artillery were in multiple engagements, facing off against each other from 1863 to 1865.
On 20 August 1864, the 24th Indiana Light Artillery, the Douglas Texas Artillery and the 8th Iowa Cavalry were all at Lovejoy's Station. There is a good chance that Lt. Horton was killed by canon grape shot, but from whose canon? The battlefield was very fluid and mistakes were made on both sides as to who they were firing at. It was a running gun battle with artillery firing and then moving quickly to a new location to fire again. Artillery units were firing counter battery fire at each other, as well as troops in the open.
Mr. Hord's grandfather was trying to kill my grandfather, and my grandfather Bennett was trying to kill Sergeant Tom Hord. In the process my distant relative Lt. Horton was killed. I can only assume if a Hord had killed a Bennett or the other way round at Lovejoy's Station, I would not have been having a very enjoyable lunch that day. One of us would not have been there.
So what, this is old history? The word is secession.
That was what the eleven southern states did when they left the Union in 1861. Secession is a word I see all too often in today's communication. Texas and secession appear more and more on the internet.
You can laugh it off at first but it really is not funny.
The above story was only a small part of my families' involvement in the Civil War. I had Union and Confederate members fighting on the maternal and paternal sides of my family. I am not sure all the wounds of our last Civil War have completely healed.
With the current political climate and our upcoming election I continue to hear the word secession. I, for one, find it sadly funny as people on both sides say if the other person wins "I am moving to Canada." I have lots of relatives up there and the Canadians do not really want us to move en masse to their country and bring all of our problems with us.
I do not envision States against States and new borders drawn up like back in 1861, but I do believe there will be an increase in pockets of violence and opportunity driven crime.
Fifteen minutes after Obama was declared the winner of his re-election four years ago the phones were ringing off the hooks at the ammunition selling websites. The retail ammo sales went through the roof in hours and stayed there for over two years.
22LR ammunition was nowhere to be found and to this day there is still a shortage.
If you are planning on getting a new firearm for yourself this Christmas I suggest you get your holiday shopping done before the November election.
If "she" is not elected then you simple have beat the Christmas retail rush this year. If "she" is elected and you did not make that purchase, you will be standing in line behind many a desperate and, yes perhaps foolish, potential new, want-to-be gun owner, who will be feverishly trying to buy anything left on the shelf.
Am I using scare tactics and trying to incite panic in the uninformed, and desperately tardy firearms buying consumer base, I truly do not believe so?
Secession is ugly and civil war is even uglier. Be advised the Department of Defense still has grape shot for their artillery in the form of flechettes–known as beehive rounds and they are the ugliest.
Secession is ugly, but long before that ever happened in 1861 there were many a dead American who died at the hands of his fellow American. Died because of politically driven violence, and the fact that so many average citizens were improperly armed and unprepared to defend from evil coming to their door step.
You must ask yourself, can you delay evil?
The Italian banks are about to crash and Italy will most likely leave the Euro, hoping to get out before the entire EU crashes. We in the US are fixing to have a lame-duck in the Whitehouse who cannot or more sadly will not make the right defense decisions to protect this nations. And now, Putin has orders all the non-essential Russian citizens home ASAP.
If you are Russian and living or even studying outside of mother Russian you are expected to get on a plane and get home now. Do not wait until the end of the school semester. This is what the Germans did just prior to invading Poland.
Putin was counting on $100 a barrel oil for years-to-come to pay for the re-arming of the Red army. Oil is not going to get much better for Putin, so why wait. If the EU is going to crash and the US is going to be rudderless for the foreseeable future, then why not act now if you are Russia? You are going to do it anyway.
The minute you hear that Russian planes have landed in bulk on Swedish soil, it will have started.
Suggestion, go to Wal-Mart , buy some fresh ammo and lots of Twinkles (they have a long shelf life).
Ammo is cheap and plentiful for a few more weeks.
Major Van Harl USAF Ret.
About Major Van Harl USAF Ret.:Major Van E. Harl USAF Ret., a career Police Officer in the U.S. Air Force was born in Burlington, Iowa, USA, in 1955. He was the Deputy Chief of police at two Air Force Bases and the Commander of Law Enforcement Operations at another. He is a graduate of the U.S. Army Infantry School.  A retired Colorado Ranger and currently is an Auxiliary Police Officer with the Cudahy PD in Milwaukee County, WI.  His efforts now are directed at church campus safely and security training.  He believes "evil hates organization."  [email protected]