By John Crump

USA –  -(Ammoland.com)- Night vision was once something only the military and the extremely wealthy could afford. During the first Gulf War I remember being in middle school thinking about how awesome it would be to have night vision of my own.
To me it was something out of science fiction that I would never be able to afford, but with everything technology based, the price comes down. Now even I can afford night vision.
I had a chance to acquire a Bushnell Equinox Z 3x30mm digital night vision monocular. I was very curious to see how well these work compared to some of the other night vision devices I have messed around with. With a price point of just over $200 makes it a tempting choice to money savvy buyers
The Equinox Z is much larger than other monoculars I have used. There is no way that it will attach to any type of head mount, but that isn't what it is marketed to do.
It is supposed to be mounted on a tripod or a rifle. It comes with both a tripod mount and a picatinny rail mount. I decided to try both.
It offers daytime color and can record video to a micro sd card. It claims to be able to see to 500 ft with its infrared illuminator. It runs on AA batteries and a cool thing it does have is the video out feature which lets you output the video to another device.
For the price point I was skeptical.
I went out on a clear night with a half moon with the Equinox Z. Without the Infrared illuminator it was hard to see. The illuminator is basically an infrared flashlight. There is adjustable brightness on the illuminator. I had to turn it up to see.
The image was still very grainy. It reminded me of the night vision settings on the video cameras from the early 2000, but a little more grainy.
When I attached the Equinox Z to a tripod it became a little more usable. I could make out more of the surroundings. If the Equinox Z had some sort of video stabilizer it would be a massive improvement.
Even on the tripod I could only make out images out to about 200 ft. This was well short of the 500 ft Bushnell claims. I would see things at 500 ft, but couldn't tell if it was a deer or a tree.
At this point I wanted to make sure the batteries I had were good so I replaced the batteries with a fresh set and repeated the test. The results were identical.
That ruled the batteries out and it seems when Bushnell says you can see out to 500 ft they don't mean that you can make out the target out to 500 ft.
With the fresh pair of batteries I mounted the Equinox Z up to my trusty AR15. There is no built in cross hairs so I had to attach a red dot in front of the Equinox Z. I started from 15 yards.
I was able to acquire the target and score hits. My grouping wasn't as close as using the red during the day. With the daisy chain of red dot and Equinox Z my group wasn't great, but it wasn't bad either.
I moved back to 30 yards and fired again. The Bushnell Equinox Z was able to withstand the recoil and I was still on target. The red dot seemed to be magnified (which makes perfect sense) so it was harder to group my shots. I don't know if I would take a shot at a coyote with this set up from this distance.
I moved back to 50 yards. Again I was on target, but it was exponentially harder at this distance. I am sure, with the Bushnell Equinox Z, I would not take a shot at a coyote at this distance.
The only reason I took this shot at the target was that I could still make out the target and I had a good back stop.
At this point I decided that I could not safely move back any further. Rules of gun safety prevents me from shooting at something I can not clearly see. I put away the Bushnell Equinox Z and headed home.
When I popped the micro sd card in my computer the files were corrupted. I inserted the card into my Gopro and was able to record fine. This means that there was nothing wrong with the card.
Overall with night vision you get what you pay for. If you are going to be using something for hunting the Bushnell Equinox Z is probably not the best option for you.
On the other hand if you just want something to mess around with attached to your rifle or tripod then this may work for you. If you have no plans to attach it to your rifle there are better choices out there for you. This is basically a trail cam that you can attach to a rifle and has a viewfinder.
Bushnell Equinox Z's Score:
Quality 3/5
Ease of Use 2.5/5
Versatility 3.5/5
Value 2/5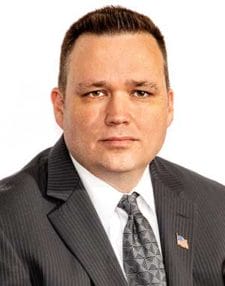 About John Crump
John is a NRA instructor and a constitutional activist. He is the former CEO of Veritas Firearms, LLC and is the co-host of The Patriot News Podcast which can be found at www.blogtalkradio.com/patriotnews.
John has written extensively on the patriot movement including 3%'ers, Oath Keepers, and Militias. In addition to the Patriot movement, John has written about firearms, interviewed people of all walks of life, and The Constitution.
John lives in Northern Virginia with his wife and sons and is currently working on a book on the history of the patriot movement and can be followed on Twitter at @crumpyss or at www.crumpy.com.