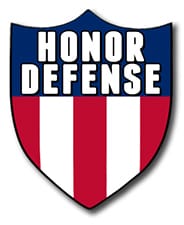 USA -(Ammoland.com)- Honor Defense is excited to announce that StealthGear USA is producing holsters to fit the new All-American Honor Defense pistols.
These StealthGear holsters are available now, in options for all five of the Honor Defense semi-automatic handguns.
"Top quality firearms deserve top quality holsters. We appreciate a top brand like StealthGear USA recognizing the quality and popularity of Honor Defense, and making custom holsters." said Gary Ramey, President of Honor Defense. "Like Honor Defense, they are an all-American start-up business, we share the same values and appreciate the partnership."
"StealthGear USA products pass through 10 to 12 sets of hard-working hands here in American Fork, Utah, prior to being shipped to our customers," said Jason Goates, StealthGear's Sales and Marketing Manager. "Up until the creation of our patented VentCore system in 2012, the firearm holster market lacked thoughtful effort and execution in safety, no-compromise design, and true innovation. We are pleased to work with other American companies that share these same core values and standards, and that very much includes Honor Defense."
VentCore–used on all StealthGear's concealment holsters–is constructed of 100 percent synthetic, non-moisture-absorbing materials and is completely vented for breathability and comfort.
Check out StealthGear's new holsters for Honor Defense handguns on their website.
All Honor Defense pistols are built with high quality standards and feature:
Striker-fired design that can handle +P loads
Trigger has a wide face with a crisp 7lb pull
Short reset for quicker second shot and better control
Ambidextrous slide catch and magazine catch
Available with or without an ambidextrous manual safety lever
Modular system with stainless steel chassis
Custom texture design to provide better grip in all situations
Replaceable back straps to allow customization.
For more information, visit their Facebook page or website.
About Honor Defense:
Honor Defense offers the finest American-made pistols-using only American partners and materials. Honor Defense pistols are built with more features and higher quality standards than other pistols in their size range. To create its pistols, Honor Defense secured input from a panel of professionals that have defended our nation or have extensive credentials in self-defense training.
For more information, please visit www.HonorDefense.com.