By Doug Gilmer
What if you could only own one hunting rifle? What Cartridge would it be in?My answer 30-06 Springfield .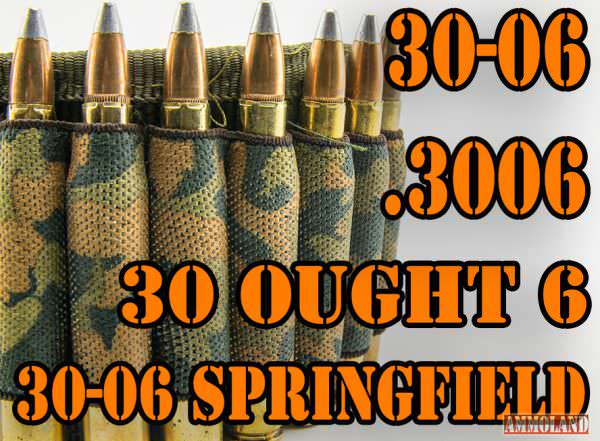 USA –  -(Ammoland.com)- In a previous article I asked the question, "If you could only own one handgun what would it be?"
Well what if you could only own one hunting rifle? What Cartridge would it be in?My answer 30-06 Springfield .
Personally, I've always loved the 280 and 243 Cartridge. I also have fun with and appreciate the utility and compact size of lever action carbines. Still, if I could only own one centerfire rifle to handle all my needs I'd probably choose the time tested, bestselling and utterly boring 30-06.
30-06 Springfield
The 30-06 is dull by today's standards but there is no job it can't handle. Ammo is readily available whether at a big box sporting goods store or the local IGA in Maine.With lightweight bullets it's a varmint, predator or a light recoiling deer rifle. Bullets up to 220 grains are commercially available and often stocked on store shelves in areas where big game like moose and big bears roam. The 30-06 is the most popular big game cartridge in Alaska and is used for everything from deer to brown bear hunting.
Shot placement and bullet selection are more important than paper ballistics. Many Alaskan residents and even more hunters down here in the lower 48 can attest to this.
The 30-06 recoil is tolerable for most and it's a standard length cartridge. You don't need a 26" barrel to make it work; a more compact 22" barrel will do just fine.
There's no shortage of good 30-06 ammunition and there's no shortage of 30-06 rifles.
The 30-06 is chambered in rifles by all major manufacturers. Single-shot, bolt action, lever action, pump and semi-auto actions are available and fit nearly any budget. For me, I'd want a repeater and would opt for the bolt action on account of its strength, reliability, and accuracy.
The 308 WIN offers a slightly more compact shooting platform and is the 30-06's near ballistic twin. There is little difference between the 30 ought 6 & 308 in velocity and down range energy. The 308 is pretty much limited to a maximum bullet weight of 180 grains however. Still, put a well-constructed 180 grain 30 caliber bullet where it needs to go and nothing in North America is going to be able to tell the difference.

The 308 is also widely available, either cartridge is relatively inexpensive. Unless you are buying premium ammo, a box of 20 cartridges can be bought for about $20.

Cartridges such as the 280 and 270 are in the same class as the 30-06. They are highly capable and I've seen moose and bear killed with each. The 280 isn't as readily available and each is limited to 175 and 150 grain max bullet weight respectively. While I love the 280 and the 270 has incredible popularity, my choice is still the 30-06. If I can only have one centerfire rifle I want the greatest versatility I can get.
One of my favorite loads for the 30-06 is Hornady's 165 gr SST Superformance load. This supercharged load combined with bullet featuring a .248 sectional density and a ballistic coefficient of .447 is a long range performer. It carries over a ton of energy at 300 yards and at this distance drops less than seven inches when sighted in dead on at 200 yards.
Your intended use and environment would play a role in your decision if you could only have one hunting rifle. Practically speaking, most hunters in the U.S., at least those of us on the east coast, could do just fine with nothing more than a 30-30. Hunting anything larger than deer or black bear is rare for most hunters and normally shots are well under 100 yards. This is 30-30 territory.
The utilitarian might decide he wants his rifle and handgun to share ammunition as they did in back the late 1800's. In this case, a lever or bolt action 357 or 44 Magnum may be all they need. Again, considering the game we normally hunt and the ranges we shoot, both of these would work just fine while eliminating the need to stock another type of ammo.
I could get by, I think with a pistol caliber carbine or a 30-06 Springfield if I needed to. However, if my plans included a western big game hunt or a trip to Alaska or the Yukon for truly big game, I'd want a rifle in my inventory I knew could bring the power and margin to be successful at long as I did my part.
No the .30-06 Springfield isn't as modern as the 30 Nosler or as big and fast as the 300 RUM. Nor is the old 06 as cool as today's popular 6.5's. It's not a magnum, but who cares? As long as the shooter does his or her part, ethically and within the limits of their and the gun's ability what does it matter? A magnum won't kill an elk anymore dead and the 06 will do it with less recoil, less noise, and cheaper.
It defended our nation, toppled evil regimes and is still in use as a military cartridge today internationally. It is a cartridge sportsman can rely on whether hunting deer over a North Carolina peanut field, elk in the Colorado timber, or moose in the Yukon.
Thank goodness we don't need to choose just one rifle and one caliber, however if one is all we could own, the 30-06 Springfield would be a hard one to beat.
About Doug Gilmer,
Building on his over 20 years of law enforcement and military experience, Doug began writing law enforcement and tactical articles as a way to break into the outdoor market. Today, Doug is published in Grand View Media. He also provides content to a number of other traditional print and digital publications. As a professor of Adventure and Outdoor Leadership at Liberty University, Doug is a mentor to dozens of students each year. He's also a frequent seminar and conference speaker and author of Backcountry Devotions. Also known as the Backcountry Chaplain, Doug and his family make their home in northern Virginia.