By Major Van Harl USAF Ret
Beautiful And Deadly Henry Big Boy And Deer Grenades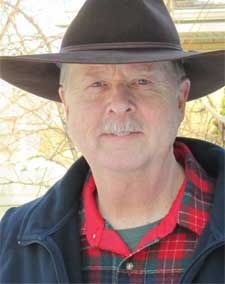 Wisconsin –-(Ammoland.com)-  Beautiful and deadly, it sounds like the title to a 1930s era black & white B-grade private detective movie.
What I am talking about is a Henry Repeating Arms 44 mag lever action rifle.
I know "beautiful" is not a very manly word to use to describe a firearm, but the Henry Big Boy Rifle in.44 Magnum I had in my hands, is a mighty fine looking lever gun.
I have to let you know up front I am biased. The first new store-bought rifle, (not some hand me down or military surplus firearm) I ever purchased was a 44 mag rifle.
I believe every man needs to own and hang onto a 44 mag rifle. I have had 44 mag rifles in the lever action form, single shot, shotguns with 44 mag inserts and TC Contenders made into single shot rifles. I have matching handguns in 44 mag–one of those American western traditions.
However, until Mike Arts, at Shooter Sports Center in Racine WI (shootersonline.com) presented me with, and I opened the box, I had never had my hands on a really good looking 44 mag rifle.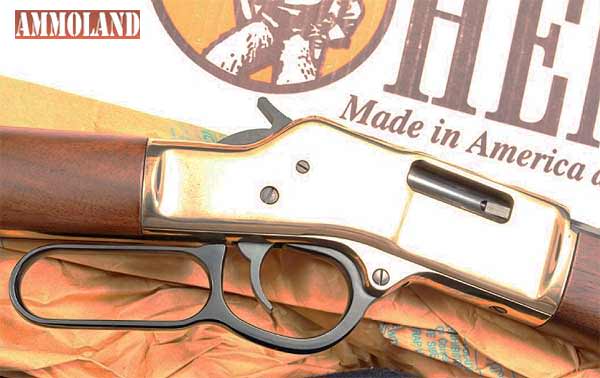 Henry Big Boy Rifle
The light started reflecting off the Henry Big Boy brass receiver as I pulled back the paper the rifle was wrapped in. The wood to metal finish on this rifle is excellent. The Henry Big Boy has a gorgeous hunk of wood on it.
So many rifles today either have a plastic stock or what I call a "pressed banana wood" stock where they use a brown magic marker to make the alleged wood appear to have some character.
It is actually almost a little intimidating or sacrilegious to envision taking this manly, yet handsome firearm into the woods and perhaps get a scratch on it.
I have another lever action Brand-X rifle in 44 mag and it is almost two pounds lighter than the Henry. The octagon barrel on the Henry surely adds to the weight, but the weight makes the felt recoil just that much more manageable.
This is a fun gun to shoot. The action is extremely smooth and allows for very rapid cycling of the next round. The rifle has a tube fed magazine that is different than the other lever action rifles I have, which have a side loading gate on them. Once you have loaded your Henry a couple of times you realize it is in fact easier and quicker to reload the rifle through the tube. It holds ten rounds and one in the chamber, so you are never short of ammunition to take the second, third or fourth shot.
The brass receiver was puzzling to me. I thought brass was soft., so I wanted to know about the brass question and followed up with that question to Henry Arms.
Anthony Imperato, the President of Henry Repeating Arms told me "We use what we call HARDENED BRASS, which has the same tensile and yield strength as steel."
Good enough for me.
Tim Sundles of Buffalo Bore Ammo (www.buffalobore.com) advised me his ammo would work very well in the Henry. Buffalo Bore has a 270 gr. JFN round (4C/20) that should meet all your needs in the lower 48 States. If you live in a state that restricts you to hunting with lead-less bullets then the 225 gr Barnes XPB round (4L/20 ) will fill that requirement for you.
The one that caught my attention was the Buffalo Bore 240 gr soft cast (4F/20) 44 mag +P round, affectionately named the Deer Grenade. It was designed for the deer hunter in mind. In fact if you happen to have a Henry Big Boy lever gun in 45 Long Colt then there is also a 45 Colt + P Deer Grenade round (3K/20).
For those of you who hunt in states that allow you to use rifles, chambered in pistol based cartridges, in shotgun only areas (Indiana comes to mind), Henry Repeating Arms/HRA has a battery of long guns for you. HRA chambers the Big Boy in 44 mag, 45 Long Colt and 357 mag. They all weight the same.
I would suggest having a Big Boy in 357 mag shooting 38 Special could become an addictive plinker replacement for a 22 LR rifle.
In today's ammo buying world, you can find 38 special ammo easier then 22 LR.
When I first pulled the Henry out of the box the Colonel said "OH-shiny." Yes I would say there is a little "bling" with the sparkling brass receive, butt plate and barrel ban, but the real "bling" is the excellent quality of this repeating rifle.
Mr. Imperato's rifle and Mr. Sundles ammo will put meat on the table and keep evil back from the door. Both will do this with superior workmanship and style. Again, I truly believe every man needs to own a 44 mag rifle, and I believe the Henry Big Boy will fill this void in every man or woman's life.
Both the rifle and the ammunition are made in America. In fact Henry is making rifles right here in Wisconsin. Sometimes you just cannot and should not outsource quality to third world production.
Visit HenryRifles.com for more info and images of the Henry Big Boy Rifle in.44 Magnum.
Major Van Harl USAF Ret.
About Major Van Harl USAF Ret.: Major Van E. Harl USAF Ret., a career Police Officer in the U.S. Air Force was born in Burlington, Iowa, USA, in 1955. He was the Deputy Chief of police at two Air Force Bases and the Commander of Law Enforcement Operations at another. He is a graduate of the U.S. Army Infantry School.  A retired Colorado Ranger and currently is an Auxiliary Police Officer with the Cudahy PD in Milwaukee County, WI.  His efforts now are directed at church campus safely and security training.  He believes "evil hates organization."  [email protected]
Read more Henry Rifle Articles on Ammoland