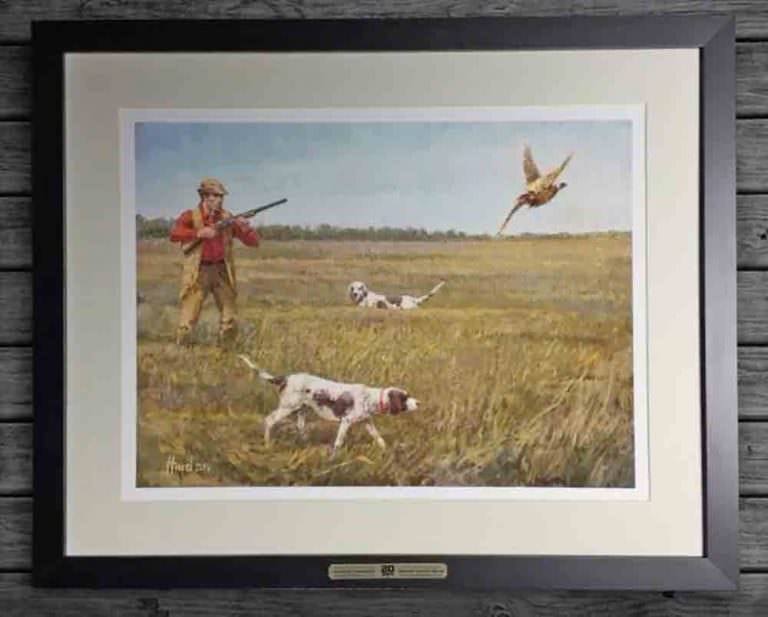 Washington –-(Ammoland.com)- Since 1996, TruckVault has been known as the most trusted name for secure in-vehicle storage.To celebrate TruckVault's 20th anniversary in 2016, world renowned Western Artist Frank Hagel started painting a one of a kind composition called "Pheasant Hunter." The painting has been completed and TruckVault will donate 100 signed print copies to organizations dedicated to raising funds for conservation.
TruckVault partnered with Hagel approximately nine years ago to handle the increasing number of requests they were getting for donated product.
"We could not give away the volume of TruckVaults requested but we still wanted to find a way to help organizations raise money," said TruckVault Marketing Director Don Fenton. "That is when we decided to partner with our friend Frank Hagel and start the Hagel Program. It has been a huge success."
During its nine year run, TruckVault has donated to organizations both big and small, including the National Wild Turkey Federation, Ducks Unlimited, Pheasants Forever, Quail Unlimited and Rocky Mountain Elk Foundation. TruckVault estimates the donated prints have raised more than $400,000 for conservation and other important programs. The estimated retail value of the framed, matted, signed and numbered prints of his latest painting is $1,000 each.
Hagel became a lifelong friend with TruckVault CEO Al Chandler after learning about his company and shared passion for upland hunting. Hagel's interest in TruckVault grew alongside their friendship and when he saw the potential TruckVault products had for outdoorsmen and women.
"I wanted to do something for Al and his company," said Hagel. "Something that would appeal to the people who use his products."
To celebrate the continued partnership TruckVault filmed a short video with Hagel to give the public a glimpse of his amazing story.
For more information on how your organization can obtain a print for your fundraising needs contact Don Fenton or Dave Wertz by phone at (800) 967-8107 or by email at [email protected] or [email protected]
Follow TruckVault on social media, including Facebook at www.facebook.com/truckvault, Instagram at @truckvault_usa, Twitter at @TruckVault, and YouTube at www.youtube.com/user/TruckVault.
About TruckVault, Inc.
For more than 20 years, TruckVault has been building secure in-vehicle storage solutions for sportsmen, law enforcement, and commercial use. TruckVault has been recognized throughout the years as a leader in firearms safety and as a producer of top-quality products, including being granted the shooting Industry Academy of Excellence Award for Accessory of the Year in 1999 and Safety Product of the Year in 2004 and 2006. In 2008, TruckVault was awarded the Cygnus Innovation Award. For more information go to www.truckvault.com.