by Jim and Mary Clary
The Clarys review the CRKT Woods Chogan T-Hawk and find great value and design.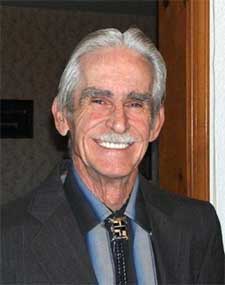 U.S.A. –-(Ammoland.com)- Ryan Johnson of RMJ Tactical in Chattanooga, TN, has been designing and refining his tactical tomahawk designs for the past thirty years. Most folks will agree that his designs are the best of the best.
His Woods Chogan T-Hawk, is NOT standard issue in the U.S. military (but it should be). However, several Special Forces units and Rangers are allowed to carry them into combat.
Ryan decided that a "civilian" version of his T-Hawk would be really useful for campers, backpackers and hunters heading into the hills for a few days. With that in mind he designed the Columbia River Knife and Tool Woods Chogan. It reminds us a bit of a Cherokee tomahawk, a great cutting surface in front and a hammerhead at the back for tent stakes. The 1055 Carbon Steel head is hot forged to a hardness of 50-55 RHC.
The primary and secondary edge bevels are flat ground for efficient cutting. It is ideal for chopping, without chipping; but can be re-sharpened easily with a hand stone.
We have already used the Woods Chogan T-Hawk around the farm for chopping and driving nails into fence posts. Two great tools in one at a very affordable price. And, the lacquer sealed Tennessee hickory handle promises years of service without splintering.
Knowing that most outdoorsmen would want this tool readily available, rather than tucked into a backpack, Ryan designed a leather sheath with belt loops for convenient carrying. We even figured how to easily attach the sheath to one of the MOLLE loops on the outside of Jim's backpack. (He doesn't like anything hanging from his belt except a knife and pistol). With the Woods T-Hawk securely attached to the outside of his backpack, it was still readily available.
CRKT Woods Chogan T-Hawk Features and Specifications
Model number: 2730 Woods Chogan T-Hawk
Designer: Ryan Johnson
Type: Two-handed Camp Axe
Blade length: 4.21 inches
Blade width: 0.52 inches
Grind: Flat
Blade finish: Hammered
Blade material: 1055 Carbon Steel
Hardness: 50-55 HRC
Handle: Tennessee Hickory (made in USA)
Sheath: 6/7 full grain leather (made in USA)
Overall length: 19.13 inches
Weight: 2 lbs 1.4 ounces
Country of origin: Taiwan
2017 MSRP: $69.95 for T-Hawk / $24.99 for leather sheath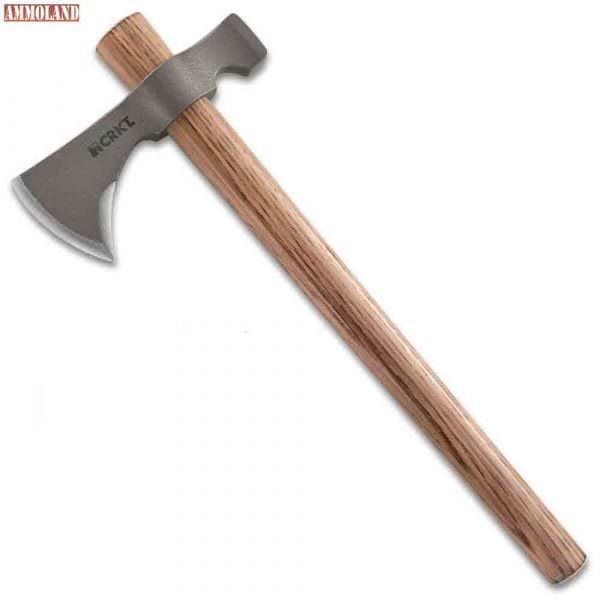 The entire package, CRKT Woods Chogan T-Hawk and sheath, has an MSRP of $94.94. ( less online ) You can pay more and you can pay less of "similar" tools, but they will not be of the same quality or as good as Ryan's. The "Woods-Hawk" now part of our regular hunting and camping gear… it is that good.
---
Bonus Video Review:
---
About Jim and Mary Clary:
Jim and Mary Clary have co-authored over three hundred and fifty articles, (and counting) on shooting and hunting. You can read many of them on AmmoLand News.