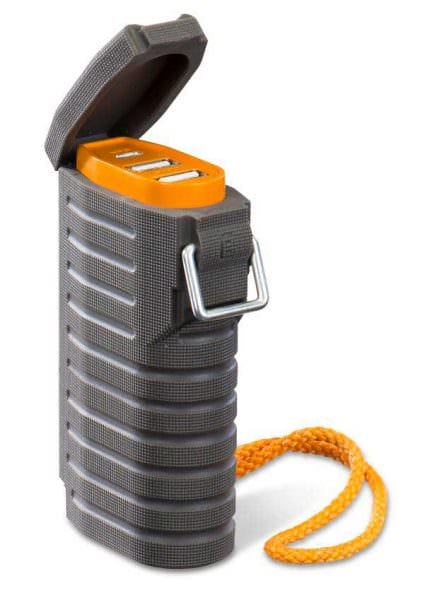 USA -(Ammoland.com)- From the hardcore outdoor enthusiast on a two-week backpacking trip to the executive ditching the office for a weekend family rafting adventure, going off the grid does not necessarily mean leaving all electronics at home these days.
Digital cameras, handheld GPS units, tablets for reading and movie viewing in the tent at night, these devices all need a power source.
But, like all gear used outdoors the battery charger that keeps these devices fueled needs to be able to stand up to all types of environmental conditions. myCharge has created its new All Terrain line of portable power chargers specifically for rugged use.
All Terrain battery chargers are encased inside an insulated and ruggedized exterior case with a flip lid that latches closed to seal off ports. The unique design of the All Terrain chargers protects them from drops up to three meters. If accidentally immersed in water or if liquid is spilled on an All Terrain, it will remain waterproof for up to one hour at depths as great as two meters.
The insulation built into the case of the All Terrain chargers protects the batteries inside from extreme heat and cold guarding against degradation and a loss of power. And, when latched closed even the smallest grain of sand will not be able to work its way into the port on the All Terrain.
Constructed to meet military-grade specs and available in 3000 mAh and 6000 mAh versions, the All Terrain battery chargers provide enough power to recharge smartphones, tablets and other mobile electronic devices.
The All Terrain has a maximum power output of 2.1A via one USB port connection, while the All Terrain Plus pumps out 3.4A of power across two USB ports for dual charging purposes.
Both devices can be connected to a wall outlet, car adapter or computer for recharging, using the included micro-USB recharging cable.
"Spending a weekend camping in the woods, riding four-wheelers in the desert or fishing with friends on a boat in the middle of the ocean no longer means cutting the cord with your electronic devices," said myCharge President Jim Dara. "While disconnecting can be a stress reliever, there are also situations when you might need a backup power supply to take an amazing photo or pull up directions home on your GPS. That is where the All Terrain product line steps in to provide the power needed with the added assurance of a device that can withstand the demands of an outdoor adventure."
myCharge has engineered unique technologies that make its portable power solutions incomparable to other products on the market.
These unique features include:
Hyper-Charge charges smartphones – including the new iPhone 6 Plus – up to 30 percent faster than the Apple-supplied charger.
Safe Cell Technology delivers 12 layers of battery and device protection against over-charge, under-charge, over-current, over-temperature and short circuit.
Rapid Recharge Technology recharges myCharge power banks up to four times faster than competitor's chargers.
Power stay Technology retains up to 60 percent of a full charge for up to one year.
SmartSense Technology ensures device compatibility eliminating those annoying "not compatible" messages as seen from many chargers in the market.
Parallel Charging Technology simultaneously charges a mobile device and the charger at the same time, minimizing total charge time.
The All Terrain line of battery chargers are available for purchase via the myCharge website and at retailers nationwide. The All Terrain retails for $39.99 and the All Terrain Plus retails for $59.99.
About myCharge:
myCharge, innovators in portable power create the ultimate portable power solutions for anyone, anywhere who needs to stay charged. Incorporating the highest quality components, cutting-edge design, and smart technologies, myCharge responds to the latest technological advances by providing products dedicated to restoring everyday balance and fulfilling consumer needs in today's on-the-go, always connected, digital society.
More information about the All Terrain chargers and the entire myCharge product line can be found at their website.