by Phillip Evans : Opinion

Florida , USA –  -(Ammoland.com)- I understand that it is generally illegal to openly carry a holstered pistol, such that the pistol itself is visible, and that Florida state law defines a "concealed firearm" as follows:
"790.01 (2) 'Concealed firearm' means any firearm, as defined in subsection (6), which is carried on or about a person in such a manner as to conceal the firearm from the ordinary sight of another person." (emphasis is mine)
However, licensed-to-carry citizens in Florida who would like to have the right to carry openly do, I believe, have some options available to them, that would be the next best thing to open carry, even while not fishing, camping, or hunting.
If I'm mistaken about any of the following four points, please correct the record: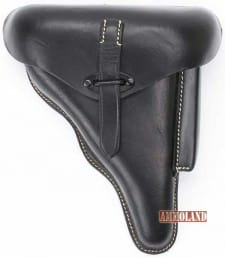 While concealing a firearm, a citizen may wear a t-shirt with the words, "Lawfully Concealing" or "Licensed & Carrying", with a graphic of a pistol printed on the t-shirt. Or any other similar peaceful message may also be worn.
A citizen may openly wear a pistol-shaped holster if that holster essentially conceals all parts of the enclosed pistol. Such a holster would have some type of lid that could close and conceal the pistol inside it. The P38 holster is one such holster.
Ammo magazine carriers may be worn openly.
A fabric "sock" can be placed over a holstered pistol such that the pistol is covered, even though a graphic representation of a pistol is printed on the fabric.
The reasons for the above First Amendment expressions that indicate that one is armed in public, are as follows:
It allows for the enjoyment, for the most part, of crime deterrence that actual open carriers of firearms enjoy in 45 states where either licensed or unlicensed open carry of sidearms is legal.
It shows the public that just because one cannot see a firearm that it does not mean that firearms are absent, and therefore may help to convince people that laws penalizing licensed-to-carry citizens who dare carry openly, are frankly stupid laws.
It may serve to embarrass state politicians who talk a good game of supporting our Second Amendment Rights, but who through political maneuvers keep infringements in place out of fear of hurting the tourist industry. When tourists see First Amendment expressions that people are lawfully armed, and they still visit Florida, then even the illusion that open carry would cause a loss of revenue will vanish.
So essentially, First Amendment expressions that indicate one is armed is a form of legal protest to demand that our rights be restored.
Please keep in mind that peaceful and lawful exercises of the First and Second Amendment DO NOT rise to the level of Reasonable Articulable Suspicion required to detain anyone under color of law.
Please make sure that your deputies and officers are either already trained, or receive any needed additional training to ensure that the peaceful exercise of First and Second Amendment Rights outlined above do not result in any detainment or arrest of a lawful carrier of a firearm who merely carries in a concealed, although advertisement-style manner, while otherwise going about his or her lawful business.
I understand that the you may receive a slight increase in the number of MWAG (man with a gun) calls coming into 911 as a result of citizens exercising one, or a combination of the four options of advertisement-style carry listed above, simply because this will be new to the general public.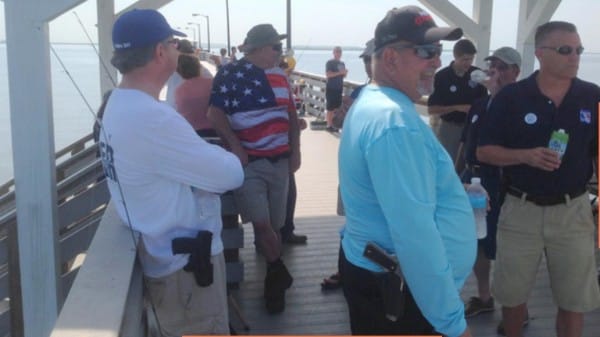 This form of protest is not intended at all to make your job more difficult or to spark any sort of confrontations between citizens and law enforcement. Anyone lawfully carrying a firearm should always be polite to everyone. And Florida's licensed-to-carry citizens live by this overwhelmingly every single day.
Citizens who exercise their right to carry concealed "out in the open", simply prefer that the government remove all penalties for the exercise of a right, especially since they have gone through the time and expense to obtain a license to do so.
Is there ANY OTHER Constitutional Right where the government charges a fee and imposes a mandated training condition, then demands that citizens exercise it in secret?The Florida ban on open carry by licensed citizens is an infringement that must end now.
About Phillip Evans:
The author is a self-defense rights advocate and member of the NRA, GeorgiaCarry.org, and FloridaCarry.org, and posts at PursuitOfPatriotism.Blogspot.com.