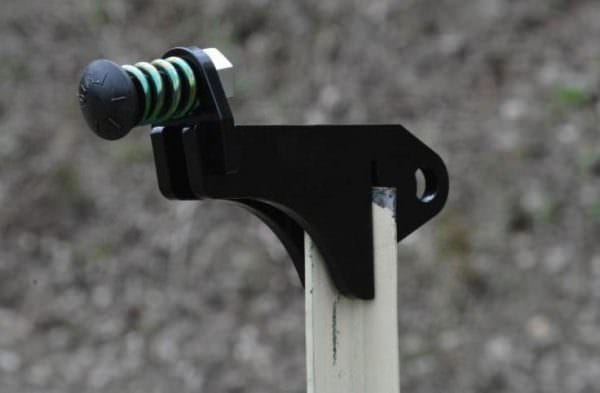 USA -(Ammoland.com)- Competition Target Systems (CTS Targets) has declared the T-Post Pro Hanger as its best pick for retailers. With 35 percent in sales growth over the previous year, the T-Post Pro Hanger is quickly proving to be a favorite among the many retailers that carry the CTS Target line.
The smart design is what has made the T-Post Pro Hanger a #1 product for CTS. Made of AR500 steel, the hanger is tough. Users report the T-Post Pro Hanger easier to mount than others, thanks to a tapered opening that provides tolerance for less-than-perfect posts and allows the weight of the target to hold the hanger snugly in place.
Public ranges have begun to adopt the hanger as well for safety features, which include an integrated downward-facing target angle and high-strength spring. Combined, these features prolong target life and reduce the chance of a ricochet by absorbing some of the impact energy. These features also help direct spall down toward the ground, increasing safety.
"The T-Post Pro Hanger provides an easy-to-use and cost-effective way to mount targets without the need to haul or install a traditional base," said CTS Targets President Matt Teske. "It makes for one of the easiest ways to set up an impromptu target and one of the least expensive ways to build multiple targets."
A closer look at the engineered features that have made the T-Post Pro Hanger a hit with consumers.
CTS Targets designs and manufactures AR500 steel targets and mounting solutions for both the recreational and professional shooter. Setting CTS apart is a sharp focus on design quality and shooter safety as demonstrated with their innovative target mounting solutions.

About Competition Target Systems:
Combining high quality AR500 steel with simple, yet innovative designs, CTS Targets has created superior quality products at an exceptional value. Whether you are looking for a simple, portable target that lasts, or a variety of targets to sell in your retail store, CTS Targets delivers.