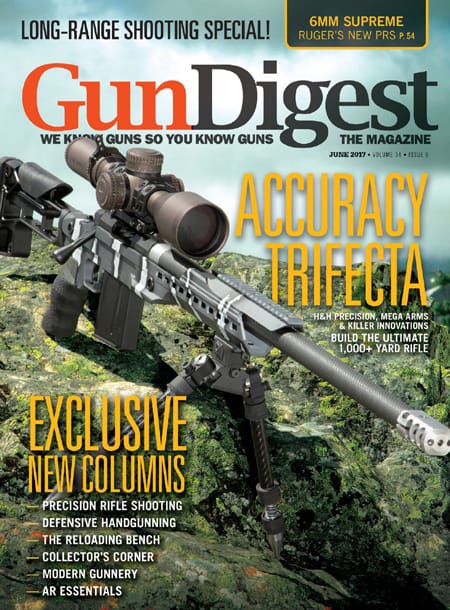 Zephyr Cove, Nevada —-(Ammoland.com)- Gun Digest the Magazine, a property of Gun Digest Media, LLC, has announced a significant expansion to its flagship title. Beginning with the June issue, several notable columnists will be lending their expertise to the magazine's pages, reinforcing the Gun Digest promise of "We Know Guns So You Know Guns."
These new columns and partnerships with key subject-matter experts add to the extensive firearms coverage the Gun Digest brand has been known for during the past 73 years.
New columns and authors include:
"Defensive Handgunning" with handgun authority Richard Mann
"AR Essentials" with personal combat firearms instructor Tiger McKee
"Precision Rifle Shooting" with former special-ops sniper Ryan Cleckner
"The Reloading Bench" with handloading and ballistics expert Phil Massaro
"Collector's Corner" with Standard Catalog of Firearms Editor Jerry Lee
Additionally, "Modern Gunnery," a staff-written, tech-based column, provides a unique combination of how-to information paired with coverage of the firearms industry's most technically advanced innovations.
"We're proud to be working with such a respected group of columnists," said Jim Schlender, Gun Digest Media publisher. "These guys are the 'A' team in firearms writing, and their contributions will bring our readers fresh and timely perspectives on the ever-changing world of firearms."
The June 2017 issue of Gun Digest the Magazine with expanded coverage will hit newsstands and subscriber mailboxes during the second week of June.
About Gun Digest Media
Gun Digest has been the firearm industry's premier publishing brand since 1944. In addition to the Gun Digest Annual, the imprint is home to the Standard Catalog of Firearms pricing guide and more than 150 active titles on handguns, rifles, shotguns, shooting, reloading, gunsmithing, self-defense, and firearms history. Additional Gun Digest Media properties include Gun Digest the Magazine (published 18 times annually), Modern Shooter TV, GunDigest.com and media channels on Facebook, YouTube and Instagram.