by Duncan Johnson
AmmoLand editor Duncan Johnson gets some exclusive trigger time with LWRC International at their private island shooting range. If you thought you don't need a new rifle, you will now.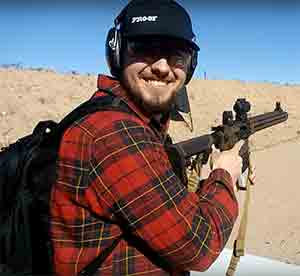 U.S.A. –-(Ammoland.com)- Do you want to drive a 1969 Pontiac GTO Judge or a Toyota Prius? Is getting from A to B all you are concerned with, or are you trying to ride American greatness? This is not a conversation about cheap cars or guns, this is about the highest quality manufacturing to give you everything you want in a rifle, and nothing you don't.
Last week I had the chance to visit LWRC International's factory in Cambridge, Maryland, seeing first hand how they make their lowers, uppers, cold-hammer forged barrels, spiral fluted barrels, quality check facility, assembly, Cerakote, and again quality check every rifle. Machines hummed and Americans worked, cranking out rifle after rifle. Freedom abounded, I felt my heart throb and my gun safe yearn to make space.
Modern sporting rifles, AR-15s, scary black guns, whatever you want to call them, one thing we can all agree on is that you get what you pay for. You can find them cheap, you can build them yourself on a budget, or you can drop a few extra dimes and purchase one of those gorgeous honeys you see sitting on your gun store's wall. For those in the market for their next top shelf rifle, you have to check out LWRC International.
LWRC International
LWRC International produces some of the finest rifles I have ever laid my hands on. How is that you ask?
To start, there are only a handful of companies producing cold hammer forged (CHF) barrels for AR pattern rifles and LWRC is one of them. CHF barrels are very accurate and also extremely durable as a result of the intense machining required to hammer a blank piece of steel into a rifled barrel. In case you don't know this process here is a quick overview:
Cold meaning the process does not use heat,
Hammered by four pieces of angled metal blocks that shape the blanks into barrels, and
Forged by the mandrel and reamer to add rifling and chambering
If it wasn't enough that they cold hammer forge their barrels they also provide the option of spiral fluting. For those bent on tradition, you can still get your CHF barrel with the standard profile. But for competition shooters, hunters, pretty much anyone concerned with the overall weight of their rifle, then spiral fluting is a pretty flashy way to cut down on a few ounces.
LWRC Int. provides options to suit every shooter's needs, including ambidextrous controls. This is something people throw around a lot when they talk about AR platform rifles. Typically this means the charging handle and safety are located on both sides of the rifle. LWRC International has gone the extra mile by placing the magazine catch on both sides as well as the mag release. This is a huge improvement for AR rifles, with the magazine catch on the right side of the rifle it can be activated without removing your hand from the grip.
These are premium built rifles with a higher cost your average mil-spec rifle. But as a buyer, you need to understand that LWRCI also manufactures 85% of parts in-house. What they can't already build there, they just order a new machine for to start building. As a result of their rapid production, they recently installed one CNC machine specifically for future prototypes, like the famous LWRCI SMG-45, or the 3-gun ready model I shot at the NSSF Fantasy Camp.
LWRC International Rifles, So how do they shoot?
Very, very well, so well that I want all three that I shot for myself. The LWRCI-DI, the SIX8-A5, and the brand new REPR MKII are nice to look at, nice to handle, and nice to shoot.
Both the SIX8 and the REPR MKII are ideal choices for anyone looking to shoot at longer distances than a .223 or 5.56 can reach. Whether you are a hog hunter or sniping targets from 500 yards and beyond, these rifles will get the job done.
The SIX8 was designed to meet the requirements of the U.S. Army's solicitation for a new weapon system with a rifle caliber capable of dealing with long distance targets. Along with developing this rifle, LWRCI partnered with Magpul in order to develop the first polymer magazine for the 6.8 SPC cartridge. Comparable to the 6.5 Creedmoor, the 6.8 SPC does not sacrifice carrying capacity or velocity and delivers a longer range of effectiveness out of the rifle. The Razorback II action is cycled by LWRCI's short-stroke gas piston and features a two-position gas block, allowing the rifle to run suppressors with ease. The SIX8-A5 Razorback II had manageable recoil, slightly more than a .223/5.56 rifle, and worked flawlessly.
When you have an AR or two then you start to look at bigger caliber rifles as your next addition to your safe space. If you are looking at picking up a rifle chambered in .308/7.62 NATO, then you may want to wait around for the REPR MKII to hit the market. Leaving behind the reciprocating bolt handle from the MKI the REPR MKII features a monolithic upper and fully ambidextrous controls found on the other AR pattern rifles offered from LWRCI. The REPR MKII also makes use of the short stroke gas piston system and has an adjustable gas block. I only had a chance to put a few rounds downrange with this rifle, but I am itching for the chance to get my hands on it again.
Overall my favorite to shoot was the LWRCI IC-DI. This rifle is their direct impingement rifle or AR-15. The configuration I shot featured their new M-LOK handguard, spiral fluted barrel, fully ambidextrous controls, and a very nice OD green cerakote finish. Topped with an Aimpoint Micro T1 red dot sight, this rifle was smacking steel with easy repetition from 100 yards. The handguard was very light, which helped keep the weight of the rifle over the receiver, rather than your off hand.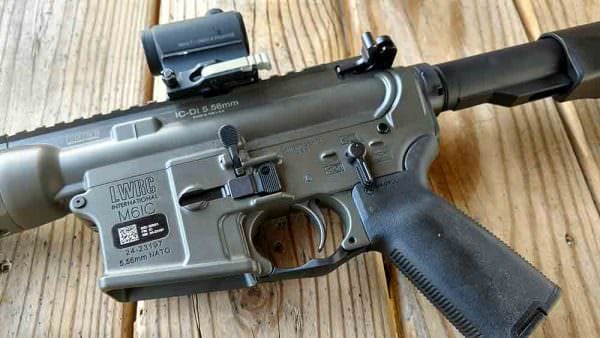 LWRC International rifles are a beautiful thing, there is an option for every buyer out there and a price range to match. I am not going to try and sell you on a two thousand dollar rifle, but I will confidently say that one day I would like to own an LWRC International rifle. It's not just because I like the rifle's performance, or the handguard, ambidextrous controls, or cerakote, because I do really like all of those things. But on the whole, LWRC is an awesome company with some real hard working people cranking out rifles day in and out.
Maybe it's because I saw all that hard work first hand, but I can tell you without a doubt that the people making these rifles are proud of their finished product, and they should be. This is what American manufacturing looks like.
About Duncan Johnson:
Duncan Johnson is a graduate of George Mason University in Fairfax, Virginia. His focus of studies was History and Government. Duncan is a regular contributor to AmmoLand and assists in the everyday gun-news publishing as an assistant editor.