By Duncan Johnson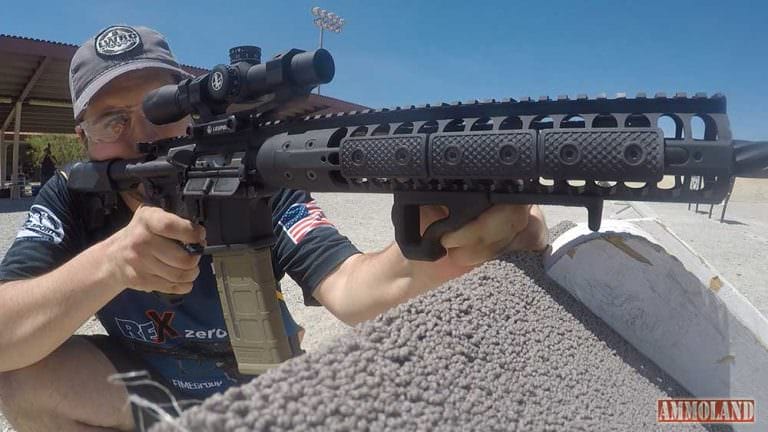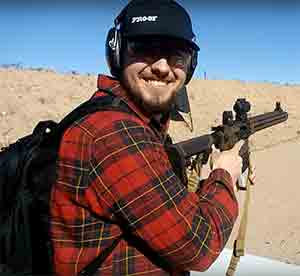 U.S.A. – -(Ammoland.com)- Have you ever considered shooting in a 3 gun competition? Maybe you've seen a YouTube video of a professional shooter running through a stage and engaging numerous targets with a pistol, rifle, and shotgun. Your next thought is probably, "that looks awesome!"
The fact is that if you have ever wanted to try a 3 gun competition, just go do it, you will quickly find out why this is the fastest growing shooting sports today.
Until I went to the NSSF's Fantasy Camp, I had never shot anything like a 3 gun competition. The majority of my experience shooting has been from a static firing line, usually indoor ranges, with one paper target to hit. Occasionally, I get to an outdoor range where I have more options, but most of the time it's a rented lane for a couple of hours.
Not only am I unfamiliar with 3 guns fast paced action shooting, but I also do not own 3 guns. If you read my last article before leaving for Fantasy Camp, I only own an AR-15 and a pistol, leaving me shy a shotgun.
If you are new to shooting and or just getting started in 3 gun, I 100% recommend you attend the NSSF Fantasy Camp.
Fantasy Camp is hands-down the best place there is to get a hands-on introduction to shooting 3 gun competitions. I am incredibly grateful to the NSSF for inviting me to attend their 3 gun Fantasy Camp. Not only was learning from professional shooters extremely beneficial to my own shooting habits, I have also found a new love for shooting in 3 gun competitions.
As I said before, I do not own all the gear necessary to enter a competition. I choose to bring my AR-15 equipped with an AimPoint Patrol Rifle Optic, and my Sig Sauer P320. I don't own a shotgun, the shotgun shell caddies, and I probably need to invest in a better competition belt.  But that is the best part of the NSSF's Fantasy Camp, they provide you with the gear you do not have. This gives you a good look at what you need/want going forward with the sport.
My AR ran great with no issues, but once I caught a glimpse of LWRC's proto-type 3 gun ready rifle I decided I had to give it a try. The LWRC rifle was topped with a Leupold Mark 6 1-6x20mm riflescope, which made distance shooting much easier than the AimPoint optic.  3 gun competitions have rifle stages that can involve distance shooting out to ranges of 500 yards or more. For that reason, most shooters in the TacOps and Practical divisions of 3 gun use magnified riflescopes like the Leupold Mark 6 or the Vortex Strike Eagle.
Not only does Fantasy Camp provide insights into what gear you need, with the help of the professional shooters you will be shooting whatever firearm you are using more effectively.
In my case, the biggest area where I need improvement was shooting my pistol. There were two different things I was doing that will guarantee a missed shot every time with a handgun.
When I pull/squeeze/depress my trigger I have a tendency to also pull the gun off target, resulting in a miss to the low left of a target.  You probably know this as jerking the trigger.
This also factors into my jerky trigger pulls, I over apply pressure with my shooting hand.  According to the pros, pistol grip should be 40% shooting hand, and 60% supporting hand.
There is also a lot of little things that the pros teach you, things that maybe you have always sort of done but they tell you to go a little further. For instance, some shooters instinctively bend their knees to enter their stance, but once they start firing they tend to follow the recoil with their shoulders and end up leaning back. In order to avoid that, use your quad muscles in your legs to get a solid stance that will absorb more recoil. Also use your core muscles to maintain a strong stance, especially in shotgun stages. The combination of strong quad and core muscles will contribute to controlling muzzle flip and moving onto your next target more easily.
Another pro tip from Randi Rodgers on transitioning from target to target with a pistol was using your eyes rather than your sights to switch targets.  So imagine it as pull the trigger, the slide starts to come back, using your eyes find the next target, then point with the front sight, find the sight picture, fire, and repeat.
Tommy Thacker had some training wisdom for everyone when he said, "this is what works for me, what works for me might be totally different than what works for you." This could all be different for you, and you might disagree on some of these tips, but by taking some of the pros advice I saw a marked improvement in my accuracy and speed of shooting.
When you are on the line in 3 gun it is important not to rush through a stage, although you want to be quick you need to be accurate and consistent.  It sounds funny, but behind the trigger of a gun, time moves a little slower. All you need to concentrate on is making your hits, you will find that you shoot faster than you think.
Not rushing also applies to after you are done shooting on a stage, there is no need to quickly holster your gun and walk off the line. In fact, if you put a loaded handgun in your holster and try to walk off the line you will be disqualified from the match. Whenever you are handling a firearm you need to be safe, but when you are shooting 3 gun it is also important to make safety part of your muscle memory.  To get an idea of how you get disqualified for various reasons in 3 gun watch the video below.
Listen to your Range Officer and remember to be safe!
There is nowhere else where you can shoot all day with professionals learning from them, hanging out, and asking whatever you can think of about shooting. Check out my interview with Ryan Muller, who I met at Fantasy Camp. The NSSF Fantasy Camp provides an unmatched 3 gun training experience that is truly unique and guaranteed to benefit new shooters and veterans alike.
About Duncan Johnson:
Brian Duncan Johnson is a graduate of George Mason University in Fairfax, Virginia. His focus of studies was History and Government. Duncan is a regular contributor to AmmoLand and assists in the everyday gun-news publishing as an assistant editor.