By Graham Baates
YouTube personality, Graham Baates, gives us a video review and photo breakdown of the new hammerless Grand Power Q100 Pistol and imported by Eagle Imports.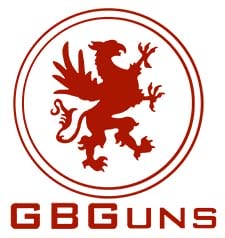 USA – -(Ammoland.com)-  Beginning with a prototype in 1998 the Grand Power line of pistols has been ever-expanding. 12 Grand Power Handgun series are currently available in the United States thanks to their importer Eagle Imports.
Those who have known Grand Power pistols know them for their excellent triggers, true and complete ambidextrous controls, and unique features. I've been a fan of the company since I first tried their flagship model, the XCalibur Pistol, and put 15 rounds into two ragged holes at 10 yards.
With such a reputation for incredible accuracy and a trigger crisp enough to enable the shooter, why risk a striker firing system mushing it up?
As a gun-writer I shoot every weekend, and usually that involved trying at least two guns for the first time. Perhaps that has made me lazy in that single-action triggers are generally quicker to learn. They have take-up, a wall, and then break. Striker-fired guns tend to lack that, or at least have a less-defined wall, but where they make up for it is in reliability. By sealing up the action inside of the slide there is less chance of debris obstructing it. While I understand this, I was a little concerned about how Grand Power's first hammerless would actually shoot. The Grand Power trigger was one of my favorite features, so why change it? I love chocolate ice cream and now I'm being served strawberry from the same ice cream maker. Will it be any good?
Grand Power Q100 Pistol
Aside from the firing mechanism the rest of the gun is the excellence we've come to expect from Grand Power. Anyone who gets remotely freaked out about engineering or manufacturing may need to move to a private and lockable room before reading further. As a company founded and lead by a certifiable gun nut (founder Jaroslav's first design was sketched when he was still in high school), Grand Power's a machinist's playground.
To start, take a look at the rotating barrel. Breaking free from the browning design, Grand Powers rotate to lock and unlock. This permits the barrel to be mounted lower in the pistol and thereby direct recoil more through the wrist rather than over it. The smooth rotation also reduces friction points in the cycling of the firearm. Smoother cycling reduces perceived recoil. The next time you encounter one of these pistols at a gun shop have the clerk field strip it so that you can see the barrel for yourself. What looks like a color swirl on the picture to the right is actually the reflection of the light, camera, and hand of the photographer trying to capture the mirror-like surface and all of its contours.
Anyone who has experienced ruptured brass will rejoice to know that the chamber is fully supported. Those who know otherwise can comment below, but I venture to argue that a fully-supported chamber can aid in accuracy as the brass expands more uniformly thereby providing more consistent ignition and thrust.
Inside the frame of Grand Power pistols resides a steel chassis much like that which gained the Sig models popularity. In the single-action/double action models this chassis contributes to the crisp and predictable trigger pull much in the way a 1911 breaks. What it accomplishes in a striker-fired design I do not know other than streamlining production, but I can say the pistol performed admirably without a single hiccup that couldn't be blamed on the shooter. As shown in the video above we tried loads ranging from 60gr to 147gr hollow-points and the alternative PolyCase ARX to see what would cycle. Every round fired and cycled without an issue and even the 60gr was able to lock the slide back when empty. The slide lock can be attributed to the relatively-reduced energy required to operate. The reliable feeding, no doubt, has something to do with the polished feed ramp and short, minimalist path from the magazine to the chamber.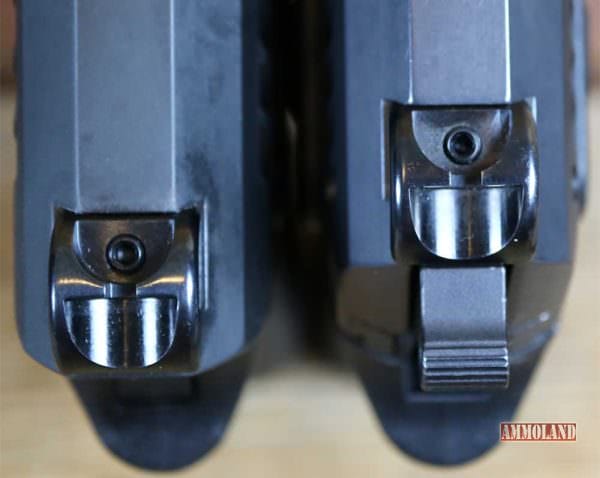 An added benefit that I had not expected in turning the hammer-fired K-100 into the striker-fired Q-100 is that the top of the slide can be physically longer. Without a need for hammer clearance the slide's top is able to extend longer; moving the rear sight farther back. This results in a longer sight radius on the same-sized slide.
We all know that a longer sight radius makes slight movements of the hand less obvious resulting in a more confident shot and easier sight alignment.
When it comes to fit in the hand there are few options that offer more options than the four included backstraps. These backstraps change not only the palm swell, but also heel shape and sides of the stock. No punch is required to change them, simply pry off the current and snap on the new. The Q100 makes my seventh Grand Power pistol and I must admit that I haven't yet figured out which backstrap is my favorite as they each seem to offer something for both the banana-handed male like myself and the smaller-handed female like Erika.
Once labeled as the best handgun you've never heard of Grand Power has a growing presence in the United States and beats at the status quo with something more than just another pistol. Below are the complete specs direct from Eagle Import's website. For more close-up imagery of the pistol see the tabletop video immediately following the Q-100's specs.
Caliber 9 MM
Action Striker DAO
Capacity 15+1
Barrel Length 4.3″
Front Sight Plastic
Rear Sight Drift-Adjustable Steel
Finishes Black
Grips Polymer
Construction Steel Slide, Steel Frame, Polymer Grip
Safety Trigger
Weight 26.1000
Length 8″
Height 5.3″
Width 1.4″
About Graham Baates
"Graham Baates" is a pen name used by a 15-year active Army veteran who spent most of his time in the tactical side of the Intelligence community including tours in Afghanistan and Iraq. Post-Army Graham spent some time in the 3-Gun circuit before becoming a full-time NRA Certified defensive handgun instructor and now works as an industry writer while curating a YouTube channel and blog on the side. Visit Graham on Youtube .