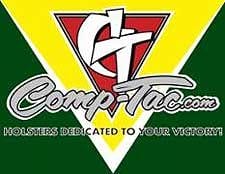 USA -(Ammoland.com)- Comp-Tac owner Gregg Garrett has one of the stranger backgrounds the firearm industry; he's a 31-year veteran of stage and screen – yeah, really.
It didn't start out that way. He was raised as an "Air Force brat" and, with his five siblings, traveled the world with his parents. During those years, he experienced military life and got to see and interact with the people of other cultures.
As you might expect, he started shooting early and became well acquainted with all types of firearms, including black powder muzzle loaders. Gregg's parents also encouraged Gregg and his siblings to seek their own paths, but they also had one rule; when each child turned ten, he or she had to choose an art to study. As luck would have it, Gregg enrolled in dance classes.
During high school, standard classes (reading, writing, arithmetic) were not Gregg's forte, but he excelled in the arts, going from dance to theatre to fencing. He also shined in shop and vocational classes (woodworking, mechanics and other hands-on activities), so by the time he graduated from high school, he knew that attending a regular college or university was not for him. One of his muzzle-loading acquaintances helped him find a job changing tires, and he went on to work as a mechanic and at other skilled labor jobs.
Gregg enjoyed the work, but he soon realized that he needed to choose a path and asked himself: what had excited and challenged him the most when he was growing up? The answer, which surprised everyone (including Gregg), was dancing, so he went back to theatre, dancing, and ballet and, with the help of a scholarship, studied dance at the Houston Ballet Academy.
In 1979,Gregg successfully auditioned for the Houston Ballet – and for the next several years he traveled the world, performing before kings, queens and presidents. During his free time, he stayed current with his shooting and other martial arts skills.
Ballet is a seriously physically demanding, tough, unforgiving discipline, and by Gregg's early 30s the physical wear and tear of the profession had worn him down enough to look elsewhere. He left the Houston Ballet, but didn't leave the arts entirely. He landed acting roles in several television series and feature films, generally as adventurous, gun-shooting types, and served several productions as a technical advisor.
Additionally, his skills as a nationally ranked foil and saber competitor got him back onstage as a swordsman in supporting roles in plays such as Ben Stevenson's Romeo and Juliet. Today, he still acts or serves as a technical advisor in various movies and television shows.
Despite his unusual arts-focused life, Gregg never gave up his fondness for shooting of all types, and that prompted him in 1995 to seek employment with Carter's Country, a large gun and hunting supply store in Spring, Texas. Due to his previous firearms expertise as a trainer and expert shooter, the company soon tasked him with heading up its concealed carry training program for customers interested in getting concealed carry permits.
Gregg began attending different investigative and shooting skills training courses with both the government (don't ask) and private sector. He currently holds more than a dozen licenses as an instructor in rifle, hand guns, gun fighting, concealed carry, and has expert witness certifications from the Texas Department of Public Safety, Texas Board of Private Investigators, DTI, and more. He is a life member of the USPSA and IPSC, and a NRA Benefactor member.
While working at Carter's Country, Gregg started moonlighting as a bodyguard for influential folks. One high-dollar client insisted that his executive protection force use only S&W Model 19 .357 Magnums that had to be concealed while wearing a business suit.
Not one to turn down this serious-money job, he searched for a good holster, and found one, but it cost big money – and the turnaround would be six to eight months. So Gregg bought a heat gun and some Kydex at a local hardware store, and made a pretty crude concealed carry holster he dubbed the "folded taco."
It was pretty rough, but some of his fellow executive protection teammates looked past its looks and liked it for its low bulk and lower profile. He ended up making "tacos" for them, too.
In 1996, Gregg started competing seriously in IDPA, and he wasn't satisfied with the holsters available for competitive shooting. Some were better than others, but they all had room for improvement, so he improved his own holster design instead.
Soon, a word-of-mouth promotion began in both competition and self-defense shooting circles, and Gregg quickly found himself in the holster business, working part time from a rented garage while he continued the protection workand his day job at Carter's Country.
Gregg built holsters every night, often working until midnight. This was all sort of like juggling angry cats, but he kept at this fun for several years. When possible, he mixed in some weekend competition, where of course other competitors saw his effective, low-cost holsters at work. The result was more business.
After about four years of beating himself up trying to meet the fast-growing demand, he hired an employee in 2000 and that marked the unofficial beginning of the company now known as Comp-Tac (Competition and Tactical). Limited production and limited hiring continued until the end of 2000.
The company website went live on December 6th, and that date is now considered to be Comp-Tac's real start date – probably because it's the only date Gregg can point to and say "that's when things officially began." The rest of the story is pretty much phenomenal growth driven by affordable, highly-efficient, comfortable, fast, and safe holsters that give competitors the speed they need, and self-defense shooters the quality and comfort they want.
Comp-Tac is very involved at many different levels in the competition area, with staffers such as sales manager Randi Rogers, who has won hundreds of competitions, including many overall major championships in everything from SASS through IDPA. General Manger Gordon Carrell is a two-gun Distinguished Master in IDPA and has won the Texas State IDPA championship for 14 years.
Comp-Tac's other employees are shooters, too, and, thanks to Gregg's unusual, shall we say, sort of involved government and private sector need to pack heat, you will find Comp-Tac holsters hidden away on all types of "alphabet organization" operators. Bottom line: Comp-Tac Victory Gear is a company of shooters for shooters.
About Comp-Tac Victory Gear, LLC:
Comp-Tac Victory Gear, LLC combines experience in personal protection and the tactical applications combined with the love of pistol shooting competitions into every product they develop. Comp-Tac strives to deliver high value, quality solutions and improvements at the best price. With satisfaction a top priority, we ensure speed, quality and superior customer service to support your desire to take responsibility for personal safety, security and recreational firearm use.