Dr. Jim and Mary Clary report on their results on shooting off the Caldwell Hunter's Blind Bag.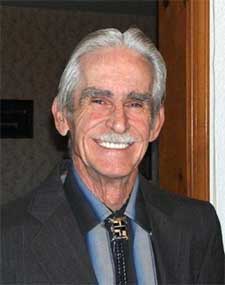 USA – -(Ammoland.com)- Anyone who has ever gone hunting can relate to the common problem of finding good support for your firearm when the moment of harvest arises.
The rails of tree stands are among the worse, but deer and turkey stands are not much better. Add in trying to stabilize your gun on a tree limb, or side of a pickup or fence post and you realize that a lot of our shots are taken under less than ideal conditions.
We are surprised that this little bag was not invented long ago. The concept is so simple: A small shooting bag rest with lightly filled sand bags on each side to hang over the edge rails, limbs, fence posts, etc. You now have a stable shooting rest.
Sits on any narrow surface such as: deer/turkey stands, fence posts, tree limbs, brick walls or truck side beds.
Bag is lightweight, easy to fill, and will not sag over time.
Dark green to blend well with natural surroundings.
Narrow contour to match most sporter weight stocks.
Perfect for hunting and shooting.
You can order the bag filled for $21.99 (less online) or unfilled. We ordered it filled to find out just how much sand Caldwell determined to be ideal. Not that much, as the weight of our filled bag was 23 ounces.
Instead of sand, Caldwell used ground corn cob to reduce the weight. If you decide to order an unfilled bag, don't overfill it and do not use sand. The weight of the sand will negate its advantage as a portable field bag. We recommend using some fresh corn cob tumbling media from your reloading bench…. it works just fine.
Caldwell Hunter's Blind Bag Specifications:
Measurements:

The hanging "ears" measure 6 1/2″ long by 5″ wide
The top rest consists of a 5″ wide lobed bag

Bag Material: Water-resistant – 600 Denier polyester
Fill material: Ground corn cob
Weight of bag when ordered filled ~ 23 ounces
The blind bag comes with side laces that can be used to "fix" the bag to the rail of a tree stand as well as provide for a convenient handle for carrying in the field.
We found the lobed top rest satisfactory for all of our hunting rifles but not quite wide enough for AR style rifles due to their oversize forends, when compared to most contemporary hunting rifles.
If you are going to be hunting from a tree stand or ground blind, this is a very nice addition to your kit. If you are a stalker who roams through timber and up and down hills, you will have to decide whether the extra 1 1/2 pounds is worth the advantage of having a readily available field rest.
It is also a handy rest to keep in the truck for prairie dog hunting. It is a lot more stable than a sagebrush branch.
The Caldwell Hunter's Blind Bag is a really neat and innovative bag and deserves a place in every hunter's kit. We recommend it, without reservation.
About Jim and Mary Clary:
Jim and Mary Clary have co-authored over three hundred and fifty articles, (and counting) on shooting and hunting. You can read many of them on AmmoLand News.