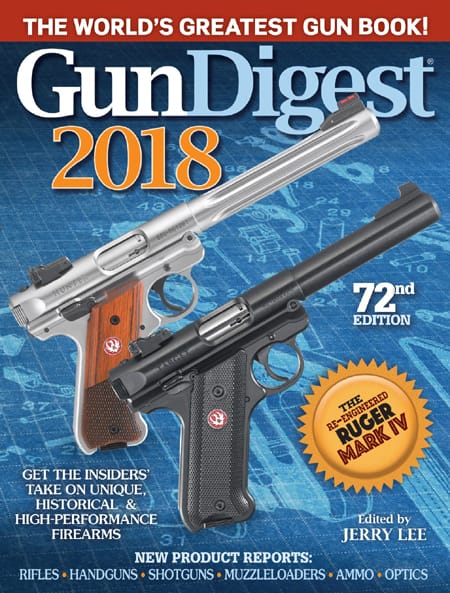 Zephyr Cove, Nevada –-(Ammoland.com)- Now in its 72nd edition, Gun Digest, "The World's Greatest Gun Book," is back with more of everything that firearms fanatics crave.
Jammed with informative, entertaining features from the industry's top writers, Gun Digest 2018 covers firearms and accessories from every angle: hunting, personal defense, shooting sports, collecting, reloading and more. Look for it now at www.gundigeststore.com, Amazon, Barnes & Noble and other major and specialty retailers.
For 2018, veteran editor Jerry Lee pulled out all the stops and assembled the most comprehensive collection of firearms information available. Gun Digest 2018 covers historic military arms, high-powered double rifles, long-range shooting, unique wildcat cartridges, big-bore handguns, exquisite custom arms, self-defense guns, practical hunting rifles, the latest and greatest handguns, optics and reloading equipment … the list goes on and on! In addition, the completely updated firearms catalog and ballistic tables make this book a must-have for every firearms enthusiast.
In Gun Digest 2018, the world's finest firearms writers combine to bring you the most comprehensive collection of feature articles and information on the most intriguing and exciting firearms from around the world. Wayne van Zwoll, Massad Ayoob, Rick Hacker, Phil Massaro, James E. House, Nick Sisley, Bart Skelton and many more experts guarantee this edition holds something for everyone.
Gun Digest 2018 is the ultimate resource for all things firearms. Don't miss out; buy yours today. Order print or e-book copies of Gun Digest 2018 from Gun Digest at www.gundigeststore.com or by calling (800) 258-0929 (product number R4432); amazon.com; barnesandnoble.com; and most other major and specialty booksellers.
Gun Digest 2018, 72nd Edition edited by Jerry Lee, Gun Digest Books
ISBN-13: 978-1-4402-4784-2 ∙ Price: $36.99 ∙ Paperback: 8.25 x 10.875 ∙ 568 Pages
About Gun Digest Media
Gun Digest has been the firearm industry's premier publishing brand since 1944. In addition to the Gun Digest Annual, the imprint is home to the Standard Catalog of Firearms pricing guide and more than 150 active titles on handguns, rifles, shotguns, shooting, reloading, gunsmithing, self-defense, and firearms history. Additional Gun Digest Media properties include Gun Digest the Magazine, published 18 times annually, and Modern Shooter TV.
About the Editor
Jerry Lee has been editor of several major firearms publications including Guns Magazine, Handguns, Rifle Shooter and many Guns & Ammo special issues. He writes the "Collector's Corner" column for Gun Digest: The Magazine. In addition to Gun Digest, he is editor of Standard Catalog of Firearms, author of Standard Catalog of Ruger Firearms and past contributing editor of Modern Gun Values.