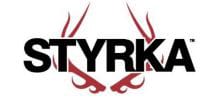 USA -(Ammoland.com)- For 2017, Styrka offers the new Styrka Dollars Retail Employee Reward Purchase Program. As an employee of a retail outlet that is an authorized Styrka dealer, you can earn and use Styrka Dollars to purchase Styrka Optics.
And, Styrka Dollars can be redeemed to lower the already low VIP price of 65-percent off suggested retail prices.
Yes, we want to encourage you to get out and enjoy high-quality Styrka products, at extremely affordable prices.
Each Styrka product an employee sells earns him or her Styrka Dollars that can then be used to purchase one item per category (binocular/red dot/rifle scope/spotting scope) per calendar year. How much can you earn?
$US Amount Styrka Product Sold = STYRKA Dollars earned:
$199.00 – $249.99 = $15
$250.00 – $399.99 = $20
$400.00 – $499.99 = $25
$500.00 – $599.99 = $30
$600.00 -$699.99  = $40
$700 and over       = $50
The "2017 Styrka Dollars" order forms and complete program details are available from the Styrka offices in Minnesota or your local Styrka rep
NOTE: Orders must be shipped to the employee's business address and approved by their manager.
All Styrka optics are covered by the "Styrka Pride" warranty. If you ever have a problem, your Styrka optics will be fixed or replaced. Forever. Plus, once a year, you can send back your optics and the company will clean and tune them as needed, all on Styrka's tab.
About Styrka:
Launched in 2015, Styrka offers a dynamic line up of hunting scopes, binoculars, red dots and spotting scopes. The Styrka philosophy is simple but non-negotiable: make high quality optics at affordable prices; always tell your customers the truth about what optics can and can't do; and, stand behind your products 100-percent, forever. Styrka Pride. Styrka Strong.
To learn more about Styrka Optics, please visit their website.