Many serious preppers consider a good air rifle a necessity in their bug-out bags. but what ones are the best air rifles for a survival situation.
USA – -(Ammoland.com)-Ah, the humble air rifle, scourge of squirrels.
Like me, you probably had some of your earliest shooting experiences with an air rifle, and it was this that got you hooked on guns.
And, though you might not have used one since you were a child, it might surprise you to know that many serious preppers consider a good air rifle a necessity in their bug-out bags.
A lot of people point out that an air rifle is never going to deliver the stopping power of a 'proper rifle', and they are right. However, in a survival situation where you are after small game, this can actually be an advantage. Hitting a rabbit with your AR-15 is going to produce rabbit pate, rather than usable food.
If you're still not convinced, read on. Today I'll take a moment to explain why you should definitely have a good air rifle (or three) in your survival kit, take a look at your options, and then tell you about my own personal favorites.
Why An Air Rifle?
I'll say again what I said above – an air rifle is never going to be as powerful as your main hunting rifle. Shooting at moose (or bears?) with a pellet gun is a great way to get killed. However, remember that in a survival situation you are not only going to be hunting big game. In fact, the majority of your sustenance is likely to come from much smaller animals: think squirrels, rabbits and birds.
For hunting smaller game, nothing beats an air rifle. If you didn't shoot at rodents with an air rifle when you were young, let me reassure you that a good .22 has more than enough power to kill most small animals stone dead.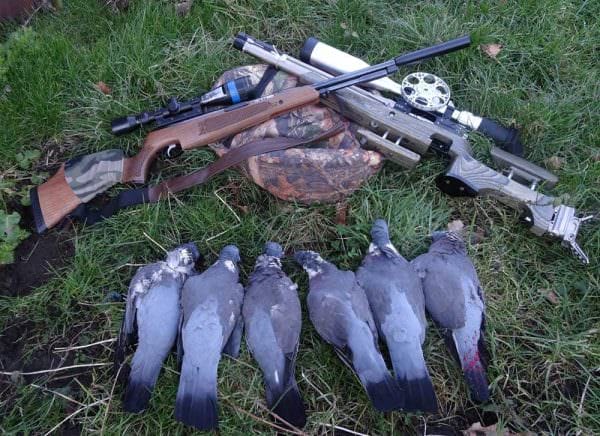 When you are out hunting, the fact that air rifles are much smaller, and lighter than full-sized rifles makes you a much more effective hunter. In addition, carrying around even a dozen rounds of typical rifle ammunition is a real hassle in comparison to a container full of tiny pellets. Pellets are also much cheaper, and easier to store [easy to stock up on].
Lastly, one factor that is often overlooked is that almost anyone can shoot an air rifle, including your kids. If you are in a survival situation with your family, and feel (rightfully) worried about your 12-year-old going out armed with a "real" rifle in a survival situation, getting an air rifle is a great option. You are adding another hunter to your band, and this could make all the difference.
Types Of Air Rifles
If you haven't used one since you were a kid, it's worth reminding yourself that air rifles come in a variety of different designs. One of the most popular is CO2-powered rifles, where a canister of compressed gas provides the power. These are hugely popular among air rifle shooters, perhaps because relying on a pre-pressurized canister takes all the effort out of shooting them, but have a huge disadvantage in survival situations. Those CO2 canisters are going to quickly become unavailable if the SHTF.
To my mind, the best air rifles you should be considering for a survival situation are the more basic, older types. The classic design, and perhaps still the best for a survival situation, uses a spring design. These rifles are generally 'pump-action'. You pump the rifle, and this compresses a spring. The spring is released when you pull the trigger. As the simplest design of air rifle, this type is really reliable, and can be maintained and fixed pretty easily. The only slight problem is that the spring can wear out after a (very long) time, so get a few spares.
A newer type of air rifle, but largely using the same design, are 'gas-ram' air rifles. These work on pretty much the same principle, except instead of a spring they use a compressible gas piston. This piston does not need to be replaced, so your only consumables are the pellets, and has the advantage that it will never wear out.
Beyond the reliability and simplicity of these designs, they have another huge advantage. By compressing the spring or canister less, you can easily modulate the amount of power given to the pellet. This is great if you are hunting small game, because with really high-powered air rifles, your shots are likely to go straight through your target, and cause much less damage.
Our Choices for Best Air Rifles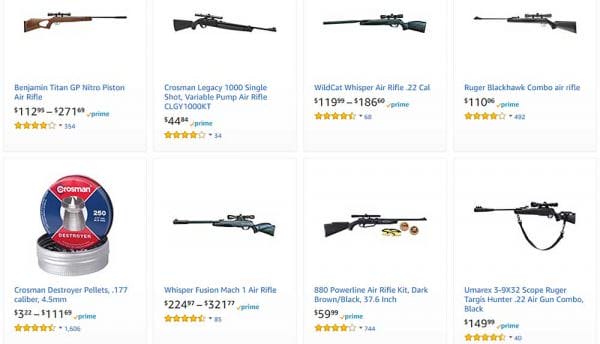 There are a huge number of great air rifles available, but to our mind the most important features in an air rifle for survival is reliability. What you're looking for is a rifle that has built up a great reputation in the field.
Here are our three picks for some of the best air rifles for a potential survival situation:
Diana RWS 34 Breakbarrel Rifle
Gamo Varmint Air Rifle .177 Cal
Gamo Whisper Silent Cat Air Rifle
Diana RWS 34 Breakbarrel Rifle
If you are looking for a simple, reliable air rifle that has built up an enviable reputation among hunters, consider the Diana RWS 34 Breakbarrel Rifle. The simple design used here mean that this gun is easily maintained in the field, even with the limited means you are going to have in a survival situation. It is also extremely accurate, which could make all the difference.
Gamo Varmint Air Rifle .177 Cal
Another great choice is the Gamo Varmint Air Rifle. Whilst this is a .177, it delivers 1250 fps of muzzle velocity, which means that its stopping power is on a par with larger caliber air rifles. In addition, if you are looking for the ultimate in portability, those tiny .177 pellets are even easier to carry around and store.
Gamo Whisper Silent Cat Air Rifle

If you've got a bit more cash to spend on a truly great air rifle., have a look at gas ram rifles. My choice here would be the Gamo Whisper Silent Cat Air Rifle , which offers huge power in a compact design. The skeleton stock on this rifle make it even more portable than your average pellet gun, and when out hunting it feels like a full-sized rifle. In addition, the incorporated scope makes it an even more accurate hunting weapon for small game.
I hope this info helps some make a good choice when looking for the best air rifles for a SHTF situation, but more than that, these air guns are some rock solid picks for just fun plinking and hunting.
---
Read more at Gun News Daily, on how our favorite rifle is the AR-15.