Mike Searson reviews the semi auto version of the FNH M249S SAW Light Machine Gun. Note the "S" designation for semi auto.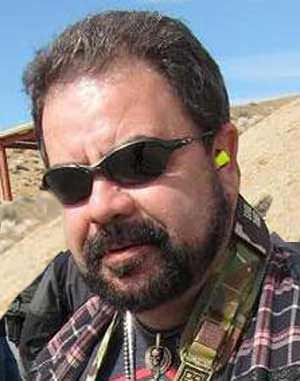 USA –  -(Ammoland.com)- Unlike some manufacturers who pursue military contracts, FNH (Fabrique Nationale Herstal) has never ignored the civilian demand for these arms and have always made "civilian legal" versions of their most popular pistols and rifles.
Most recently they have released a collector series based on the firearms common to US Military Infantry rifle squads.
One of which, we have been waiting to lay hands on for about 3 decades: The M249S SAW, a civilian legal semiautomatic version of the Squad Automatic Weapon that we humped as an Automatic Rifleman in the USMC.
Ironically, after more than 3 decades of service, the US Military may be moving back to the idea of a service rifle to replace the SAW or light machinegun role in a fire team.
In general, we find semiautomatic belt fed guns to be pretty lame. However a $35,000 to $85,000 price difference can make you get rid of that notion quickly!
FNH M249S SAW Light Machine Gun – Semi Auto : The Good
The basic design of the M249S is identical in many ways to the original M249 SAW.
Unlike the open bolt firing sequence of the original, the M249S fires from a closed bolt. This makes more sense with a semiauto belt fed and keeps FN in the good graces of the ATF for compliance with regard to this gun not being easily converted to a machinegun. According to FN there have been other changes such as the trigger pack relying on a hammer and floating firing pin vs a fixed firing pin.
From our survey of the M249S it appears that barrels and accessories from the M249 SAW should be compatible. So if you want to replicate the look and feel of the little pig you might have carried in Desert Storm, you might be able to put the older type stock on and possibly swap out the top cover.
The FNH M249S trigger has a long travel but a quick reset, so while you can't exactly "rock and roll" like you could with an original, you can still have fun with it by shooting as fast as you can. We were actually surprised by the accuracy at sub 2" groups at 100 yards.
They definitely opened up a bit the farther we shot it and we think that the weight, the over the shoulder brace on the stock and what we still think is one of the best bipods in the world all played small roles in this.
You get stability from the bipod and brace, especially when shooting from a concrete bench and the overall weight soaks up most of the felt recoil. We mounted an EO Tech Sight and did not notice a change in accuracy, opening and closing the top cover did not appear to shift our zero much, if at all, either.
Of course you will probably be the most accurate from the prone position.
Back in the day as a Marine Private First Class, there was one feature we really liked about the M249 SAW and we felt it was the main reason why a civilian would want one in their collection. If you have no linked ammunition, or more appropriately, just no links, you can load the weapon with M16 magazines through a magazine well positioned below the feed tray.
The problem we realized back in the late 1980s as we tried this was that reliability suffered and so it was a feature that was almost never used in the Fleet. It could have been the generation of the M249 we were using and the bolt outrunning the magazine feed springs
Well, we can put that to rest as we claim a 100% success rate using Sure Feed magazines from Okay Industries. Ironically, they were the same supplier of the magazines we used long ago, but new ones function very differently than the hand-me-downs we were issued.
Being that it is semiautomatic only, using a magazine makes more sense here than on it's full-auto big brother.
FNH M249S SAW Light Machine Gun – Semi Auto : The Bad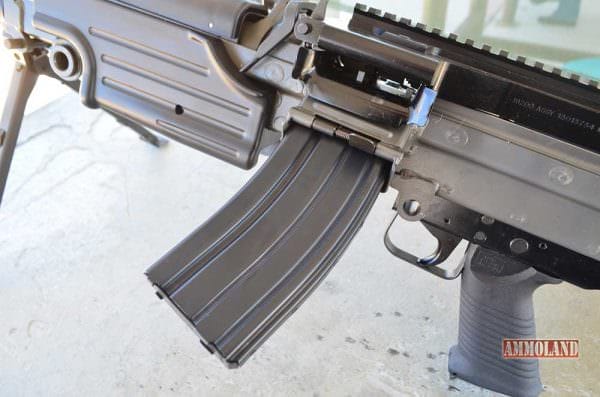 This is where we say "size matters".
At 17 pounds unloaded with a length of 40" and a width of almost two rifles, the M249S takes up a lot of room and storage in the safe and can be a bitch, unless you have a big safe with relatively few firearms in it. Its weight makes it difficult to fire from the shoulder without the aid of a sling.
Lastly, the price is a deterrent to most, especially for what is probably the ultimate range toy. However if you want one and have the means, we think it is worth it.
FNH M249S SAW Light Machine Gun – Semi Auto : The Reality
We don't see anyone hunting with it or running it in a three gun match any time soon. It is not that type of firearm. As much as I personally love the platform, it would be my last choice for self-defense.
This is literally a collector's type weapon to have fun with at the range. Remember, everything does not have to have a "tactical", "defensive", sporting or any other purpose. Sometimes you want a particular firearm because it looked cool in a movie, was one you carried in the past or simply just to have fun with even if you only get it out to the range once a year.
For us, the FNH M249S SAW Light Machine Gun meets those specifications perfectly.
FN M249S
SKU / Product Number: 56400
Caliber: 5.56x45MM NATO
Barrel: 20.5″ Cold hammer-forged, chrome-lined, alloy-steel
Twist Rate: 1:7″ RH
Color: Matte black non-reflective finish on all surfaces
Operation; Semi-automatic, closed bolt
Sights: Primary sights graduated to 1000 m., MIL-STD 1913 rail system
Stock: Fixed, ergonomically-shaped polymer butt stock with pistol grip
Weight: (with empty magazine) 17 lbs. (empty)
Length: 40.75"
Height: 9.5"
Magazine (one each): Belt-fed or standard AR magazine
Trigger Pull: 4.5-6.5 lbs.
MSRP: $7,999

FNH M249S SAW Rifle in Semi Auto
---
Bonus FNH M249S SAW Light Machine Gun Video Review
---
About Mike Searson
Mike Searson's career as a shooter began as a Marine Rifleman at age 17. He has worked in the firearms industry his entire adult life as a Gunsmith, Ballistician, Consultant, Salesman, Author and was first certified to teach firearms safety in 1989.
Mike has written over 2000 articles for a number of magazines, websites and newsletters including Blade, RECOIL, OFF-GRID, Tactical Officer, SWAT, Tactical World, Gun Digest, Examiner.com and the US Concealed Carry Association as well as AmmoLand Shooting Sports News.
Home page: www.mikesearson.com
FB: www.facebook.com/mike.searson
TWITTER: www.twitter.com/mikesearson