John Crump, continues his custom Glock handgun build with the addition of a Vortex Viper Red Dot Sight.
U.S.A. –-(Ammoland.com)- This is the part 4 of my custom Glock 17 build that I have dubbed the Glock 17 "Reaper" due to the awesome reaper engraving done by M.K.P. Arms. I also added a grip plug with a reaper, along with a backplate also with a reaper. So far I have been very happy about how it has performed with the modifications I have made.
After getting the frame customized by Damato Custom Stippling, I had the slide modified by M.K.P. Arms. Then I added an Overwatch Falx trigger which I couldn't be happier with. I debated what the next thing I wanted to change on the Glock was going to be.
After a couple of days of thinking about it, I knew what I had to do.
It was time to add an optic on the Glock. This will be the first handgun I own with an optic on it. The closest I have come to a red dot on a handgun that I own, is tritium night sights. I have used red dots on other people's guns, but I didn't know if I would like a red dot optic on my own pistol. It does seem like the way the world is going and being a firearms writer I have to stay on top of new technologies.
Much like when red dots came out on rifles there are a few old schoolers that are totally against red dots on pistols. Even though I referred to them as new technology, red dots have been out for pistols since the 1990s. They were seen exclusively in competition circuits. In the last few years there has been an explosion of red dots for pistols from companies like Sig Sauer, Trijicon, Leupold, and Bushnell just to name a few.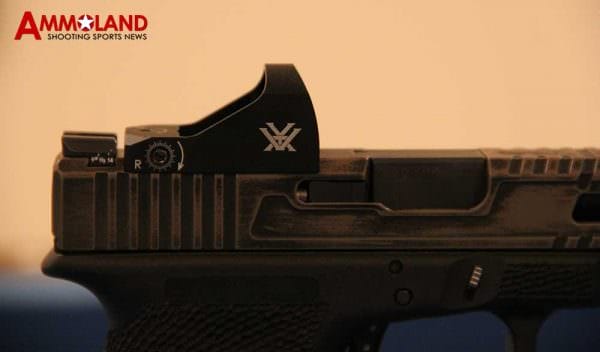 For this build, I decided to go with the Vortex Viper Red Dot Sight I contacted the people over at Vortex and they hooked me up with one to review. Vortex makes quality stuff and I have purchased a lot of Vortex products in the past. I felt since I have had good luck with Vortex I would stick with them for this project.
The Vortex Viper reflex sight has a really low mounting height. This is one of the reasons I picked this red dot for the Glock 17 Reaper custom handgun project.
I plan on replacing my standard height night sights with Suppressor sights eventually. My plan is to co-witness the red dot with the front suppressor sight.
The Vortex Viper was easy to install with the custom M.K.P. on the Reaper. All it took was two screws and a little bit of Blue Loctite and it was ready to go. I let the people over at M.K.P. Arms know I was installing a Vortex Viper in advance, so they were able to make the cuts in the slide for the optic. If your slide is not optics ready you would have to get a shop like M.K.P. Arms to machine the cuts for you.
The Vortex Viper turns on by hitting a button on the side of the optic. It is easy to adjust the red dot brightness by using the two buttons on the side that marked with arrows. The brightness goes from barely visible to extremely bright. This huge range makes it easy to find just the right brightness for any situation.
The Vortex Viper Red Dot Sight also comes with an optic boot. This is a small rubber cover that fits over the optic to prevent scratches. This is a nice addition that a lot of optic makers are throwing in with their handgun optics. I hope in the future to see all optics makers go this route.
After installing the optic on the Glock 17 I took it to the range. Somehow the red dot of the Vortex Viper was really off right out of the box. It was set all the way up and to the left. It was easy enough to adjust the red dot down and to the right to be more centered. Once I did that it only took a few more shots to get zeroed in.
Just remember to bring the small tool that comes with it to the range, or you will not be able to adjust the optic.
I had a case of 9mm Gorilla Ammunition that was gifted to me. I decided to use a high round count to see if the Vortex Viper would hold zero so I put 300 rounds through the pistol at 15 yards. I am happy to report that it did hold zero.
It did take me a little getting used to using the optic instead of the sights, but after the 300 rounds, it became very easy to use with the red dot.
After the test to see if the Vortex Viper would hold zero I wanted to see if it could take a beating. I roughed it up by using different surfaces to rack the slide. This included using my belt and also a table. I also threw into the air and let in land in the grass. I didn't want to damage the finish so I didn't throw it onto any hard surfaces after all my hard work.
I did this test because another shooter that was at the range when I did the 300 round count test claimed that "by adding an optic you couldn't rack the slide by using things like your belt". He said, "even if you could your optic would no longer be zeroed making it useless." He was talking about if your off hand got hurt and you needed to put the gun into battery by only using one hand.
I am happy to report I was able to rack the slide with ease. Not only that I fired another 300 rounds through the gun and it was able to hold zero with no issues at all. This brings the total shots fired to 600 rounds. The gun is still zeroed.
Overall, I have had no issues with the Vortex Viper Red Dot Sight  and it does the job I need it to do. I am glad that I made the choice that I did for this project.
The Vortex Viper can be found at www.vortexoptics.com/category/viper_red_dot

About John Crump
John is a NRA instructor and a constitutional activist. He is the former CEO of Veritas Firearms, LLC and is the co-host of The Patriot News Podcast which can be found at www.blogtalkradio.com/patriotnews. John has written extensively on the patriot movement including 3%'ers, Oath Keepers, and Militias. In addition to the Patriot movement, John has written about firearms, interviewed people of all walks of life, and on the Constitution. John lives in Northern Virginia with his wife and sons and is currently working on a book on the history of the patriot movement and can be followed on Twitter at @crumpyss or at www.crumpy.com.