This fantastic giveaway is now over and you can read the winner announcement here! Make sure you are an AmmoLand News email subscriber so you have your chance to win our next cool gun giveaway. Subscribe here.
---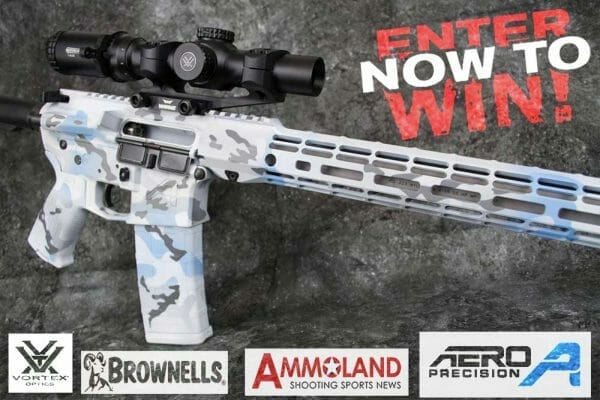 Manasquan, NJ -(Ammoland.com)- New and existing subscribers to the AmmoLand Shooting Sports Newswire emails will ALL be eligible to win an awesome custom built from Aero Precision parts, Arctic-Camo AR-15 Rifle Package.
One lucky AmmoLand Subscriber will take this custom gun home!
AmmoLand Shooting Sports News, Aero Precision, Brownells.com and Vortex Optics are giving away a limited-edition arctic-inspired custom built rifle package to one lucky AmmoLand email subscriber and that could be you!
Custom built from Aero Precision parts Arctic Camo AR-15 Rifle

Aero Precision Arctic Camo AR-15 parts include and Upper, Lower and Handgaurd
Brownells Rifle Parts and Components
Aero Precision Dream AR-15 Rifle Specifications
100% American made
M4E1 Enhanced Upper Receiver finished in Arctic Camo. Upper receiver is assembled and includes the forward assist, dust cover and barrel nut.
15″ Enhanced Gen 2 KeyMod or M-LOK Handguard finished in Arctic Camo
Billet Trigger Guard in Arctic Camo
AR15 Gen 2 Lower Receiver finished in Arctic Camo
Vortex Strike Eagle 1-6×24 Optic Specs:
Battery: CR-2032
Click Value: 1/2 MOA
Eye Relief: 3.50″
Finish: Matte Black
Focal Plane: Second
Illumination: Yes
Length: 10.5″
Max Magnification: 6
Min. Magnification: 1
OAL: 10.50″
Objective Size: 24mm
Reticle: BDC
Tube Size: 30mm
Weight: 17.6 oz
Read AmmoLand's reporting on the Aero Precision Arctic Camo AR-15 Rifle build found here.
But you can't win it if you are not in it!
The giveaway is being processed. Come back to this page in a few days as we will announce the winner here.
The giveaway enter dates runs from December 15th, 2017 to January 31st 2018 with the winner drawn on February 1st, 2018.
Everyone who signs up, or is an active existing subscriber, to the AmmoLand Shooting Sports News daily & monthly emails is eligible to win.
Eligible Winners, must be 18 years of age, a legal resident of the United States and be lawfully eligible under local, state and federal rules to accept the transfer of firearms through a licensed Federal Firearms License. NOTE: Residents DC, CT, NJ, IL (Cook County only) and NY may not be eligible to win. Take your complaints up with your local anti gun lawmakers.
No monetary compensation or substitution for ineligible winners. You are just out of luck.
Do you get our daily email? Then you are already entered. Do you need to sign up? Then you can do so at the link/box above : Sign up for AmmoLand in your Inbox!
About Aero Precision
Aero Precision is known for two things: superior engineering & machining, and the ability to get the customer what they need, when they need it. Their products have been recognized across the country by members of the military and law enforcement communities for one simple fact – they work better. For additional information on Aero Precision, visit their website.
About Brownells:
Serious About Firearms Since 1939, Brownells is the world's leading source for guns, gun parts and accessories, ammunition, gunsmithing tools and survival gear. With a large selection of both common and hard-to-find items, and an extensive collection of videos, articles, and gun schematics, Brownells is the expert for everything shooting-related. Visit their website.
About Vortex Optics:
American owned, Middleton, Wisconsin based Vortex Optics designs, engineers, and distributes a complete line of premium binoculars, riflescopes, spotting scopes, tripods and related accessories. Dedicated to exceptional quality, value and unrivaled customer service, Vortex backs its products with its unconditional, transferable, lifetime VIP – warranty. Built on more than 20 years of experience in the optics industry, Vortex is rapidly emerging as a leading brand in the optics market. Vortex – The Force of Optics | www.vortexoptics.com
About AmmoLand.com – Shooting Sports News:
Ammoland.com is the web's leading Shooting Sports News Service for the Ammunition, Firearms, Shooting, Hunting and Conservation communities. AmmoLand has a FREE Shooting Sports News Service that is seen by 10,000's of Ammunition, Shooting and Pro Firearms enthusiast every day. Visit them at www.AmmoLand.com
Don't delay! Be sure and Sign Up before we pick a winner.