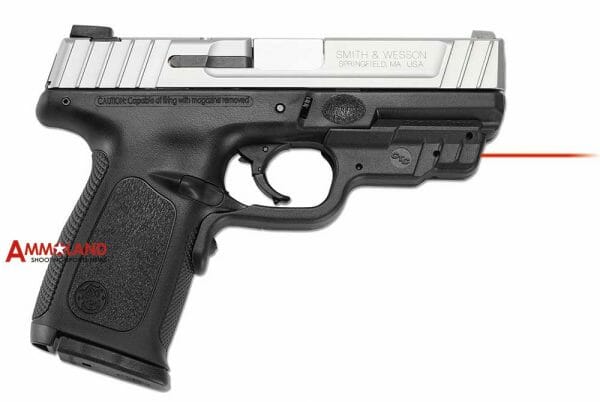 Wilsonville, OR –-(Ammoland.com)- Crimson Trac, recognized as America's top brand of laser sights in a recent Southwick Associates shooting sports industry survey, today announced its newest Laserguard laser sight—the LG-457 with red laser diode—for a precision fit onto the Smith & Wesson series of SD and SD VE pistols.
This new Crimson Trace Laserguard laser sight will fit the Smith & Wesson SD9, SD40, SD9 VE, and SD40 VE semi-auto pistols.
This newest Crimson Trace Laserguard laser sight with a red laser diode for the Smith & Wesson SD and SD VE pistols utilize Crimson Trace's patented Instinctive Activation™ firearm laser technology. Award-winning Instinctive Activation technology ensures that the laser sight activates when the firearm is held with a normal firing grip and when the user is ready to fire.
That system is one of many reasons why Crimson Trace is a leader in the firearms laser sight market. The new Laserguard LG-457 laser sight can be easily adjusted for windage and elevation, is easy to install and maintain, and is covered under the Crimson Trace innovative Free Batteries for Life Program. The Manufacturer's Suggested Retail Price of the Laserguard LG-457 is $229.
Crimson Trace Laserguard laser sights incorporate either a red or green laser diode within a sturdy and compact housing and they are simple to install onto the pistol's trigger guard. The necessary installation screws, plus battery for operation, are included in the product packaging. Some other laser sight manufacturers require the additional purchase of tools and batteries for installation and operation.
Crimson Trace leads the laser sight accessory category by offering more than 300 products through 2,500+ dealers across America. Those dealers include gun stores, ranges, big box outlets and numerous on-line retailers. Crimson Trace products can be easily installed without requiring modification of the firearm —or special gunsmith skills. For more information on Crimson Trace products and dealer locations, and to obtain a free copy of the company's 2018 catalog, visit www.crimsontrace.com or call 800-442-2406.
About Crimson Trace Corporation
Based in Oregon, Crimson Trace Corporation is recognized as the leader in establishing laser sights as standard equipment on concealed-carry and personal-defense firearms. For more than two decades, the company has provided America's firearms owners, law enforcement officers and military units worldwide with the largest selection of award-winning laser sights and tactical lights products. Those innovations include: Lasergrips® laser sights, Laserguard® laser sights, LiNQ® wireless operated laser and light systems and Lightguard® lights for firearms, each with Instinctive Activation™ firearm laser activation technology. Additional product lines include the Defender SeriesTM and Rail Master® firearms accessory platforms. Full details are available at www.crimsontrace.com or by calling 800-442-2406.