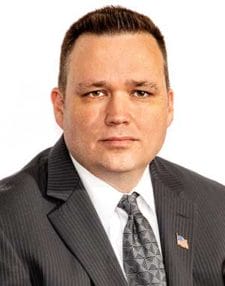 U.S.A. –-(Ammoland.com)- Authorities have charged Douglas Haig, 55, of Mesa Arizona with selling "armor-piercing ammunition" to Las Vegas killer Stephen Paddock according to court documents acquired by the Associated Press. Haig works full time as an aerospace engineer and part-time as a manufacturer of reloaded ammunition.
Stephen Paddock opened fired on a crowd attending a country music festival from a room window of the Mandalay Bay Resort and Casino. The shooting killed 58 people before taking his own life. The police found a hotel room full of guns and spent cartridges.
According to the court documents police also found unfired armor-piercing rounds within the hotel room. Law enforcement was able to lift a fingerprint off one of the armor-piercing cartridges. Douglas Haig matched that print and was named a person of interest in the case after law enforcement found his name, and address on a box that was in Paddock's possession.
According to the court papers, Haig made and sold ammunition as a hobby. The documents also state that Haig did not have the proper licensing from the ATF to manufacture armor-piercing ammunition. The records do not indicate if Paddock used any of the ammo in the actual attack.
Haig and his lawyer, Marc Victor, held a press conference on Friday claiming that Haig was innocent. According to Haig, he met a well-dressed Paddock at a gun show in Phoenix, Arizona. He stated Paddock wanted to more tracer rounds than he had on hand at the show, so Paddock called him a few days later to set up a sell of 720 tracer rounds at Haig's house. Haig built the tracer rounds out of surplus military components.
Haig stated that Paddock informed him he wanted to do a light show with or for his friends in the desert. Haig could not recall the exact wording. He stated Paddock asked for something to carry the ammo, so he provided him with a box which had his name and address on it. The federal investigators used the name and address to track down Haig. Haig further states that he did not have any other dealings with Paddock.
According to Haig the size of the transaction is not out of the ordinary. He went on to say, "He pulled up very well dressed, very well groomed, very polite, respectful. He paid me, put it in his car, went on his way — at no time did he seem suspicious."
"I had no contribution to what Paddock did," Haig stated at the press conference. He says he is only a merchant and the government should not have released his name. Investigators were in touch with Haig shortly after the shooting. Haig claims to have received multiple death threats since his name was released.
Haig's name was mistakenly released when a judge in Nevada made the police warrant public without redacting Haig's name. Haig and his attorney stated that they do not expect to take any legal action for his name being improperly made public.
Haig was not aware of what happened in Las Vegas until agents from the FBI and the BATF told him 11 hours after the events unfolded. According to his lawyer, he cooperated with investigators "without hesitation." Haig said he was "horrified that this man would do something like that."
Haig further claims that Paddock did not use his ammunition in the attack because he only sold him tracer rounds. Haig's lawyer said in the press conference that his client does not talk to the press to protect his reputation. He also stated that to the best of their knowledge none of the ammunition that Haig has sold in the past has ever been used in a crime.
Haig has since shut down has ammunition business. He plans to plead innocent to the charges.
About John Crump
John is a NRA instructor and a constitutional activist. He is the former CEO of Veritas Firearms, LLC and is the co-host of The Patriot News Podcast which can be found at www.blogtalkradio.com/patriotnews. John has written extensively on the patriot movement including 3%'ers, Oath Keepers, and Militias. In addition to the Patriot movement, John has written about firearms, interviewed people of all walks of life, and on the Constitution. John lives in Northern Virginia with his wife and sons and is currently working on a book on the history of the patriot movement and can be followed on Twitter at @crumpyss or at www.crumpy.com.