Tom reviews the history of Leatherman Tools
USA – -(Ammoland.com)-  At this years SHOT Show I had a meeting set-up to meet the Leatherman Tool Group Team.
I thought it'd be an interesting meeting but I didn't have a clue as to how interesting it would be. The team was super excited to show me what they had and to share their history with me. And it just so happens, they are celebrating their 35th anniversary this year.
But let's back-up. I assume I don't have to explain what a Leatherman tool is. Heck, even my Librarian daughter has 2-3 of them and said everyone on her fire fighting crew carried one when she was a Hot Shot.
It has to be the most plagiarized tool since the hammer doesn't it? There are 5,000,000 copy cats and spin-offs out there now.
As I alluded to above, the Leatherman team was one of the most excited companies that I met with all week. Right away they let me know that they were celebrating their 35th anniversary with the production of a Collector's edition Leatherman with an old school leather sheath.
I thought it'd be cool to do an article covering the history of the Leatherman Tool. It all started with the insight to fulfill a need, or as they say "Necessity is the mother of all inventions". Tim Leatherman and his young wife took a vacation to Europe. Along the way they encountered leaky hotel plumbing issues along with vehicle problems on their $300 Fiat.
Tim had a degree in Mechanical Engineering from Oregon State University but the only tool he had was his pocket knife. He dreadfully wished for even a pair of pliers. After getting back home he drew up some sketches of what would later evolve into the modern Leatherman Tool.
He told his wife to give him one month to turn his dream into a full-time vocation. Armed with only a hacksaw and a file he set to work to build a prototype. Three years later he emerged with an invention to his likings. He obtained a patent and called it the Mr. Crunch.
He had arrived….or so he thought. I don't know if you've ever strived to bring an invention to fruition but developing it is only half of the battle. Finding someone to buy into your idea is the other half the battle.
Knife companies thought that his invention was a tool and tool companies thought that it was a gadget. No one would buy in.
He had to get a job to support his dream but suffered rejection after rejection. Finally, he partnered with an old college buddy, Steve Berliner that had some marketing skills. By chance a Seattle magazine gave them some sage advice as to making some improvements.
In May 1983 a company finally gave them their break. Cabela's had enough insight to see a stroke of genius in the making and placed the first order for 500. By December they had sold 3,000 of their multi-tools.
And as they say, the rest is history. As stated at the first, they are commemorating their Leatherman Tools 35th Anniversary by making a Limited-Edition Pocket Survival tool based on the original Mr. Crunch. What a cool story. I'm super glad that Amy invited me to meet with them and hear their history.
I have to wonder, how many companies out there are kicking themselves in the tail for not jumping in hook, line and sinker? One model, their Leatherman Wave Tool has sold over 10 million units since 1998!
Wow, what a great story. Thanks for inviting me to your booth and sharing your history with me Amy.
---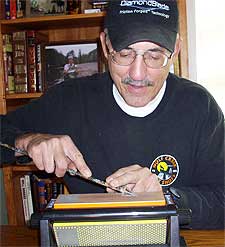 About Tom Claycomb
Tom Claycomb has been an avid hunter/fisherman throughout his life as well as an outdoors writer with outdoor columns in the magazine Hunt Alaska, Bass Pro Shops, Bowhunter.net and freelances for numerous magazines and newspapers. "To properly skin your animal you will need a sharp knife. I have an e-article on Amazon Kindle titled Knife Sharpening for $.99 if you're having trouble"
Some of the links on this page are affiliate links, meaning at no additional cost to you, Ammoland will earn a commission if you click through and make a purchase.