U.S.A. –-(Ammoland.com)- A few years ago we were looking for an affordable bolt-action rimfire rifle with a threaded barrel to use as a suppressor host for silencer testing. We found it in a Savage Mark II FV-SR. It worked so well as a host that the first time we tried it out, we thought we had a squib. The only flaw we thought it had was its somewhat chintzy magazine release, but as time went on we found the stock a bit on the smallish side for our tastes. so we reached out to Boyds Gunstocks to see if they could help us out.
They did in a big way.
We have been a fan of Boyds Gunstocks for a long time and perhaps the hardest part about choosing a stock from Boyds is finding the right color. We were looking at their line of laminated stocks when a banner popped up on their website to notify us of the new At One model.
Just like the rest of their stocks, the At-One is built from laminated hardwood that is dried to exacting specifications. They are hard maple veneers if you want to get specific. This ensures rigidity and stability for the rifle and the sealant used on the wood is weather resistant and chemical resistant.
Yet the At-One series is completely adjustable. The shooter can quickly and easily adjust the length of pull or the height of the cheek piece within seconds. This is important if you are running an optic on your rifle, decide to shoot from a different position or even wear a heavier coat while shooting or hunting.
The pistol grip and forend can be swapped out to different sizes if you prefer.
It sounded like a winner until we had to choose a color. We hemmed and hawed and finally settled on their Coyote pattern.
We placed our order and waited maybe a week for the stock to show up.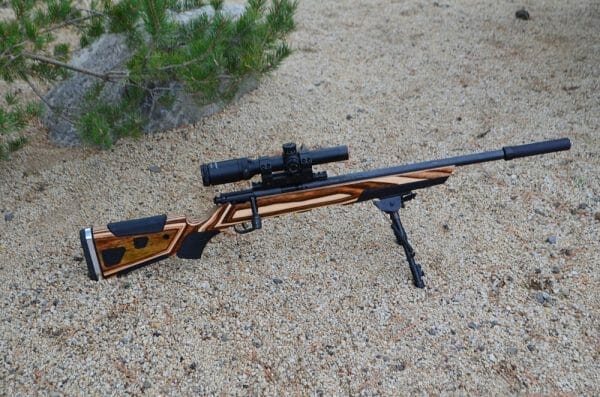 Installation
Fitting your rifle to a Boyd's stock will be relatively painless in most cases. If you're upgrading a Savage like our little rifle, however, there may be a few challenges.
In our case, it was the trigger guard and bottom metal. More specifically a lack thereof. As nice a shooter as our Savage has proven to be, there were a few areas where the company cut corners to keep costs down. We had a nice piece of bottom metal around the magazine, but the trigger guard was molded in as part of the buttstock. We could have put the rifle together with the action screws and shot it the way it was, but not having a trigger guard on a rifle like this was a big deal.
We were fortuitous in that Savage has made a number of rifles in this pattern over the years and a proper metal trigger guard is available should you find yourself in our spot. We found one from Midway USA, and they had it to us within a week.
The rest of the installation was painless after finding the right part and a longer action screw.
Immediately we noticed the difference in weight size and most importantly: feel. No longer did we feel like we had a little Youth sized rifle (not that there is anything wrong with that). Our Savage felt more like a traditional sporting rifle or hunting rifle.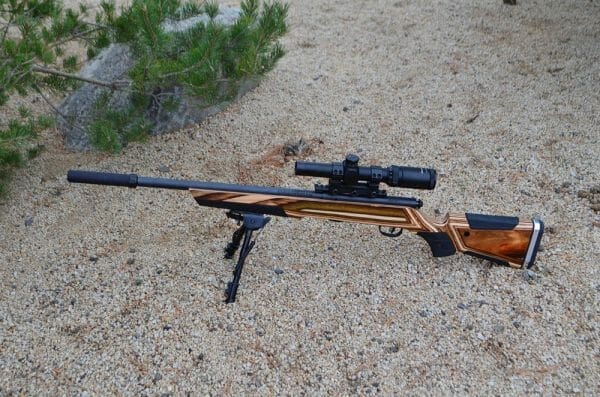 A front forend mounted sling swivel stud allowed us to mount our Harris bipod. We noticed off side mounting cups for QD swivels as well. When we took it to the range the rifle simply shot better. We noticed better groups, more comfort on the bench and just this feeling of rock hard stability from an increase of maybe 1.5 lbs in weight.
Boyds has us thinking about upgrading a few more of our long guns. It was only after shooting it, though, that we realized how much it had transformed the rifle on the "looks scale". The laminated maple in the Coyote grain has a rough and rugged look. It looks classic and modern at the same time.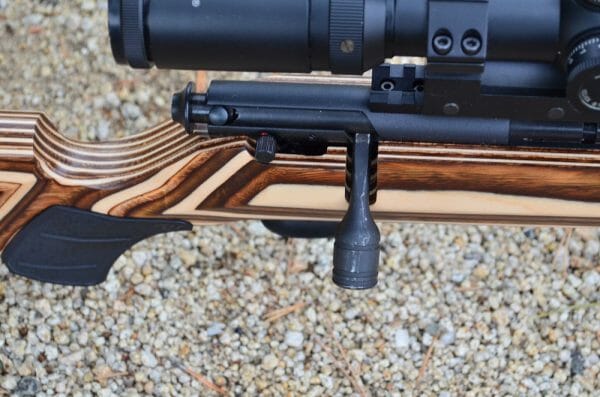 Specifications
Length of Pull: 12-1/2" – 14"
Comb Travel: 9/16"
Overall Length: 30-1/4" butt retracted, 31-3/4" butt extended
Forearm Insert Width: Standard: 1-3/4" at rear, 1-7/16" at front
Target Style: 2" at rear, 1-13/16" at front
Recoil Pad: 1/2" thick, over-molded rubber
Weight: approximately 3 lbs
Website: https://www.boydsgunstocks.com/
MSRP: $189
---
About Mike Searson: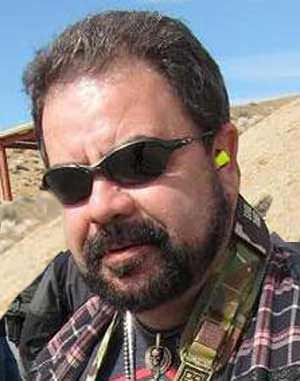 Mike Searson's career as a shooter began as a Marine Rifleman at age 17. He has worked in the firearms industry his entire adult life as a Gunsmith, Ballistician, Consultant, Salesman, Author and was first certified to teach firearms safety in 1989.
Mike has written over 2000 articles for a number of magazines, websites and newsletters including Blade, RECOIL, OFF-GRID, Tactical Officer, SWAT, Tactical World, Gun Digest, Examiner.com and the US Concealed Carry Association as well as AmmoLand Shooting Sports News.