SANTA CLARA, CA —-(Ammoland.com)- Today, the Santa Clara County District Attorney's Office issued a statement (http://bit.ly/da-foster-charges) about new firearms-related charges against San Francisco 49ers star linebacker Reuben Foster. But California-based civil rights organization The Calguns Foundation (CGF) called the news release "troubling" and "misleading."
The April 12 release stated that, during a search of Foster's home, police officers found "a Sig Sauer 516 – along with its large capacity magazine – both of which are illegal to possess in California." But those items are not necessarily illegal to possess in California.
"The District Attorney's Office is clearly misrepresenting California law in their statement," said CGF Executive Director Brandon Combs. "Worse, their assertions suggest that they may be prosecuting people for firearms-related conduct that simply isn't criminal."

"There are likely tens of thousands of perfectly-legal Sig Sauer rifles, and many millions of similar AR-15 type firearms, in California today," Combs continued. "As the DA should know, the statutory deadline for registering the new 'Bullet Button Assault Weapons' category of firearms is not until June 30. And, at least while a federal injunction is in place, the mere possession of a lawfully-acquired 'large-capacity magazine' that holds more than ten rounds is just not a chargeable crime."

"The Santa Clara District Attorney's Office should be above lying to make its case, but apparently they are more concerned about pushing their anti-gun agenda than telling the whole story. The public deserves better than political spin – especially from its prosecutors. If the Santa Clara DA's Office, or any prosecutor, is improperly charging and prosecuting people for firearms issues, we definitely want to know about that," Combs concluded.
If you or your client believe that they may be wrongly accused of a California firearms law violation, please contact The Calguns Foundation's Help Hotline at 800-556-2109 or by email at [email protected]
---
About the Calguns Foundation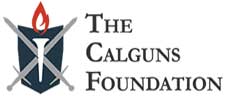 The Calguns Foundation (www.calgunsfoundation.org) is a 501(c)3 non-profit organization that serves its members, supporters, and the public through educational, cultural, and judicial efforts to advance Second Amendment and related civil rights.