To: M&P 380 SHIELD EZ Manual Thumb Safety Owners;
SPRINGFIELD, Mass., –-(Ammoland.com)- Like any firearm, the function of the M&P 380 Shield EZ Manual Thumb Safety pistol can be influenced by the type and quality of ammunition used with the pistol.
In the case of the M&P 380 Shield EZ Manual Thumb Safety, we have found that in very rare circumstances, ammunition that produces a high level of felt recoil can cause the manual safety to move from the fire to the "safety on" position during firing. Should this occur, you will not be able to fire the next round unless and until the manual safety is reset to the fire position.
At Smith & Wesson, we are committed to designing and producing firearms that meet the highest quality and performance standards. To ensure that every Smith & Wesson handgun meets our standards for reliability and performance, as of April 4, 2018, we have engineered the manual safety so that it will be less susceptible to the influence of ammunition weight, velocity and loads. Any M&P 380 Shield EZ Manual Thumb Safety pistol produced before April 4 2018, is eligible for a no-cost upgrade. To determine if this consumer advisory applies to your pistol, please utilize our serial number verification tool on our consumer advisory page. Click here to navigate to that page.
If your pistol is subject to this advisory, please call Smith & Wesson at 1-800-331-0852 or email us at [email protected] A FedEx return label and shipping instructions to facilitate the return of your M&P 380 Shield EZ pistol will be mailed to you promptly. If you have any questions, you may call 1-800-331-0852 for more information.
WARNING: READ AND FOLLOW THE WARNINGS IN YOUR OWNER'S MANUAL. NEVER USE "PLUS-P" (+P), "PLUS-P-PLUS" (+P+); OR RELOADED AMMUNITION WITH THE M&P 380 EZ. ALWAYS USE FACTORY MANUFACTURED AMMUNITION PRODUCED TO SAAMI SPECIFICATIONS.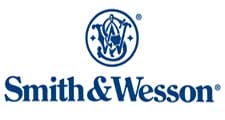 About Smith & Wesson
Smith & Wesson Corp. is a provider of quality firearms for personal protection, target shooting and hunting in the global consumer and professional markets. Smith & Wesson is world famous for its handguns and long guns sold under the Smith & Wesson®, Performance Center®, M&P®, Thompson/Center Arms™, and Gemtech® brands. Through its Manufacturing Services Division, Smith & Wesson Corp. also provides forging, machining, and precision plastic injection molding services to a wide variety of consumer goods companies. For more information on Smith & Wesson, call (800) 331-0852 or log on to www.smith-wesson.com.