U.S.A. –-(Ammoland.com)- A few years ago, I received an email about a new line of pistols coming from Slovenia known as the Rex pistols by Arex. As I looked over the pictures in my inbox, I thought they looked a lot like clones of the SIG P226. I noticed the price was several hundred dollars cheaper and that usually signifies that there has been a compromise made somewhere, either in the form of cheap parts or cheap labor.
I made a mental note to request one for review and was prepared to be unimpressed.
This is not to say that clones are a bad thing. Over the years we have come to prefer some of them over the originals like the FEG Hi-Power clones or the Tanfoglio CZ pattern handguns. Then again those are direct copies whereas the Rex pistols could be more accurately described as "inspired by" rather than an actual clone.
These pistols are distributed by the FIME Group and they reached out to us asking if we would like to test their latest model: the Rex Zero 1T.
We received a two-tone version in black and flat dark earth with a 5″ threaded barrel. While we were expecting a clone of the venerable SIG P226, the end result was much more.
The Good
Prior to the Rex pistol, we could not recall any other firearm made in Slovenia, some may have been mildly concerned, yet soon we realized these concerns were baseless.
The Rex Zero 1T has an impeccable fit and finish. We had to struggle to find any machining marks and saw virtually no flaws, sharp edges or anything of that nature after we disassembled it.
This is a very well-built pistol. According to Arex, the pistol is designed to exceed a 30,000-round service life and is rated for +P ammunition.
Materials are key here, and the slide is milled from solid bar stock steel that has been nitro-carburized. The frame is CNC machined from solid T7075 aluminum bar stock and uses a steel locking block insert.
Take-down and reassembly is identical to the SIG classic line of pistols. There are front and rear cocking serrations which allow easy racking of the pistol, full length frame rails and a full length railed dust cover compatible with M1913 Picatinny. You can add your favorite light, laser or combination of the two with no problem.
The barrel is cold hammer forged from bar stock, threaded 1/2 x 28″ and comes with a thread protector.
This is the more common pattern for most sound suppressors, although we were surprised that a European company did not go with the metric left-hand threads with which we have become used to on our Glocks, SIGs, HKs and Steyrs.
Speaking of sound suppressors, the sights are tall "suppressor type sights" to allow the shooter to see over the silencer or co-witness with an RMR type sight.
The Rex Zero 1T is ready for a red dot sight out of the box and comes with four interchangeable mounting plates in what is known as their ROR (Rex Optics Ready) system.
Plate 1 is intended for use with the Trijicon RMR, plate 2 goes with the C-More sights, plate 3 is for both Shield and J-Point sights, and the fourth plate can fit Eotech, Vortex, Burris, Docter Optik, Insight and Meopta.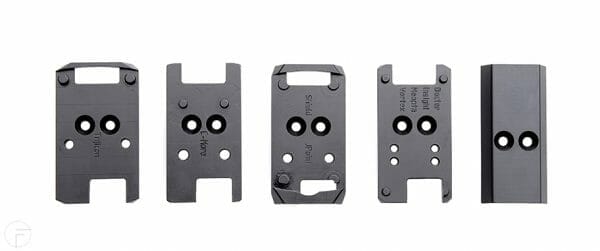 The safety and magazine release are ambidextrous, and the pistol can be carried either cocked and locked or de-cocked.
Perhaps the biggest departure from the SIG method of operation is that the slide release and de-cocker are the same unit, which would be the de-cocking lever on a SIG. Where the SIG slide release is found is where Arex located the manual safety.
This gives the shooter options: you can de-cock the pistol and shoot it as a DA/SA or engage the safety and carry cocked and locked like a 1911.
The Bad
If you are a die-hard SIG junkie, the slightly different manual of arms may frustrate you. We got used to it rather quickly, but if you want to stay with it and are transitioning from the traditional designs, make sure you practice with it before running it in a match, as a duty/self-defense piece or even taking a course.
Our only other issue seemed to be the magazine release spring. Sometimes it did not want to let go of an empty magazine.
Despite the similarities, most parts, including the magazines, are not compatible between the Rex Zero 1T and the SIG Sauer P226. The recoil springs were the only things to us that looked similar. The good news is that spare magazines are reasonably priced.
The Reality
We found ourselves shooting slightly to the left of point of aim at 15 yards. With groups ranging from 1.25" to 2.55" In single action mode we measured the trigger weight to be at 5 to 5.5 pounds and double action mode was closer to 11 pounds.
The Rex Zero 1T digested every round we fed it without a single hiccup. That included 115 grain Winchester White Box and Wilson Combat 147 grain JHP and every miscellaneous round in between.
FIME Group claims the Rex Zero 1T to be "the most sought-after pistol in the world". That may sound like marketing hype to most people, but in this case, I believe it.
I was prepared to be underwhelmed with the Rex Zero 1T, but on the contrary, I was completely impressed on every level. Even though I have at least 10 SIG pistols in my safe, I will be adding a Rex Zero 1T to my stable somewhere down the line.
The best part of these pistols is their relatively low MSRP, the Rex Zero 1T retails for $869.
Specifications:
| | |
| --- | --- |
| Caliber: | 9mm Luger (9x19mm) |
| Operating Principle: | Short recoil |
| Action Type: | Modified Browning linkless locking system |
| Trigger System: | Single- and Double-action, Hammer fired |
| Length: | 8.1" |
| Barrel Length: | 4.9" |
| Height: | 5.9" |
| Width (slide): | 0.98" |
| Width (frame): | 1.1" |
| Width (safety levers): | 1.46" |
| Weight (without magazine) | 30 oz |
| Magazine Capacity | 20+1 |
| Trigger Pull SA | 5.5 lb. |
| Trigger Pull DA | 11 lb. |
| Trigger Travel DA | 0.5" |
| Reset Travel SA | 0.16" |
| Barrel Profile/Twist | 6 grooves, right-hand twist |
| Barrel Twist Rate | 9.8 in / 250 mm |
URL: https://fimegroup.com/store/Rex-Zero-1T_Tactical-pistol.html
---
About Mike Searson: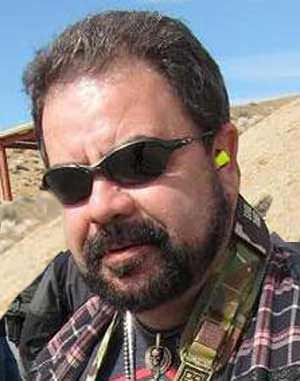 Mike Searson's career as a shooter began as a Marine Rifleman at age 17. He has worked in the firearms industry his entire adult life as a Gunsmith, Ballistician, Consultant, Salesman, Author and was first certified to teach firearms safety in 1989.
Mike has written over 2000 articles for a number of magazines, websites and newsletters including Blade, RECOIL, OFF-GRID, Tactical Officer, SWAT, Tactical World, Gun Digest, Examiner.com and the US Concealed Carry Association as well as AmmoLand Shooting Sports News.