U.S.A. –-(Ammoland.com)- The VEPR is a versatile rifle, which makes it a solid and reliable hunting firearm. Whether you are hunting or simply hitting the range, you will want to learn more about this rifle.
Built on the same standard as the military RPK, Vepr is 50% more reinforced than a standard, stamped AK rifle. Each rifle has been manufactured using state of the art technology, effectively creating a robust rifle that will last through not just a lifetime but for many generations to come. The RPK-style barrels are hammer forged and chrome lined using techniques that make them four to five times stronger than a standard AK barrel.
Vepr .243 features a look similar to an AK, with a thumbhole buttstock and walnut foregrip. The hammer forged, chrome lined barrel, and a scope rail is riveted to the side of the receiver for easy mounting for any picatinny-compatible scope. Each rifle comes with high quality, beautifully crafted walnut furniture as well as a rear sight with adjustable windage. As you may be aware, this rifle is sanctioned and only available in limited quantities.
If you're interested in learning more about Molot products, please watch this video review by Sootch describing them as, "Accurate, easy to handle and one of the best AK variants."
Molot rifles are also available in a number of different calibers such as the 6.5 grendel, .308, .223, and more. Please see our full inventory here.
---
ABOUT FIME GROUP, LLC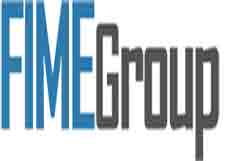 FIME Group, LLC is a manufacturer, importer, and exporter of the finest, high-quality firearms from around the world. Founded with the mission to manufacture the finest firearms and establish long-lasting business relationships with multiple manufacturers, FIME Group, LLC seeks to provide all of the customer favorites among rifles, handguns, and shotguns.
FIME Group, LLC.'s partnerships include:
Arex from Slovenia – the manufacturer of the Rex Zero 1 pistols, with a proven track record of over 20 years for manufacturing highly competitive products with premium quality and precision;
Molot from Russia – the manufacturer of the Vepr rifles and shotguns, one of the most rigid, toughest systems in the world;
Zastava Arms from Serbia – the manufacturer of the rifles based on the famous Mauser system.
FIME Group, LLC. is headquartered in Las Vegas, Nevada and may be found online at http://www.fimegroup.com