Opinion
Shooting the distance with the new Ruger Hawkeye Long-Range Target Rifle: Ruger has taken off the gloves on this one, believe me.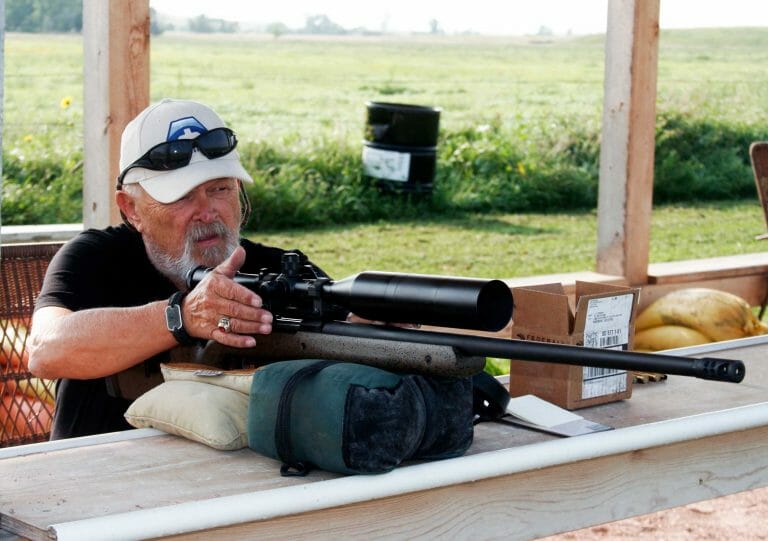 USA – -(AmmoLand.com)- When shopping for a long range rifle nowadays in many cases, in fact, most, be ready to part with $2000, through $4000 without blinking an eye. Someone has been watching regarding pricing and quality, and that would be the folks at the Ruger firearms company. Even with the sold hit on the market with their advanced design chassis rifles, the gun maker has not stopped at all concerning additional offerings in the long range rifle department. Enter the new M-77 Hawkeye in a heavy classic stocked long range target/sniper style rifle.
SHOT SHOW 2018 produces the first unveiling of the new rifle, but it was not until the first of July 2018 that the rifle became available for testing and evaluation by gun writers. I in effect, was under the right star I guess? Because Ruger got a rifle to me in very short order and from that day forward, it was game on.
Ruger Hawkeye Long-Range Target Rifle
The new Ruger Hawkeye Long-Range Target Rifle, a Ruger M 77 derivative, is not just another nice looking fire stick. In this case, the rifle starts with the well known and very solid Mauser M-77 long ejector action, and a heavy contour target barrel of 4149 chrome-moly steel, that makes use of a Russian developed 5R rifling system. R5 rifling retains minimum bore and groove dimensions, and also very tight head space in the centralized chamber. This barrel is equipped with a Ruger designed muzzle break that by hands-on testing to the tune of 300 rounds down range has indicated that the rifle has reduced recoil even when fired loose and almost hands free bench rest style.
When shooting hand loads based on Sierra 168 grain Match King (TMK) bullets, and once fired Lake City military brass, I found the standard RCBS resizing dies to be almost to loose, creating somewhat heavy chamber drag when sending a bullet down into the rifles pipe. What this says is hand loaders beware here. Keep track of any tight fitting cases because this match grade chamber won't tolerate a sloppy resized hand load at all.
Now tack on an in-house Ruger built target/sniper style stock that is a composite material that has add-ons that won't quit, and the Ruger factory build starts to take on the look of a custom shop rifle by many standards exhibited within the industry. This rifle stock has even balance for a total weight 13-pound rifle, and I found it to be able to suck up recoil as is often the case in better custom stocked rifles that make use of heavy calibers.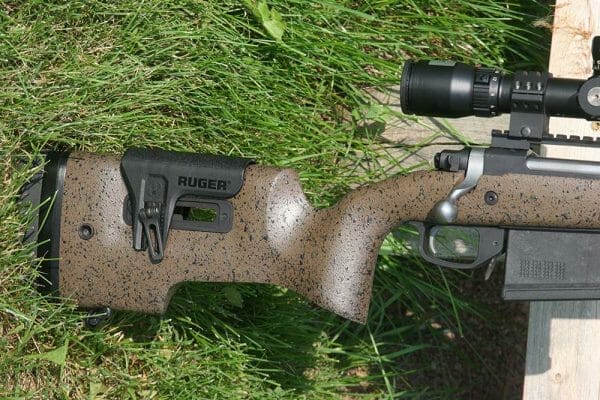 The rifle's stock makes use of a speckled black and brown material that gives the whole stock surface a uniform grip even under wet field conditions. The beavertail forend provides ample surface for bench rest shooting off sandbags and also retains the accessory rail on the underside to accommodate sling swivels, bipod mounts, as well as a multitude of varied shooting, devices so common nowadays.
In the area of stock adjustment, the furniture on this rifle provides ample adjustment for length of pull and stock comb level adjustments when matching the shooter to his or her scope sights. All the features found on guns costing two through four times the retail of the Ruger Long Range 300 Win Mag are factory installed, and more than ready for a down range experience by the owner.
In the sighting department, the new Ruger Long Range is set up with a 20 M.O.A. Picatinny rail, giving the shooter some added elevation adjustments for ultra long range shooting. With an extended range scope base or rail system, this rifle by way of a proper long-range optic will hold up to 1400 yards shooting, or even one-mile work as it stands. This all depends on the glass, bullet, and load taken into the field for downrange applications. In general, the 300 Win Mag is the only cartridge offering so far regarding the Hawkeye Long Range system is best utilized inside 1500 yards. This is precisely why the military has gone to this cartridge to get a jump on insurgents advancing with trench motors and Russian Duska heavy machine guns.
Opening with the Long Range rifle offering chambered in 300 Win Mag was a good idea by Ruger. Others may follow, but the big 300 is king of the hill in this case.
---
---
When shooting the rifle the controlled round long extractor allows the bolt to be moved almost to the rear before the spent case ejects to the right side. This is a great design when it comes to sniper use, or any long-range application whereas the shooters wants to control those spent cases and not allow them to hit the ground.
Trigger control and adjustment is nothing but outstanding. At 2 ½ pounds by way of my Timney Trigger Scale, the let-off is as smooth as silk. The lock time is short, and she just goes off like a Swiss watch.
The safety is of the Mauser style and retains the proven M-77 actions three-position function. The Ruger safety allows the shooter to unload or load the rifle with the safety engaged.
The rifle's magazine being the AI style, and is a 5 round detachable box comes as a single unit with the rifle. Additional magazines can be ordered.
The rifles bolt is again a controlled round feed Ruger M-77 design, and it is machined as a one-piece stainless steel unit. I like the big Mauser style bolt release latch on the left side of the receiver. This is a far cry above those wimpy little latches that get caught up in winter gloves used in some other receiver designs.
Going Down Range with the Ruger Hawkeye Long-Range Target Rifle

When testing for this review, I started out on chilly mountain mornings in otherwise dreadfully hot summer on my 600-yard steel target range with a quick zero by way of a Bushnell Elite series long range optic in the first focal plane. ( FFP.) The first day went almost to well as applied to a quick and easy 100 yard zero, followed by some equally quick success on the 600-yard steel.
At 100 yards, while shooting Winchester 150 grain soft nose deer loads that didn't come with any national long range competition performance results that I could find, the Ruger Hawkeye cut a 0.726 group for three shots making it a sub m.o.a shooter right out of the box.
When the first two round touched, I decided to shoot the third round in the event that was the best group I was going to see all morning. I guess I had little faith one could say because the whole group shooting deal only got better.
---
The following is a short table of the rifles 100-yard group shooting results as applied to a variety of different loads being both factory and handloaded.
Range 100 yards.
Load: Federal Premium 200 grain BT EDGE TLR MV, 2810 f.p.s. ( Extreme ) Long Range
Group: three rounds. 0.834.
Load: Norma 150 grain ECO STRIKE MV 3280 f.p.s. (High-Performance Big Game )
Load Winchester 150 grain POWER-CORE MV 3260 f.p.s. S.P. B.T Design
Load: Hand load Sierra TMK 155 grain Match Target. MV 3259 f.p.s. ( H 4350, 74 grains.) Lake City Brass, Fed Primer.
Group: 0.496 ( Sub ½ M.O.A )
Load: Hand load SIERRA MPBT PALMA MATCH 155 grain 3200 f.p.s.. ( Reloader 22, 79 grains.)
Group: 1.065. ( Loaded hot target long range .)
Load: Winchester 150 grain PHP. EPMEX Bonded. MV 3290 f.p.s. ( Big Game )
Group: 1.09 ( Slight flyer )
Load Federal Fusion 165 grain MV 3089 f.p.s . ( Budget cartridge / solid performance.)
---
After completing the 100-yard accuracy shooting it is evident that this Ruger Hawkeye Long-Range Target Rifle carried the signature of first-class steel busting or paper punching machine.
With a move to the 600 yard AT steel target which measures about the size of a large man's torso give or take an inch or two, the first four shot series of 168-grain TMK's put Sierra bullets into a sub m.o.a. cluster, however, that was the bitter end to that part of the story.
On the second morning over the sandbag as the rifle would just not shoot with any level of accuracy. I had turned the power setting back during cleaning, and as a direct result of that significant error, and yes gun writers do make mistakes, I had lost my impact points at ranges beyond my zero. The bane of the FFP reticle had descended upon me, and I was in effect screwed.
Being it would take a boatload of bullets to correct the issue when searching for the same setting down range, I only was able to get an additional feel for the trigger and shoot several more 100 yards confirmed dead on the dial sub m.o.a groups.
With a switch out to an old standby Tasco optics built by the Tasco Custom Shop for me about 35 years ago, I was back on the range in a couple of days. The super long Tasco pushed a 10X50X50 glass spotting scope with m.o.a sub tensions for sighting in the second focal plane (SFF ) to any zero range limit desired. These were the years Tasco was building sniper scopes for the likes of Carlos Hathcock ( White Feather ) back in the NAM. As the big glass sight had bailed me out of a pile of issues over the years, I had nothing but respect for the old super long range optical system.
Pushing the Ruger Hawkeye M-77 Long Range Target/ Sniper rifle. ( Phases two gets underway )
While I am not much of a group shooter being that only burns up barrels and costly ammo, it is essential to measure the effectiveness of the rifle's barrel on close range slow fired groups. That task completed, however, it was game on, and now time to dress for those goal post types of shots.
The big Tascos tube walked about halfway down the barrel of the Ruger Hawkeye Long-Range Target Rifle as I set it into the hard sandbag rest for a zero check, then I sent the first rounds out to 400 yards after adjusting for m.o.a. elevation based on the dope I had generated regarding a 150-grain SPBT bullet.
Shooting on a blank white steel plate, and using an aiming dot as an accuracy guide, the rifle bullet splashed a bit left, but almost dead center in the AT, ( Action Target ) face hardened steel. Two additional rounds impacted with the first, delivering a group measuring 3 ¼ inches center to center.
Needless to say, but I liked what I saw down range.
Moving out to 500-yard steel almost nothing changed regarding accuracy. Four rounds down range measured practically the same group as the 400-yard print, indicating again a comfortable sub m.o.a. accuracy level attached to this new rifle. Ruger had done their homework regarding the 5R rifling. There may have been a slight level of spin drift( bullet movement to the right,) re a right-hand twist at 500 to contend with, but at that short range, I was not at all sure.
Now with a 500-yard zero, I would need to run ballistics calculations once again with that zero range entered in for some additional shooting to the next zip code with this seemingly outstanding long-range piece of equipment.
Handloading a long-range 300 Win Mag cartridge consisting of 79 grains of Reloader 22, a Federal primer, Federal brass, and a Sierra 155 grain Palma Match HPBT bullet, this 3200 f.p.s. steel target killer was ready for some finalized longer range shooting. Being the Ruger Hawkeye Long-Range Target Rifle was the chosen rifle for some additional articles as applied to AmmoLand, and as such she would see some ultra long range work under far better conditions then those presented at the time this first test was completed, I decided that with the 500 yard zero, and a three m.o.a. set of clicks for elevation, the 600-yard steel that would be again visited would be more than enough to establish the fact the new Ruger M-77 Hawkeye Target rifle was indeed a game changer for sure. At 600 yards like on the previous test the Ruger M-77 planted good solid clusters of rounds with authority against my AT Action Target long range torso training target.
Be advised my friends I have shot and reported on live fire police training programs that were for the most part produced in the high Wasatch mountains of eastern Utah, whereas many police snipers were turning to Ruger in the form of their high-performance chassis rifle designs. I predict that like the Ruger chassis rifle theRuger Hawkeye Long-Range Target Rifle that has been enhanced as an advanced tactical design at less than 1/3 rd the cost of most better grade long range rifles, is going to see a whole lot of sales as a professional as well as civilian use in the year or two ahead.
---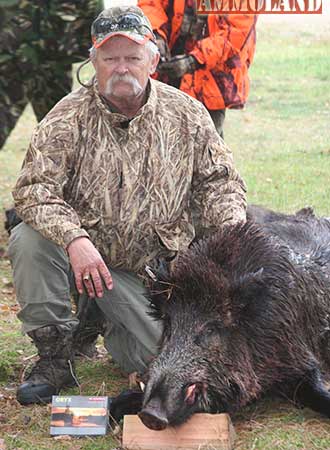 About the Author L.P. Brezny:
With more than 50 years experience in the field and the testing lab, author L.P. Brezny is one of today's most recognized shotgun experts and authors. He is a contributor to dozens of firearms publications, such as Wildfowl, Shotgun Sports, and Varmint Hunters, and he is a regular columnist in the Gun Digest annual. Be sure and check out his newest book: Long Range Shooting, Second Edition.