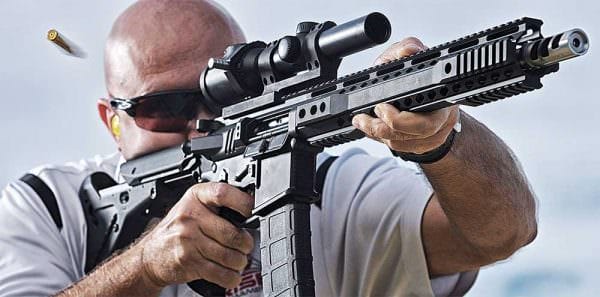 Broken Arrow, Oklahoma –-(Ammoland.com)- RISE Armament, a premier manufacturer and supplier of AR firearms and components, is pleased to unveil RISE LE — the company's new law enforcement (LE) division.
RISE LE's focus is on engineering and manufacturing highly accurate and reliable law enforcement firearms and components. Its products include RISE's LE145 Tactical Trigger — a responsive and dependable single-stage drop-in trigger for AR-style rifles. Through its LE division, RISE Armament will also offer rifles designed specifically for law enforcement use.
Motivated by the July 7, 2016, police ambush in Dallas, Texas, RISE Armament set out to ensure that no police officer is ever outgunned by a criminal. The RISE team made it their mission to develop LE products that excel in functionality, accuracy, dependability, and affordability.
"RISE is extremely proud to launch a division that specifically focuses on products that help law enforcement officers in the line of duty. Officers are out there fighting to protect our communities, and all too often, their equipment is less than what they need. They need the best, and they deserve the best, so we're on a mission to make that happen," said Matt Torres, President of RISE Armament. "We put a lot of thought and ingenuity into the engineering of all our products, and we want that to go toward improving our community and our country as a whole. We have a new rifle coming out that will certainly be the headliner for the LE division, but RISE will produce multiple products that benefit our police officers."
RISE Armament is designing its LE products based on research and feedback from law enforcement officers throughout the United States. In addition to providing the functionality, performance, and reliability officers need, the company has developed proprietary manufacturing efficiencies to ensure the products are affordable within law enforcement budgets.
RISE Armament specializes in the design and manufacturing of small- and large-frame ARs, receivers, triggers, barrels, and compensators for civilian, military, and law enforcement uses. For more information about RISE Armament products, visit www.risearmament.com.
---
About RISE Armament:
We're machinists, engineers, executives, hog hunters, target shooters, and coyote killers. Some of us are veterans; all of us are patriots. We're God-fearing, country-loving, down-to-earth folks who take pride in providing TIER 1 products to our fellow countrymen. We work hard. We play hard. Our values run deep. Our roots are in manufacturing — machining and fabricating for the oil and aerospace industries. In the past, we would shoot and build a few guns when we got the chance. Now, we still shoot, and we manufacture lots of guns. We also machine gun parts and accessories. Our objective is simple — to unleash every shooter's potential and elevate the shooting experience.