Whigham, GA –-(Ammoland.com)- The predictions for the 2018 fall flight of ducks and geese should get any smoothbore enthusiast excited. We are living in the "good old days" and this fall is likely going to be the best any waterfowl hunter has ever seen.
The fact there are more birds in the migration than ever before does not equate to bringing more home on your hunting excursions. Don't leave success to chance. Instead, improve your shotgun success by maximizing your effective pattern on ducks and geese.
The Super Waterfowl Chokes from Trulock Chokes will increase your range and hitting power no matter what shot size you prefer. The Super Waterfowl Chokes were designed to maximize range when shooting steel shot. Trulock Chokes make three degrees of full choke constriction, turning your shotgun into a customized duck slayer.
The Full #1 has a .030 constriction and is designed for shot sizes F through BB. The Full #2 has a .040 constriction for shot sizes B through #3. The Full #3 has a 0.50 constriction and is designed to maximize the pattern for shot size #4 and smaller.
The variations in choke constriction take the shot size into account, tightening patterns to reach farther. Make more noise this fall, and make sure to bring home some plump ducks and geese with increased and improved range with Super Waterfowl Chokes.
Here is a Waterfowl Choke rundown from Trulock Chokes to give you an advantage:
Cylinder Bore, (.000 constriction) for shooting at close range, such as in thick timber and usually about 30 yards. This choke with most steel loads using # 2 or larger shot will give a nominal improved cylinder pattern.
Improved Cylinder, (.010 constriction) for shooting at midrange such as typically found when using decoys and usually about 35 yards. As above most loads using # 2 steel will give a nominal modified pattern.
Modified, (.020 constriction) for a longer range such as pass shooting. Usually at 40 or 40 plus yards. Again, most loads of # 2 steel or larger when used with this choke will give a full choke pattern.
If using # 4 steel shot, then increase constriction by .005 on each degree of choke so that you have the below.
Close Range = Skeet 1, – Mid Range or Decoy = Skeet 2/ Lite Mod, – Pass or Long Range = Imp Mod
Choke tubes provide the advantage you've been looking for this duck and goose season. Get the lead on your buddies and outfit your gun with the options to bring home more waterfowl.
Trulock Choke Tubes: Constriction specialists that enhance a shooter's natural ability.
Explore the many options of choke tubes to fit most shotguns at trulockchokes.com.
---
About Trulock Chokes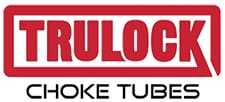 The staff at Trulock Chokes prides itself on providing excellent service and an excellent line of products. In the event you are not completely satisfied with your purchase you can return it for a refund or exchange within 60 days from the date of purchase – with other firms, the moment you open it, you own it.
For more information, please visit WWW.TRULOCKCHOKES.COM