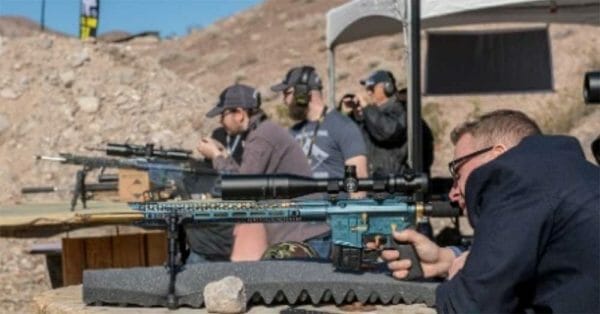 Post Falls, ID. –-(Ammoland.com)- Anteris Alliance, LLC was founded in early 2017, after a small group of companies decided to work together to do more than they could accomplish by themselves from product demonstrations, customer events, and ultimately Veterans and First Responder support. Already, with over 50 corporate partners and counting, the mission has taken hold at every level. Whether as a manufacturer or service provider, a buyer, media, influencer, patriot or nonprofit partner there is a way for everyone to be part of this great movement!
The Alliance will host their annual Alliance Week series of events for 20-25 Jan, 2019, with events to include Try & Buy, Patriot Pitch Tank, Showcase, FLEOA Silent Auction, Alliance and SOCN After Party Concert, and Hospitality Networking Suite!
This year's Platinum Sponsor is AMMO INC, the parent company of amazing ammunition brands to include Jesse James ammunition, Streak Ammo, and Black Ops ammo.
Anteris Alliance TRY & BUY – 20 Jan – Pro Gun Vegas – 9:00am – 4:30pm: Up to 175 Patriot Owned companies with a built in dedication to our Vets and First Responders and some awesome new product releases across several industries! Up to 60 potential shooting lanes mixed with Pistols, Rifles & Shotguns available to test and interact with their manufacturers directly. Experience exploding targets, suppression systems, and ranges up to 200 meters and so much more! Up to 150 non-shooting exhibition tables available to see including the exclusive launch of some awesome new products and services into a myriad of industries!
Patriot Pitch Tank, FLEOA Foundation Silent Auction, Networking Showcase – Stoney's Rockin Country – 21 Jan – 9:00am – 6:00pm: Next to Mandalay Bay on the Las Vegas strip, we will be gathering for a day of amazing activities. Patriot Pitch Tank brings a competition of some of the most unique and amazing new products in the industry with some VIP judges to include Tesla founder, Wilhelm Cashen; CEO of the Management Group, Eddie Pham; CEO of Enlisted Nine, Dan O'Brien; and two more secret judges all of you are going to know to be announced in December! Come and network with other great industry partners, watch the Pitch Tank, and take part in a Silent Auction with thousands of dollars' worth of great items all benefitting the FLEOA Foundation!
Anteris Alliance Hospitality Suite – 22-25 Jan – Venetian Hotel – daily 4:00pm-10:00pm: Throughout SHOT show, the Alliance will be hosting daily networking each evening at the completion of the show in our Venetian hospitality suite allowing our network partners to come together each evening for drinks and fellowship time. Each day we will provide a business focused course for those who would like to take part in our Alliance and sponsor group.
Special Operations Charity Network (SOCN) and Anteris Alliance present the Stand for America Benefit Concert event – 23 Jan – Stoney's Rockin Country with presenting sponsor – Purple Monkey Garage: With VIP doors opening at 5:00pm, General Admission at 7:00pm, and running until 11:00pm, this event is the absolutely most exclusive event of Alliance Week during SHOT! The concert will feature US Military Vet groups Nick Sterling Music and Blackbird Anthem. The event will bring together many military tier one operators, an amazing network of companies and sponsors. All proceeds of the event will go to benefit the SOCN and their chosen charities for the year. Register to attend or sponsor at https://www.standforamerica.co
Alliance Week this year will be the biggest and best yet! Some exhibitor space for Sunday's Try & Buy event, including live fire ranges are still available. Sponsorships for the entire week are also still open for purchase for interested parties at https://www.anterisalliance.com/alliance-week
"We had an absolute blast last Jan, with some of the best companies and brands, young and old, in the industry! We are experiencing huge continued growth as we expand exhibitor space for 2019, to over 175 spots. Those companies looking for a way to get their products in front of the top 2A media and commercial buyers in the industry as well as Government, Law Enforcement and International have no better place to exhibit and demo their products that this event!" – stated Casey Betzold, CEO of Anteris Alliance. "Our focus is to bring fun back to big events during the biggest week in the industry, with a special focus on some great young patriot owned companies bringing brand new product ideas to the forefront of the market, all while raising dollars for some awesome Veteran and First Responder charities!"
The event will feature some awesome special guests in an ever-growing list! This event is focused on providing maximum ability for exhibitors to show their products in the best possible way to bring buyer and media interest, and really put on a fun and tangible event the media and buyer attendees can get some great content and contacts from. In a market that is making some big changes, this event is bringing some cutting edge one of a kind products and brands to the forefront allowing attendees to see some things they will not see anywhere else.
For those looking to exhibit or sponsor, this is the best bang for the buck especially for young companies looking to make a splash in this great industry! Incredible sponsorships also available while supplies last! Contact us today to reserve your spot!!!!
Event questions can be directed to [email protected]
Interested Manufacturers, Dealers, and Individuals can visit www.anterisalliance.com for more details and follow Anteris Alliance on social media on all major platforms – Facebook, Instagram, Twitter!