GRAND RAPIDS, MI USA -(Ammoland.com)- When I was a kid, perhaps thirteen or fourteen, I found myself interested in old military rifles. Like many boys in the early 2000's, my first rifle was a Russian Mosin Nagant, of course chambered for the very powerful 7.62x54R cartridge. I still have a great deal of affection for the old warhorse, but it was not at all the best gun for a boy of my age and frame to learn the fundamentals of marksmanship with.
In this article I will construct a rifle with the help of Brownell's that delivers everything a young marksman needs to get started.
When I first became involved in Civilian Marksmanship Program (CMP) sports, I was wanting for quality gear and I developed bad habits that would take me years to overcome. There is nothing wrong with entering into a sport with powerful rifles, but powerful rifles with bad triggers and crude sights can quickly tarnish any natural talent a shooter may have.
When I approached this project, I wanted to make sure that I stayed true to the military roots of the CMP and put together a rifle that had accuracy-enhancing features, but nothing that distracted from the spirit of the sport. I did some research into what was available and decided to go for a gun that was about as close in appearance and handling to the M1 Carbine as possible.
The M1 Carbine is a rather interesting gun and is a very suitable size for young and inexperienced shooters. The only problem for a young shooter, and their parents, is the cost of the ammo needed to train a future gold medalist. When I was a boy, the cost of 7.62x54R was only $40/440 rounds, and was even cheaper in some cases! For this build, I decided to go with the .22LR, as it is accurate at the same distances that the original .30 Carbine cartridge is, but at a much lower price point.
Brownell's recently released their BRN-22 receivers. These are made in the same pattern as a Ruger 10/22 and are compatible with 10/22 parts, but with some thoughtful enhancements. The first of these is a hole at the back of the receiver that allows the owner to clean the action straight through with a rod instead of having to clean from the muzzle or with a flexible rod.
These receivers are available stripped, like mine (078-000-429WB), or with an integrated rail. They come with bolts and v-block to attach the barrel, however you will need to purchase an action screw (780-001-366MB).
The barrel I chose for this is a standard 18" Ruger 10/22 barrel (780-000-001MB). It is not a match bull barrel, as I thought that including one of those wouldn't be in keeping with the idea behind this project. Another Ruger part I went with was the bolt itself (100-030-209MB, includes receiver pins, too).
There are others, but to keep cost down and function the same, it was an easy choice. The installation of the barrel was straightforward. I inserted the bolt and aligned the extractor notch cut in the barrel with the extractor on the bolt. I then indexed it in my vice and tightened down the v-block. This is a very simple operation, but it can be intimidating to a novice builder.
The next item I had to address was the sights. I wanted to have the full flexibility of true military sights, so I opted for the TSR100 set from Tech Sights (100-006-910MB). These install directly to the receiver and into the dovetail on the front sight base of a Ruger factory barrel. Installation is easy with the tools provided. These sights can be zeroed and moved for windage and elevation exactly like a true military rifle such as my M1903 A3 Springfield pictured next to the finished project build. Good sights will help a new shooter learn much faster and remove a great deal of uncertainty.
To enhance accuracy and handling, I opted for an amazing Timney 10/22 Drop-In Trigger Assembly (883-000-038MB). This excellent trigger features an extended magazine release that can be easily operated with one finger. It isn't an obvious or obnoxious addition in terms of aesthetics. The lines blend in well and don't distract from the military look. This trigger is crisp and set at two pounds at the factory. This is much lighter than many triggers are allowed to be, but the finished gun is very light. A heavy trigger on a featherweight gun will mess with marksmanship training and cause new competitors to fatigue during the trigger pull cycle.
To further enhance performance while looking good, I selected an oversized charging handle from Superior Concepts, Inc (100-003-562WB). This handle is wider and rounded, unlike the small hook found on standard 10/22 handles. The Superior Concepts handle closely approximates the size of a real M1 Carbine charging handle and allows a shooter to quickly and easily operate the bolt with gloved hands or while hot and sweaty. Fumbling with a small handle is never good when you're trying to instill confidence.
The final part makes it all come together. The USGI M1 Carbine stock from West One Products, LLC (100-005-642MB) installs easily and really makes the build look great. It is an almost 1:1 replica of the original M1 Carbine stock and it feels just like the original in terms of contour. Installation is a snap and, as an added bonus, it comes with two upper handguards so you can use it with or without a barrel-mounted rear sight found on many factory guns.
Once I had the gun assembled, I grabbed a couple of 15-round mags and went to the range. I sat down at 25 yards and fired to see where I was hitting. The rifle was spot-on! I moved out to 50 yards on a steel plate and made some very minor adjustments and then I backed off to 100 yards. This was an interesting test for me, as 100 yards is the distance that I typically practice at for all my CMP matches. I have a reduced power load I use in for the .30-06 and was surprised that the BRN-22 could easily keep up with the mighty Springfield 1903 A3 at this range. My average group size for ten shots was only 3" fired from prone with no sling. That is excellent performance for a lightweight project gun.
Offhand shooting proved a bit more of a challenge. The gun hardly weighs anything and making it steady was difficult. This is where the light Timney trigger came in handy. A heavy gun like a Mauser or Springfield can afford a heavier trigger, but you can feel every heartbeat in a little gun like this and a light pull was a godsend.
When it comes time for the winter blues, take some time and consider a fun project build like this one. The parts for this build are relatively inexpensive and the build can be accomplished in less than an hour. This rifle is accurate, true to the military competition spirit, and is very fun. If the parts in this build don't fit what you're looking for, Brownell's offers several other kinds of BRN-22 receivers and kits. The sky is the limit with these cool receivers and I heartily recommend you check them out.
Go to www.brownells.com to see more.
---
About Josh Wayner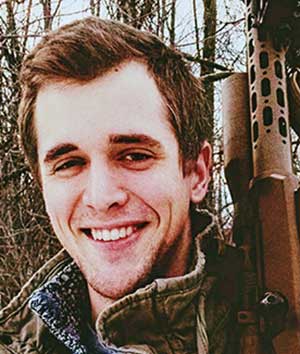 Josh Wayner has been writing in the gun industry for five years. He is an active competition shooter with 14 medals from Camp Perry. In addition to firearms-related work, Josh enjoys working with animals and researching conservation projects in his home state of Michigan
Some of the links on this page are affiliate links, meaning at no additional cost to you, Ammoland will earn a commission if you click through and make a purchase.