Pennsylvania – -(AmmoLand.com)- Nearly 100 lucky participants in Pennsylvania's 2018 elk hunt have taken home a trophy.
Ninety-nine elk were taken by 125 hunters during the regular one-week elk season that ended Nov. 10. And for those licensed to hunt antlered elk, also known as bulls, the success rate was 96 percent, with 25 of 26 tags filled.
The 2018 harvest included some large elk. Thirteen bulls each were estimated to weigh 700 pounds or more, with two of them going more than 800 pounds. The heaviest bull taken in this year's hunt was estimated at 894 pounds. That bull, which sported an 7-by-8-point rack, was taken in Gibson Township, Cameron County by Richard L. Reicherter I, of Wynnewood, Pa.
Meanwhile, an 806-pounder with a 10-by-7 rack was taken in Goshen Township, Clearfield County by Mark D. Copp, of Wellsboro.
Official measurements of bull racks taken in the hunt cannot be recorded until the antlers have air dried for at least 60 days after the animal was harvested.
There also were some large antlerless elk taken in the harvest. Eight of the 74 cows taken by hunters during the one-week season weighed over 500 pounds.
Thirty-nine elk – nine bulls and 30 cows – were taken on the opening day of the elk season Nov. 5.
"Overall, the 2018 elk season was fairly typical with a slightly lower success rate for antlerless elk hunters," said Jeremy Banfield, Game Commission elk biologist.
One difference from previous years was the distribution of elk harvests across all the hunt zones, Banfield noted.
"Normally we'd like at least a 50 percent success rate in each zone, where this year several zones had 100 percent success, while others reached only 20 to 40 percent success.

"Poor weather on Monday, Tuesday, and again on Friday might have contributed to the lower harvest, but most hunters recognize the rarity of having an elk tag and will hunt hard no matter the weather. Several hunters reported seeing elk while hunting and just not being able to connect with them."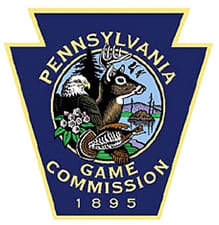 Successful hunters within 24 hours of harvest are required to bring their elk to a check station, where tissue samples are collected to test for chronic wasting disease, brucellosis, and tuberculosis. To date none of these diseases have been detected in Pennsylvania elk.
To participate in the elk hunt, hunters must submit an application, then must be selected through a random drawing and purchase a license. The drawing annually attracts more than 30,000 applicants.