SEDALIA, MO – -(AmmoLand.com)- Starline Brass is excited to bring customers a comprehensive guide to the 6.5 Creedmoor. Written by Gavin Gear of UltimateReloader.com, The Complete 6.5 Creedmoor Starline Cartridge Guide offers an in depth look into the 6.5 Creedmoor cartridge.
In this day and age, it's not easy to make meaningful advances in mature fields like rifle ballistics and cartridge design. Many talented people over the last 150 years have innovated and refined the capabilities of modern rifles to the point where just a small percent of improvement can seem significant.
The 6.5 Creedmoor story isn't just about a great well-balanced rifle cartridge, it's also about people and companies coming together to bring something meaningful to the shooting community. Unlike specialty cartridges (such as 6.5x47mm Lapua), 6.5 Creedmoor is accessible to everyone from casual shooters to serious competitors and hunters.
The Complete 6.5 Creedmoor Starline Cartridge Guide explores how 6.5 Creedmoor came to be, 6.5 Creedmoor ballistics, reloading 6.5 Creedmoor, hunting with 6.5 Creedmoor, and more. The guide provides all of the information you "need to know" about this cartridge with the hopes that you'll discover the "rest of the story" with first-hand experiences, research, reloading, and shooting.
In 2017, Starline Brass released two versions of 6.5 Creedmoor brass, one with large primer pockets, and one with small primer pockets.
Large rifle primers typically offer more reliable ignition over a wide variety of operating temperatures and with different load components and load levels. For this reason, large rifle primers are recommended for hunting applications.
In contrast, small rifle primers can offer more consistent ignition in cartridges like 6.5 Creedmoor. This will in some cases result in lower Extreme Spread (ES) and Standard Deviation (SD) numbers when muzzle velocity is measured with a chronograph. To order Starline's 6.5 Creedmoor cases please visit a dealer near you or order factory direct online at www.starlinebrass.com.
Starline Free 6.5 Creedmoor Cartridge Guide
The Complete 6.5 Creedmoor Starline Cartridge Guide is available for download at www.starlinebrass.com/65guide
---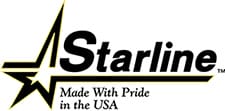 About Starline Brass
Starline is a family owned business that prides itself on producing the highest quality brass cases available at the best possible price. For more than 40 years, Starline's unique manufacturing process and commitment from their team of employees has distinguished Starline from the competition. Starline is now using that 40 years of experience to build a complete line of premium rifle cases.