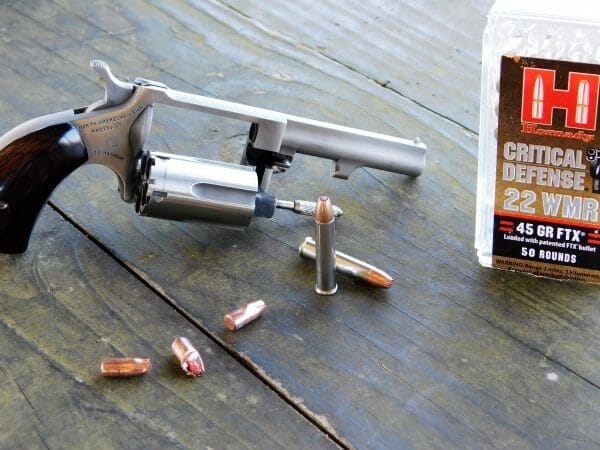 U.S.A. –-(Ammoland.com)- I am a fan of the 22 Winchester Magnum cartridge. It is a true chameleon cartridge. Like that underrated predator, the 22 Magnum comes in many forms and is surprisingly efficient at what it does. Designed as a rimfire rifle cartridge and an improvement over the venerable 22 LR cartridge for use against varmints.
As soon as this new hot round hit shelves in 1959, companies began putting the round into handguns despite the fact that the ammunition was designed to perform best out of rifle-length barrels. This has continued, even with the demand for small framed handguns chambered in the zippy little round as the 22 Magnum takes on an unlikely role of defensive handgun cartridge.
22 Magnum handguns are valued for their lightweight and their total lack of recoil or "kickback" while still being far more potent than the much-maligned 22 LR. I always thought of the 22 Magnum as being the 380 of the revolver world. Those of us who spend any time at the gun shop or the online forums will inevitably hear that the "380 with the right ammo is more than adequate". The same applies to the 22 Magnum.
What is meant by the right ammo? I take it to mean today's new emphasis on defensive hollow-point technology.
I actively carry a 22 Magnum handgun at times and if firearm catalogs are to be believed, I am not the only one. But there is need to improve on the performance of the 22 Mag out of short-barreled handguns, a need that has been capitalized upon. Defensive loadings are out there.
Given my vested interest in 22 Mag, I have tested quite a few 22 Mag rifle rounds out of small handguns, but these new defense loads–Hornady Critical Defense and Speer Gold Dot 45 grain hollow-point loads–left me cold. Designed for optimum velocity and expansion, even out of short barrels, these rounds promise great performance but I worried about such well-designed ammunition expanding too much at the cost of not penetrating deeply enough to impair major organs needed to physically stop an attacker.  Finally, curiosity got the better of me and I picked up both rounds for testing.
Hornady is no stranger to ammo innovation. Their Critical Defense line features an FTX projectile. In English, the FTX is a copper-jacketed hollow point bullet with a rubber-like plug in the cavity. This plug serves two purposes: to wedge the bullet, promoting expansion and to prevent clothing and debris from clogging the hollow-point cavity, retarding expansion. I found in testing 380 ACP ammunition that defensive-hollow points are mostly a waste of time with either no expansion at all or expansion that is too aggressive without penetration. One of the few exceptions is Hornady's Critical Defense. With that personal history, I was confident in their 45 grain 22 Magnum load.
The Test
That confidence was muted somewhat when I shot a few three-shot strings over my Caldwell Chronograph. At a distance of ten feet using my North American Arms Sidewinder with a 2.5-inch barrel, the average velocity came in at about the 1,050 feet per second mark with the on-camera string showing an average of 1,058. This is high velocity by handgun standards, but it is lower compared to the previous testing with standard off-the-shelf rifle loads.
This weaker-than-expected showing over the chrono translated into my ballistic gel test. I used four layers of denim to simulate clothing. The gelatin I used is made by Clear Ballistics and is synthetic in nature. This product is easy for me to use and transport for field use, but as I do with other tests, I melted the product, recast it, and calibrated it so I can verify personally that it is a fair medium and simulate of human tissue. Even with this extra effort, these tests shouldn't be construed as scientific but merely a point of comparison against other rounds fired under similar conditions–thus is the purpose of ballistic gelatin testing.
I fired five rounds out of my revolver into the block from a distance of three feet. One round nicked the block but the projectile escaped never to be found. The other four rounds were captured, having traversed the denim barrier and done moderate damage to my first gelatin block. However, three of the four projectiles stopped at the nine-inch mark. The final shot traveled to the 10.5-inch mark where it stopped.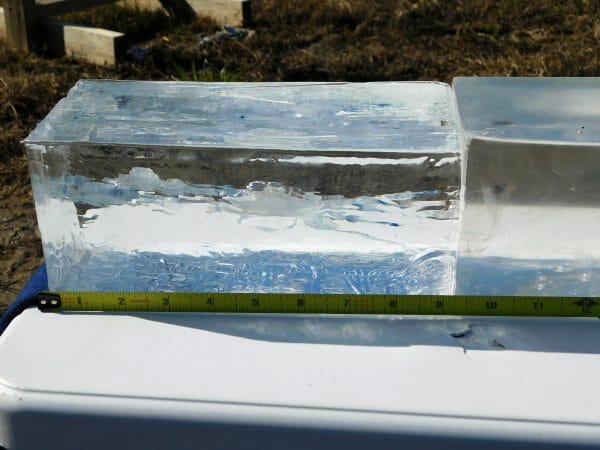 These numbers are light compared to the FBI's standard of measurement in this style of the test medium, 12-18 inches of penetration to be acceptable as a self-defense round. The Hornady Critical Defense may look impressive in its store packaging and even in the hand, but that is where it stops. There was no expansion and very little deformation of the recovered projectiles to explain the lack of penetration.
Taken together, the Critical Defense underperforms on every level despite it being one of the ammunition to buy specifically for self-defense in 22 Magnum. I left the range disappointed. I expected better and I had wanted to put the CDs though some meat and bone, but why bother when it failed even this primitive test? Needless to say, I won't be trading in my CCI Maxi-Mag FMJ loads anytime soon.
---
About Terril Hebert: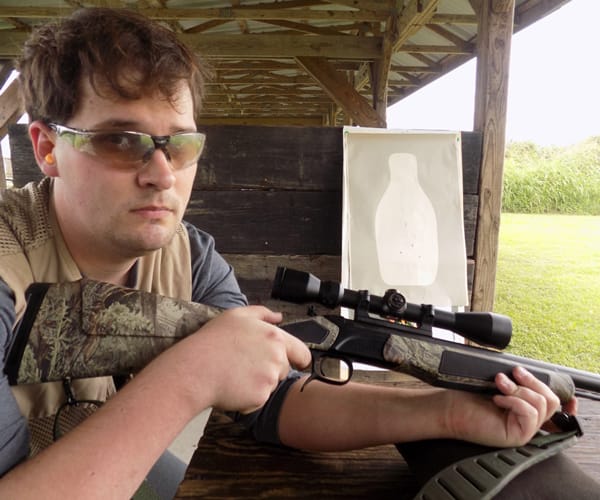 Terril Hebert is a firearm writer native to south Louisiana. Under his motto-Guns, Never Politics-he tackles firearm and reloading topics both in print and on his Mark3smle YouTube channel, where he got his start. Terril has a soft spot for ballistics testing, pocket pistols, and French rifles. When he is not burning ammo, he is indulging his unhealthy wildlife photography obsession or working on his latest novel. Scourge of God, published in 2017. See more from Terril on youtube under Mark3smle