Opinion
Competitive Shooter, Russell Reed reviews the groundbreaking Garrow Firearms Development 17HMR Upper.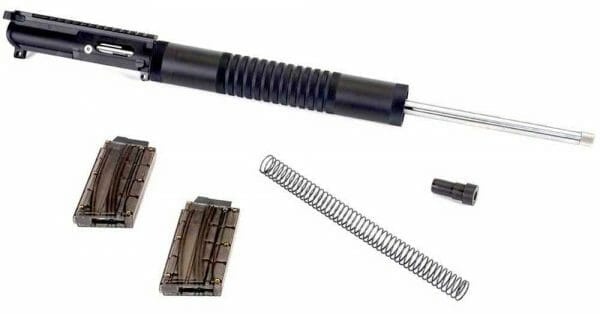 USA – -(AmmoLand.com)- I think many of you would agree that finding perfection in a firearm is tough to achieve. It's even harder when you are talking about rimfires. Now, there are a few high-end rimfire rifles out there, but still, I haven't been convinced that they are as good as it gets.
As a competitive shooter, I'm always looking for firearms that are wickedly accurate, customizable and I like new and little-known items. Early this year I found it. Among other types of events, I shoot the awesome little 17 HMR Ammo in matches. Shooting a bolt action in the past, I have been keeping my eyes open for a reliable and accurate semi-auto —finding one seems few and far between. The gun world has been plagued with the problem of how to make a 17 HMR function reliably in a semi-auto using a blowback type system. There have been a few companies out there that have ventured into this world with mixed results, but there has been a newcomer to the mix.
Michael Garrow of Garrow Firearms Development (GFD) has developed a whole new design in his patented AR-15 [AR-17] upper. His upper uses a delayed roller system, but instead of a blowback action, actually uses the gas system. I won't get into all the crazy amazing things that GFD has done over the last few years to make this thing work, but it does just that. Work!
Garrow Firearms Development 17HMR Upper Initial Impressions
When I received my upper early in the year, I opened the box to find the complete upper with the bolt carrier group, a buffer spring, buffer, a couple of magazines, instructions and a few spare parts. Please read the instructions; you will learn why this is important if you don't. I pulled out the upper and gave it a look over. The fit and finish on everything was excellent. My upper receiver is mated to an 18-inch stainless steel threaded barrel that is wrapped in a tubular varmint handguard. The buffer spring and polymer buffer are custom made for the ultralight bolt carrier group. I unscrewed the handguard and looked at the gas system. Micro gas tube length comes to mind, but well done. The BCG is like nothing I've ever seen. Imagine the offspring of an H&K roller locking system and a standard AR style BCG… but coming in at ¼ the weight. I scrounged up my spare lower and installed the buffer system per the instructions. The upper fits any 'milspec' AR lower, and was nice and tight once locked in.
For my first trip to the range, I threw a spare scope on the top of the upper. The temp was 30* with relatively high winds, and I wasn't anticipating great groups with the weather, a 4lb trigger, frozen hands and shooting off my range bag. I loaded up the standard AR-15 sized Blackdog Machine polymer 10 round magazines, lubed the BCG and sighted it in at 200 yards. Why shoot at 50 or a hundred? Go big or go home. I slammed every round home on an 8" plate at 200. Moved out to 250 and 300 before going full artillery and lobbing rounds into the 450-yard plate. With the wind and other factors, my hit rate wasn't amazing, but was more than adequate considering conditions. I fired 200 rounds at various distances from 200+ and not one issue with the upper. A few light strikes, but that is par for rimfire rounds and was from light hammer fall energy on my trigger. They all fired on the 2nd time in the tube.
---
---
Garrow Firearms Development 17HMR Upper Accuracy
As the competitive season approached for me, I spent a considerable amount of time with this upper and built a custom long-range match lower setup. In decent weather, at 100 yards with five rounds, I was punching a single hole that looked like a 22-caliber bullet had passed through. Our competitions run between 50 yards and 400 yards on average, so I also spent a significant amount of time running rounds out to 450 yards, which is the longest bay at my home range. I spent time with every different 17HMR round I could get. Out to 300 yards, the 17gr Vmax were excellent, producing groups averaging 1.1" at 300, but beyond that, I found the CCI 20gr FMJ's were doing better from 300-450 yards. I was able to get groups averaging 2.5" at 450. We are talking about factory rimfire ammo (ok, so I sorted the cases first) out of a factory AR upper shooting .53 MOA at 450 yards! Try that with a standard centerfire AR that doesn't cost a bundle (I have…).
Now at some point, Mr. Garrow thought it might be worth a try to reload 17HMR, and he created a one-off reloading kit. [check with GFD on availability] Move forward a month or so, and the parts and dies ended up on my loading bench. After a plethora of hours learning how to load rimfire and testing, I found loads that worked… and a bunch that didn't! I was able to shoot a 5-round group at 450 yards measuring 1.622" and averaging under 2" wasn't too hard with my happy load. This thing will just flat out shoot. I'm wondering if I will ever find the full potential of this barrel.
As the competitive season was beginning to wind down and the wins were stacking up, I was dialing in on another side project with Mr. Garrow that started to be talked about early on in the year. One thousand yards. Now, some people say "It can't be done" or "You can't be accurate enough with rimfire." *Cue wrong answer buzzer* Remember the reloads? Just for giggles September 15th at a match between stages, some other shooters and I placed cardboard at 806 yards out across a draw. With some assistance on wind calls and 104.75 MOA of elevation, I was able to go 6 for ten on the cardboard, and my 6 round group was precisely 15.5" or 1.84 MOA. My former bolt action match rifle with a high-end custom barrel, even with reloads, has failed to be consistent at 600.
Results of the competitive season: The GFD AR-17 upper brought home the National Championship title, three national records, one world record and 12 match wins. I'd say this thing ticks the 'accuracy' checkbox, colors it in and then hangs it on the fridge.
An AR-17hmr Upper – How It Works
The AR-17hmr upper is considered a *deep breath* gas operated direct impingement delayed blowback system. Or, to some of us, a mouthful. Mike Garrow's unit is so unique in its design, that he now has the system patented. The system operates on the gas system like a standard gas gun, but where the uniqueness comes in the way that gas is handled.
When the bolt carrier group moves forward from an open bolt position, there are two locking balls that get pushed out from the BCG into reinforced holes in the upper receiver. When a bullet is fired, the gas shoots through the gas system and into the gas key, and this is where it gets cool. The gas pushes back on the key which is on a short spring-loaded track within the BCG, and once the key hits the back of the track, the chamber pressure is low enough to safely unlock the roller balls and allow the carrier to move back like a standard AR style system. This type of system results in a semi-auto that automatically compensates for variations in rimfire cartridges allows bolt action accuracy and is extremely safe in case of a cartridge blowout. Because the system is gas and not blowback, as other semi-auto 17HMR's are, this makes the bolt system able to be much lighter… as in 4.8 oz.
Some may wonder about velocity differences, and to you, I say, "The bolt is locked until the bullet is out of the barrel, so there is only a tiny amount of speed that is given up in the gas system. I ran the gas open and closed and averaged less than 10fps speed loss with the gas system."
The reason for this type of design over other company's semi-automatics is that eventually the bolt wouldn't close all the way due to improper cleaning and a round would fire out of battery with catastrophic case failure. The locking system prevents the firing pin from making contact with the cartridge unless safely and completely locked in battery and thus will not fire- until you clean it. Another problem with blowback actions and the 17 HMR is the pressure on such a small bottleneck round varies enough to make balancing the bolt mass and recoil spring difficult. The AR-17 bolt remains locked until the pressure is reduced which reduces the amount your sight picture moves during the almost non-existent recoil.
The Future
Mike and the team at Garrow Firearms Development are working on a few new projects at the moment. Current projects include 17WSM and 22 Magnum gas rimfire uppers and a gas 9mm upper. I also compete in PCC matches occasionally and am drooling over this as the project moves forward…
GFD is also looking at a lightened centerfire bolt system, a full power AR that will fit in a purse and some stuff for the military that they don't know they need yet.
Final Thoughts
Plain and simple, the experience and results I have had this year with the GFD 17HMR upper should speak for itself, but in case you are still on the fence, the 17HMR is an excellent, inherently accurate and fast cartridge. The AR platform is one of the most popular in the world. Combine the two, and you have an entirely customizable system that is an excellent varmint or target destroyer and easy for new or sensitive shooters to play with.
Check out Garrow Firearms Development at www.garrowdev.com