Opinion
USA – -(AmmoLand.com)- The Second Amendment means what it says, and laws restricting access to, or possession of firearms, ammunition, firearms accessories, knives, swords, nunchaku, billy clubs, black-jacks, or other implements of war or personal defense, violate the fundamental right to arms and the Second Amendment. Any gun is every gun, and any law restricting anything that can be characterized as a personal arm is an assault on all types of arms.
That's the philosophy. Now let's talk about existing law and bump-stocks.
Under the National Firearms Act and the Gun Control Act, machine guns are tightly regulated, and no new machine guns can be added to the existing pool of legally transferable machine guns. The BATFE has promulgated – at the president's instructions, and with the agreement of the NRA – new regulations "clarifying" the terms "single function of the trigger" and "automatic" as they relate to the definition of "machine gun" under these laws. The effect of these "clarifications" is to support their declaration that "bump-stock-type devices" convert semi-automatic firearms into full-automatic firearms, thus making the devices themselves "machine guns" and subject to the restrictions outlined in the NFA and GCA.
The new determination also opens up a new avenue of attack on all semi-automatic firearms, as they all now meet the definition of a weapon that "can be readily restored to shoot" more than one shot with a single function of the trigger. That is a very big problem.
This new ruling is almost certainly going to survive the legal challenges being brought against it. I see it as highly improbable that those challenges will be successful at doing anything more than possibly delaying the enforcement of the new restrictions for a short time, and just maybe getting some compensation for owners who are forced to surrender or destroy the devices (though I think that is very unlikely).
Unfortunately, we the people have allowed the federal government to restrict certain classes of firearms for over 80 years, and in that time, substantial case law and precedent supporting those restrictions has been built up. The core issue of the constitutionality of these restrictions has never had a serious day in court, and this reinterpretation of the regulations is not going to provide that constitutionality hearing. If it did, we would almost certainly lose. Not because we're wrong and the restrictions on machine guns are right, but because there is not enough jurisprudence and scholarly opinion in place to effectively support our arguments, and most judges and politicians are terrified at the idea of machine guns being legal. They will bend over backward to make sure that doesn't happen. Even the late Justice Antonin Scalia made it a point to exclude machine guns from the Heller decision, on the basis of an "in common use" test. He applied a heavy dose of cognitive dissonance to argue that machine guns are not commonly owned in the U.S. while ignoring the fact that the only reason they are not more common is that they have been heavily restricted for over 80 years, and virtually banned since 1986.
Regardless of the devious and circuitous ways we got to where we are today, the fact is, the cards are heavily stacked against machine guns, and there is little that can be done against the phalanx of laws, regulations, and judicial prejudice lined up against them.
That's not to say we shouldn't try. I strongly support efforts to challenge this new BATFE regulation.
The first challenge case was filed by the Firearms Policy Coalition and is being handled by attorneys Josh Prince and my good friend Adam Kraut (who I am again endorsing in his run for a seat on the NRA Board of Directors in  2019). Erich Pratt at Gun Owners of America has also announced plans to file a suit against this BATFE reversal, and I applaud both efforts. I just don't think it's likely that either will be successful, because I believe BATFE's arguments for their decision will be very convincing to any judge who hears them.
The argument boils down to whether a firearm employing a bump-stock is "automatically" cycling the action and firing more than one shot with "a single function of the trigger." Our side says no because each shot requires some manual action on the part of the shooter to actuate the next shot. The counter-argument from the new BATFE Firearms Technical Branch analysis contends that the act of maintaining steady forward pressure with the support hand – which is a critical requirement of all bump-fire-type devices, and is included in all of their operator instructions – constitutes a "single function." The shooter's steady forward pressure on the fore-end replaces the trigger finger as the actuator of the firing cycle, and that steady forward pressure can readily be characterized as a "single function." The shooter is not releasing and reapplying pressure as they would firing in normal semi-auto mode, but rather maintaining a steady pressure, which is momentarily overcome by each recoil pulse. The gun automatically repeats the firing cycle as long as the forward force is maintained, and there are only a handful of judges in the country who would not agree with that explanation and conclude that the described process meets the statutory and regulatory definitions of a machine gun.
We can argue among ourselves about these technical distinctions, but until everything goes to hell in a hand-basket, a group of judges reading current laws, regulations, and judicial precedents will be the ones making the final decision, and I see virtually no chance of them agreeing with our side.
While I'm not happy about how this has all gone down, and where it has ended up, I'm much more concerned about the broader implications of this new regulation going forward.
For decades, rights advocates have argued that conversion of a semi-automatic into a full-automatic, is a complicated and challenging process requiring specialized skills and equipment. Though there have been various workaround techniques demonstrated, such as the infamous, full-auto shoestring, and the time-honored, file-down-the-disconnector trick, there has never been an easy way to truly convert a semi-automatic into a machine gun. This new regulation changes that.
Whether you agree with the BATFE's new definitions or not, once this goes into effect, under the color of law, it will be a straightforward thing to technically "convert" any semi-auto into a "machine gun." And that creates some severe issues because the law also defines "machine gun" to include "any weapon" that can be "readily restored to shoot" more than one shot with a single function of the trigger.
It is also long-established law, that "readily restored" actually means "easily converted" to fire full-auto, such as the KG-9 pistol, which was classified as a machine gun because it fired from an open bolt, and could be relatively easily converted to full-auto by filing off the secondary sear.
By legally defining "bump-stock-type devices" as "machine guns" that can convert semi-automatic guns into "machine guns," then by these same definitions, any semi-automatic rifle becomes a "machine gun" because they can all be "readily restored" to be "machine guns."
We're not likely to see an attack from this direction while Donald Trump is in the White House. But he won't be there forever, and once he's gone, and the next Obama/Clinton/Sanders, etc. holds the reins of the executive branch, there will be no legal barrier to the Attorney General "recognizing" the "danger" of all those "machine guns" in public hands, and criminalizing them with a scratch of a pen.
The Supreme Court has already allowed a lower court to get away with distorting Justice Scalia's dicta in the Heller case to mean that AR15s are not covered by the Second Amendment. Because they are "like M-16s," and Scalia himself, made it clear in his dicta that he didn't want to include machine guns in the protections of the Second Amendment, so we can't expect much support from that quarter.
The bump-stock issue has been mishandled from the beginning, and now it has turned into a matter that can do little more than raise some money for a few groups and reduce unemployment for lawyers while blowing a gaping hole in our future defense of the Second Amendment.
---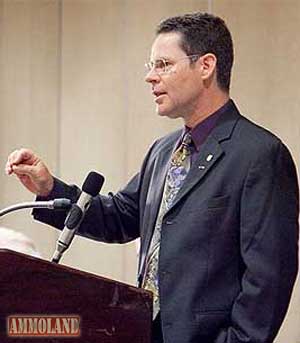 About Jeff Knox:
Jeff Knox is a second-generation political activist and director of The Firearms Coalition. His father Neal Knox led many of the early gun rights battles for your right to keep and bear arms. Read Neal Knox – The Gun Rights War.
The Firearms Coalition is a loose-knit coalition of individual Second Amendment activists, clubs and civil rights organizations. Founded by Neal Knox in 1984, the organization provides support to grassroots activists in the form of education, analysis of current issues, and with a historical perspective of the gun rights movement. The Firearms Coalition has offices in Buckeye, Arizona and Manassas, VA. Visit: www.FirearmsCoalition.org.