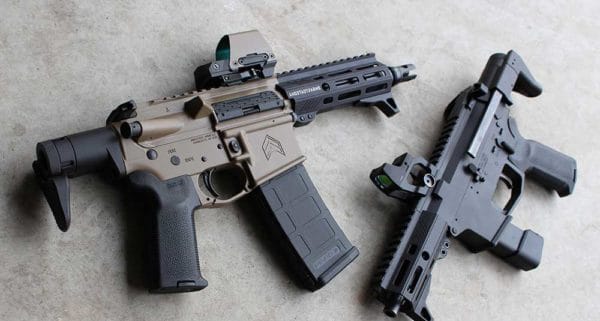 U.S.A. –-(Ammoland.com)- In September 2018, the U.S. Army awarded Angstadt Arms a contract to supply ultra concealable 9mm sub-machine guns for the purpose of protecting high risk personnel (HRP). To address this operational need, personnel security detail required a weapon with greater lethality than pistols but more conceal-ability than rifles.
The ultimate objective being a highly concealable Sub Compact Weapon (SCW) system capable of "engaging threat personnel with a high volume of lethal force while accurately firing at close range with minimal collateral damage."
The SCW Stock system is what allowed our SCW-9 sub-machine gun to achieve an overall length of just 14.7″ without sacrificing barrel length or a standard muzzle device.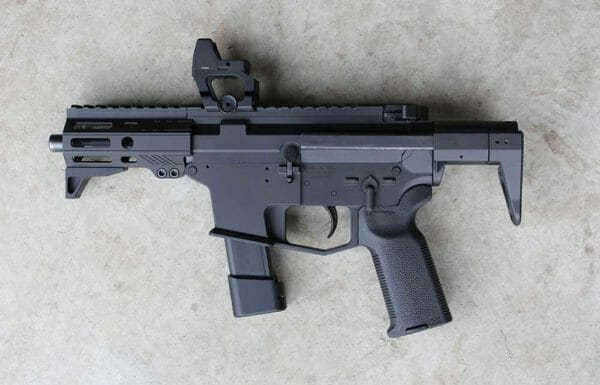 Truly Sub Compact – The collapsed length of the sub compact weapon stock is just 2.5″. Allowing your rifle to travel inside smaller, more discreet bags.
Multi-Caliber Compatible – 5.56 NATO, .300 Blackout and 9mm configurations available.
Upper Receiver Single Rail System – Unlike other PDW stocks the single rail on the SCW stock is positioned alongside the upper receiver. This provides added clearance above the safety selector switch resulting in faster manipulation and safer use.
Faster Deployment – The stock can be opened without pressing a button. Just grab the stock and pull back.
Currently the SCW platform is classified as a rifle stock and should only be attached to an ATF approved short barrel rifle (SBR) or a full size rifle with a 16″ barrel. There is also currently a pistol brace version of the SCW Stock in development, however, we do not have an ETA on the pistol brace version as it is requires ATF approval.
---
ABOUT ANGSTADT ARMS
Angstadt Arms designs innovative weapon platforms for military, law enforcement and responsible citizens. Our flagship UDP-9 9mm AR and sub-machine guns are currently deployed in over 25 countries worldwide.