The Rev reviews the Surefire Tactician flashlight and makes his case why he calls it the best everyday carry flashlight choice.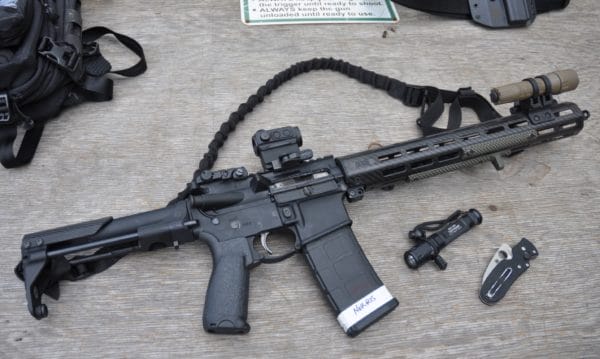 USA – -(AmmoLand.com)- Gun owners need the best in every day carry flashlights.
Before I get to the Surefire tactician flashlight let me tell you how I got on this subject. The year was 2003, and I had a group of middle school students camping at Crowder's Mountain State Park. We had hiked a simple mile into the backcountry designated campsite. Upon arrival, the sky became overcast making visibility below the tree canopy difficult prematurely, and then a deluge of rain ensued. Somehow over the next 45 minutes, I managed to set up several backpacking tents, a tarp-covered cooking area, a fire started, the students wrangled into their tents and under the tarp, and meal prep on the Whisperlite Cook Stove begun.
The evening, though wet, turned into success as the students sang, told stories, and enjoyed (for most) their first camping experience. The rain subsided, and we got everyone to their tents; breakfast as a hike up the mountain was coming early. After things quieted down, I made my rounds to check on each tent— particularly the ones making noise still with rambunctious young teenage men inside. After opening one tent door, I noticed a lot of candy wrappers. Under normal circumstances, this would have been a minor annoyance, but in this case, one of the young men had a severe case of juvenile diabetes. I immediately asked him to check his blood sugar, and it was dangerously high. He searched in his bag only to discover that his insulin had been left at home. I had asked him to double check that it was with him before we left for the state park, and he had reassured me it was packed (apparently without checking). Typically, I would have notified his parents, hiked out, and driven to pick up the necessary supplies even if it meant driving the roughly 50 minutes back to our city. In this case, that option was not possible. Crowder's Mountain State Park has a gate that closes after dark and is locked until morning. Fortunately one of the adult sponsors with us was a nurse. I got our RN to sit with this young man to keep me abreast of changes, reached out to the young man's father, and arranged for his dad to meet me at the State Park gate with the insulin.
After the rain, the sky had cleared, and there was a beautiful moon that provided some light. Still, the hike out with relatively precarious terrain in the dark at a rapid pace made an alternative light source more than a luxury. I did have a light, but it was a generic Walmart special. About halfway back to the ranger's station, my light pooped out. I made my way back to camp without event a bit slower than I would have liked, but I made it nonetheless.
My way back without a light would have been no big deal, but in this case, I had the time pressure of getting the young man his insulin, and I promised myself that I would not fail to prioritize a quality light source in the future.
Events like this have emphasized my desire for well-made, no-nonsense flashlights kept on my person. Most people in the firearms culture talk a lot about everyday carry. The carry gun gets the most attention, but in reality, the carry light gets the most use. Maybe you're an Amazon junkie, and your pocket knife gets a ton of box opening duties, but it's still my bet that it's your light that sees the most daily action. Many of you balk at $100+ flashlights, but why? When your ability to see, your ability to momentarily blind, and your need to do so reliably can make a life or death difference AND lights have regular practical uses to boot, investing in a quality light makes plenty of sense.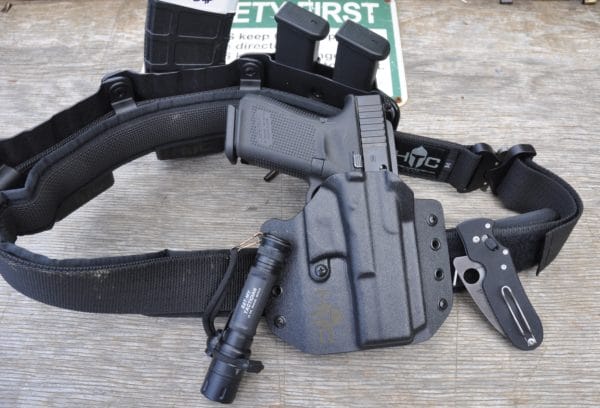 The Surefire Tactician is my favorite every day carry light for quite simple reasons. It boasts 800 lumens, but the front bezel can be rotated to bring the output down to 5 lumens and radically extend battery life. The Surefire Tactician's reflector creates a remarkably effective fill light that SureFire refers to as its MaxVision Beam.
The flashlight is constructed of hard anodized aerospace aluminum that's been knurled for grip and surrounded by a well-placed lanyard. The lanyard allows the light to be held with the top of your fingers or in the hand's grip; in both applications retention is secure.
Its rear activation is momentarily on. However, if you want to leave the light on for extended use, you can rotate to keep the light on. Previously, I would have recommended the SureFire Executive, but I prefer this light for some reasons, and the Executive flashlight is now discontinued.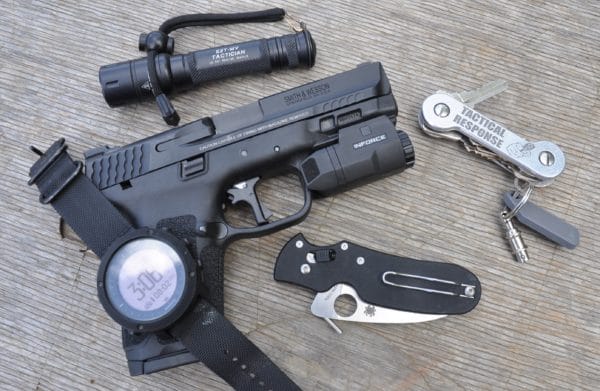 The Surefire Tactician Flashlight's Inception
This is the carry light that James Yeager hounded Dr. Matthews to make for years, and I expect it will be an industry favorite for years to come. However, just in case it too is discontinued, I may buy a few spares to have on hand. I pre-ordered the SureFire Tactician and have been using my example since December of 2017.
After just over one year of use, I'm prepared to say the Surefire Tactician Flashlight is the best every day carry light on the market today.
---
---
About Brian (Rev) Norris: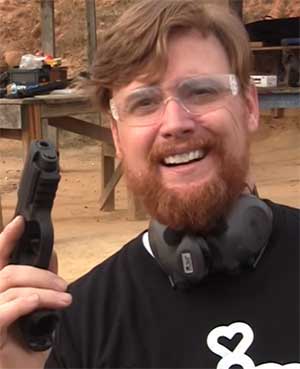 Brian (Rev) Norris, in addition to writing and talking guns and gear via video, is a pastor (hence the "Rev") who specializes in mentoring young men in the urban context. If he catches a moment of free time, you'll likely find him enjoying his family or heading to the range on his motorcycle. Brian has enjoyed the shooting sports since his father introduced them to him as a child. He's an outdoorsman who enjoys life to the full.