USA – -(AmmoLand.com)- One Christmas a few years ago, Dear Ol' Dad gifted me not one but two (2) Benchmade knives. One was a Sequel (the particular model I had is now discontinued) and the other a Triage. Sadly, the Sequel walked away at some point over the years. Was it stolen, or did I lose it? I do not know. It goes without saying that this was an outstanding and generous gift. These were my first Benchmade knives, and I've been a fan ever since.
Benchmade knives have an excellent, made-in-America reputation for quality, durability, and well-thought-out designs. Their knives are divided into four categories: Blue Class, Black Class, Gold Class, and Hunt Series knives.
The Blue Class has the everyday consumer market in mind. The Black Class is aimed squarely at professionals, especially law enforcement and military end users. The Gold Class targets the collector and/or someone who wants to carry a piece of art with some bling that maintains real-world function.
With the Hunt series, what you see is what you get— it's exactly what it sounds like.
This year at Shot Show 2019, I spent some extra time at the Benchmade Booth to find out a bit about what's new and what's around the corner for 2019. My host was an Elk Hunter named Troy who likes to spend his days off in the Oregon Mountains. Troy is good people; if you'd like to hear our conversation, you can watch the embedded video above.
Here's what's new at Benchmade for 2019.
Benchmade Griptilian
The well-known and loved Griptilian is $5 more this year but now sports an S30V steel blade.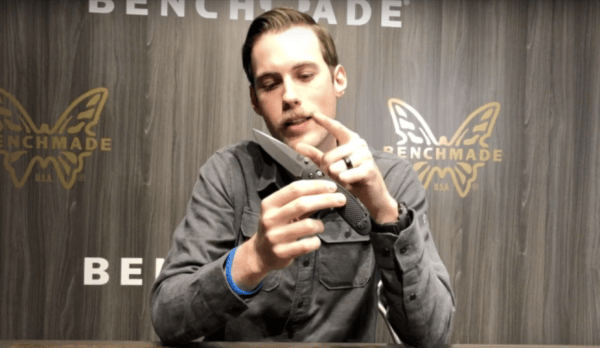 Benchmade 560BK-1 Freek
Now has a black coated M4 blade, layered G10 handle, and red standoffs. It's sure to be a crowd pleaser.
Benchmade Pukko 200
With CPM3V blade steel is perfect for utilitarian outdoor activities. It's a straight forward no-nonsense bushcraft knife.
Benchmade 980 Turret
Is brand new for the Black Class and is positioned to become a favorite in the military and law enforcement communities.
Benchmade 917 Tactical Triage
Features S30v steel, and, as my old sheep's foot blade Triage, this knife features useful seatbelt cutting and glass breaking tools. However, unlike my old Triage, this knife features a classic drop-point blade design. The Triage has been popular for years, but I predict that this knife will eclipse the previous iteration's popularity.
Benchmade 365 Outlast
Has a new lock called the option lock and is Benchmade's first knife with two blades paired with the same lock. It's made specifically to use as an O2 wrench as well.
Benchmade 380 Aller
Is made with everyday carry and European travel in mind. It's a friction-folding tiny tool that boasts a screwdriver, micro bit slot, money clip, bottle opener, and lanyard. It's interesting, utilitarian, and I won't be surprised if it's, well, surprisingly popular.
Benchmade 535-191 Gold Class Bugout
Is what you get when you create a $700+ EDC knife. It features a beautiful Damascus blade with carbon fiber blue Ctek inlay handle. I personally won't be placing an order for one of these bad boys, but if you pull one out of your pocket, I promise to pay attention.
So there's the rundown of what's new at Benchmade. What are you most interested in personally?
My pick? For me, it's a toss-up between the Tactical Triage and the 560BK-1.
---
About Brian (Rev) Norris: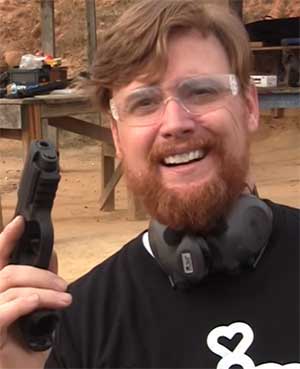 Brian (Rev) Norris, in addition to writing and talking guns and gear via video, is a pastor (hence the "Rev") who specializes in mentoring young men in the urban context. If he catches a moment of free time, you'll likely find him enjoying his family or heading to the range on his motorcycle. Brian has enjoyed the shooting sports since his father introduced them to him as a child. He's an outdoorsman who enjoys life to the full.