Rev sat down to talk to James Yeager of Tactical Response this January in the lead-up to the 2019 SHOT show in this recent video interview. Learn why James calls 2019 the Year of the Revolver.
USA – -(AmmoLand.com)- Right before the 2019 SHOT show, I had the opportunity to interview James Yeager of Tactical Response. This my third time interviewing James, and it was just as enjoyable this time as each time before.
Let's jump right into the conversation.
Norris: What is Tactical Response [Training]?
Yeager: We teach good people to kill bad people.
Sometimes people don't get what I mean. People say that I'm a shooting instructor. I'm not. I'm a gun fighting instructor. There are some similarities, but it's mostly different. Tactical Response is located at 116 Wood Ave Street Camden, TN 38320
Norris: What can you tell me about your roll in the development of new products like the SureFire Tactician?
Yeager: When I got started in police work and tactical stuff in the early 90s John Matthews owned a company called laser products that made lasers for the Seals. The Seals wanted a light better than the MAG lights that they were attaching to their guns.
James proceeded to tell me about the specifications he'd recommended to Surefire for the Tactician, the popularity of the light, a handy DIY upgrade, and another great story about the founder of Daniel Defense. (Check the Video)
Norris: What advice do you have for content creators in the media?
Yeager: This isn't a new phenomenon. You have to understand the dude that's articulate enough to write articles or create content isn't always the gung-ho dude. If you are what YouTube calls a "content creator" come and take my "Fighting Pistol" course for free. Which will accomplish a couple of things:
I'll help you video your class so you'll have a great video of you taking my Fighting Pistol course.
Forevermore, you'll have a base of knowledge that will help as you create discerning reviews of gear or guns, you'll understand how it's supposed to be used.
I then asked James if he'd be willing for me to do a little show and tell with me. I showed him a piece of gear on my desk and asked him to tell me what he'd care about when evaluating that product.
Yeager on Knives: James told me about his first Spyderco knife (see the video) and directed the purchaser to consider their budget and the cost/quality equation of the product they're thinking of buying.
Yeager on Optics: When it comes to spotting scopes and rifle scopes three things need to match: the turrets, the reticle in the scope, and the reticle in the spotting scope. Don't mix mil and moa. Right now it's the easiest to do with mil's.
Yeager on Ammunition: The basis for all gear, is there an American Made option? Not reloaded. Factory fresh.
By the way, he liked my Black Hills ammo on the table and said: "you don't get more American than that."
Norris: I know that you continue to train at lots of other schools are there any specific things that you're personally developing?
Yeager: Since you asked, I consider revolvers a lost art. This year [2019] is the Year of The Revolver. I'm learning all that I can about revolvers to be able to pass that down (along with other skills) to my grandchildren.
Yeager and I had a good time talking about family, his roles in the entertainment industry, and history. We talked a little bit about the upcoming 2019 SHOT show too. Though I didn't connect with James at SHOT, I did give Tactical Response Instructor Tim Morris a fist bump. It was great to see him there. As always, my conversation with James was fun, and I look forward to my next opportunity to talk with him and to learn from him.
If you haven't taken a class at Tactical Response, I would encourage you to take Fighting Pistol in the near future. I think you'll be glad you did and if for some reason it turns out that I'm wrong, Mr. Yeager offers a money back guarantee at the end of the class.
---
About Brian (Rev) Norris: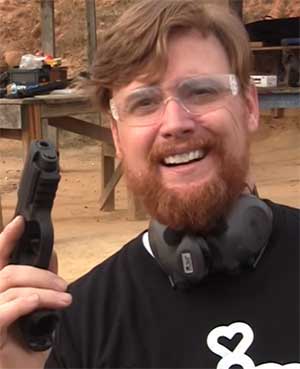 Brian (Rev) Norris, in addition to writing and talking guns and gear via video, is a pastor (hence the "Rev") who specializes in mentoring young men in the urban context. If he catches a moment of free time, you'll likely find him enjoying his family or heading to the range on his motorcycle. Brian has enjoyed the shooting sports since his father introduced them to him as a child. He's an outdoorsman who enjoys life to the full.