U.S.A. –-(Ammoland.com)- I shoot a .22 a lot. Especially in the spring whistle pig (WP) hunting. The WP's official name is a Townsend Ground Squirrel. They look like a miniature prairie dog but are a little more hyper. On prairie dogs, the gun of choice is a .223, 25-06 or maybe a .308. You'll be getting long shots. On a WP, airguns, .22's, .22 mags and .17 HMR's are the guns of choice. I don't want to say that you don't get a chance at some long shots, but 90% of your shots will be under 125 yards. Mainly due to the terrain, sagebrush and how hyper that they are.
WP's come out after the sun is out and go down a little bit before sundown. Right at sundown, they go on a frenzy and the ground looks like that it is swarming with them. Then as fast as it started, they disappear. I mean all at once. It's like momma calls them all in for dinner.
Game over.
They're also unique in that they come out the middle of March and as soon as the spring rains stop and it gets hot, the end of May to the middle of June then they go back underground for the year. I don't remember the official name but it's not hibernation. But whatever they do, they go underground for 8 months. And on wet years the weeds will get too high and that will also end your shooting.
On a good day, I'll get 400-500 shots so it is a blast. For decades I'd buy a brick of whatever ammo was on sale for $16.99. Decades ago I'd get a 1 ¼-inch 10-shot group and figure that was as good as a .22 could get with maybe a flier or two.
But as I got older, I started caring more about accuracy and experimented around with different brands of ammo and then tricking out rifles. (I'll do an article at a later date on tricking out a .22). But for now, we will talk about ammo.
As I got better rifles and tested ammo it quickly became apparent that all .22 ammo is not created equal. I tested a slew of .22 ammo and wrote articles on it but this past week I was writing a Tri-Fecta of good WP rifles and tested out some CCI ammo.
In the past, Eley scored the best but it's $16.00-$21.00/box. This past week I was blown away by how accurate the CCI Mini-Mag .22 LR SHP ammo shot in my tricked-out rifle. I got down to a .156-inch group. And in just glancing at the internet it looks like you can buy it for around $7.00/box AND it comes in 100 round boxes, not 50 like the Eley.
So, if you're looking at getting a little better accuracy out of your .22, it may be worth buying a box of CCI Mini-Mag 22 LR SHP ammo and giving it a shot to see how it shoots in your rifle.
---
About Tom Claycomb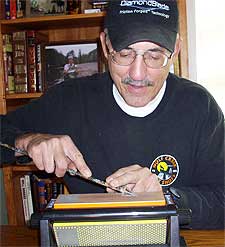 Tom Claycomb has been an avid hunter/fisherman throughout his life as well as an outdoors writer with outdoor columns in the magazine Hunt Alaska, Bass Pro Shops, Bowhunter.net and freelances for numerous magazines and newspapers. "To properly skin your animal you will need a sharp knife. I have an e-article on Amazon Kindle titled Knife Sharpening for $.99 if you're having trouble."
Some of the links on this page are affiliate links, meaning at no additional cost to you, Ammoland will earn a commission if you click through and make a purchase.