David gives us a first look at the brand new Henry Repeating Arms Cowboy Carbine Side-Gate Lever Action Rifle.
USA – -(AmmoLand.com)- The lever action rifle is a staple of American firearms history and with it, the companies that produced them not only for decades but for well over a century and more. Winchester, of course, being the most well known following the American Civil War helped tame the west with the 1866 Yellow Boy, the 1873 and the succeeding models that followed that were produced in the millions.
Not to be outdone, in 1872 John Mahlon Marlin founded the Marlin Firearms Company, starting with single shot rifles and then the Model 1881 lever action, which was a game changer, the first of its kind that was chambered in .45-70 Government. For a long time, those two companies were the big names when it comes to lever actions for the last century or more with a few other companies coming and going in between.
That all changed in 1996 when the father and son duo of Louis and Anthony Imperato formed the Henry Repeating Arms Company. [not to be confused with the Henry Rifle designed by Benjamin Tyler Henry in 1860.] The Bayonne, New Jersey manufacturer, started with the H001 lever action .22 rifle and ever since has been continuing to produce new guns, covering a wide variety of models and calibers. Henry now leads the industry in the production of lever action firearms. That from a company less than twenty-five years old that is taking on gun makers with many decades of name recognition and history behind them. That's nothing to sneeze at.
One thing that many shooters I have talked to for the longest time say about Henry's lever action rifles is how rugged they are. But many of them point out the thing that makes them have second thoughts is the fact that there is a lack of a loading gate, having to load the gun instead from the tubular magazine.
Well….until now anyway.
Henry has once again taken a leap forward, and to say it's a huge change for them is an understatement.
Recently I was offered the chance to examine Henry's latest offering, called the Cowboy Carbine, which is part of their new line of guns, the Side-Gate Lever Action. Re-read that last part again, that's right, a Henry rifle with a side loading gate.
Henry Cowboy Carbine Side-Gate Lever Action Rifle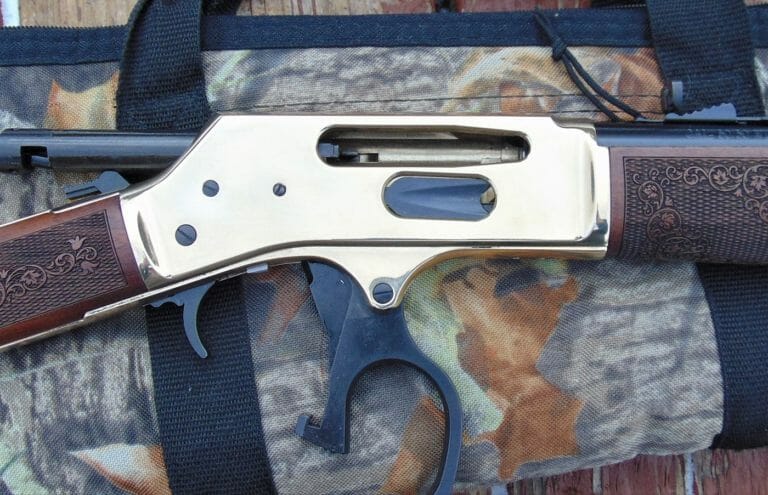 The new Henry Cowboy Carbine is a truly stunningly beautiful gun with its hardened brass frame, brass butt plate and barrel band and its nicely checkered American walnut stock. I can never get over how Henry makes their guns look so good for what they sell them for.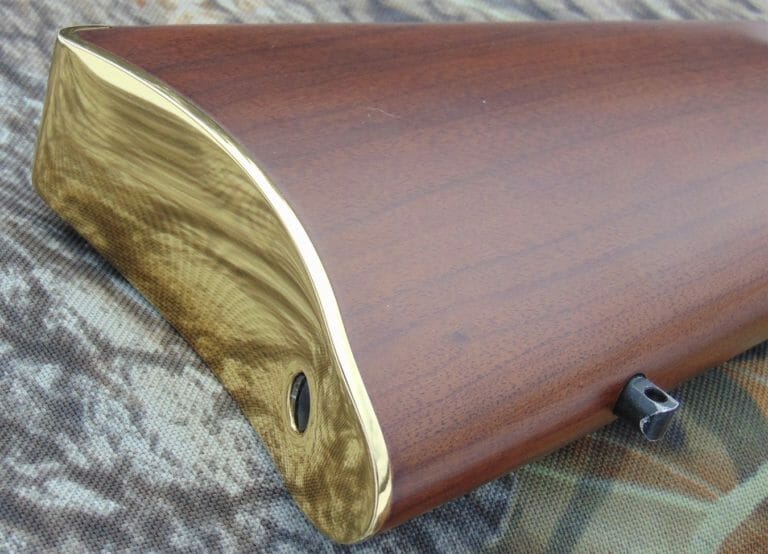 Henry has made the Cowboy Carbine and the Side-Gate Lever Actions to shoot, and in five calibers that are sure to peak more than a bit of interest. They're chambered in .30-30, .35 Remington, and .38-55. The barrel length for the .30-30, and .35 Remington all have a 20-inch barrels. The overall length for the Cowboy Carbine is thirty-eight inches, that's almost dead on for the length of the Winchester 94, making it a very fast handling gun. All of the new Henry Side-Gate Lever Actions have magazines that hold five rounds. The .38-55 has a rate of twist of 1:18, the .30-30 is 1:12, the .35 Remington will be 1:16. These options will be good for those who not only use factory ammo but if you handload as well.
The Cowboy Carbine keeps the western tradition alive with its adjustable semi-buckhorn rear sight, and the front sight is a ramp style with an ivory bead. If for some reason you wanted to put a scope on this gun, Henry has you covered; the receiver is drilled and tapped, ready to blend the old and the new.
I couldn't wait to get the Cowboy Carbine to the range, and in one of my favorite calibers only made the trip a little more eventful. A lever action in .30-30 has got to be as iconic for an American firearm as one can get.
The first thing I did before I shot the Henry was to check to see how well it loaded those rounds through that loading gate, and it takes each round without a problem. For those used to the Model 94 Winchester, have no fear, while with that gun you have to load one round into the gate and use the back end of the round on top of the other to keep feeing them through, the Henry doesn't. That means not only can you load one round at a time, but you can also top off the magazine either that way or by loading them through the magazine tube, something no other lever action on the market can do.
Chambering a round was surprising, I had to check to make sure that the round was picked up from the magazine, it fed that smoothly. The sights on the Henry are very easy to pick up and see, but if you're not familiar to a semi-buckhorn style, it takes a bit of getting used to. It took me a few rounds to get the gun on target, but the action fed smoothly every single time, and it kicked the empties out flawlessly.
I decided since hiking through the snow at the range wasn't all that appealing to have some fun with this gun at some of the closer ranges, and I can tell you that the Henry Cowboy Carbine fed every single round without fail, issue or even the slightest hiccup. I put forty rounds through it which is more than most people will ever put through a .30-30 in a single outing, and even with the curved brass butt plate, the recoil was hardly noticeable.
At the 25 yard mark the Henry Cowboy Carbine Side-Gate Lever Action Rifle grouped four rounds at under an inch with some factory Remington ammo, even playing around and firing three fast rounds from the bench gave me a group a little bigger than that. Have no fear, this gun shoots as good as it looks.
I put the Henry Cowboy Carbine Side-Gate Rifle on a set of shooting sticks, and the only problem I had was that the black circle on my 50-yard target was slightly bigger than the ivory bead on the front sight, so it was hard to pick up. Not to mention that was getting towards the end of the session, and I was starting to wear out myself and losing light. Someone with a better set of eyes and a bit more patience can squeeze more accuracy than I could. The trigger pull was smooth and consistent. More than capable of getting the gun to take deer or even bear I would say out to the 200 yards range with the open sights. Remember, the Cowboy Carbine can take a scope since it's drilled and tapped for one, but a receiver sight would certainly be right at home on it as well.
I also tried unloading live rounds from the magazine by using the tube itself, this is different for me since I have been using Winchesters and Marlins for most of my life, and I can say how much safer this is than simply running live rounds through the action and emptying them out onto the ground. While it's never happened to me, I have seen people have accidental discharges while cycling rounds out with gloves on.
Speaking of gloves, something I noticed with the Cowboy Carbine is that the trigger guard on it is larger than most lever actions, which is helpful if you happen to be wearing gloves which you're liable to be doing during the fall or colder months. I measure it to be just about two inches of clearance on the Henry, compared to a little more than an inch and a half on my Winchester 94.
The Henry Cowboy Carbine and their new Side-Gate Lever Action line is a huge leap for the company, but one that's a welcome sight. Again, this is a beautiful rifle from front to back that will certainly get the attention of everyone at the range, match or the guys at deer camp if you were so inclined. With a suggested MSRP of $925 and the likelihood of other calibers and finishes to come, I think this is not only going to be a new chapter for Henry Arms, but it might also even be the start of a whole new book.
---
About David LaPell
David LaPell has been a Corrections Officer with the local Sheriff's Department for thirteen years. A collector of antique and vintage firearms for over twenty years and an avid hunter. David has been writing articles about firearms, hunting and western history for ten years. In addition to having a passion for vintage guns, he is also a fan of old trucks and has written articles on those as well.