U.S.A. –-(Ammoland.com)- Walking down range after volleys of fire from various semi-automatic rifles. Laying pieces of tape over bullet holes and turning around to do it over and over again. Spending an entire day like that, to me, is the definition of a day well spent.
While going to the range for the day can mean a lot of things there should be a general consensus that you want to leave a better shooter than when you walked in. Now that can be as simple as zeroing a new optic in, perfecting a draw or reload, or just refining the fundamentals to a smooth, repeatable science.
No matter your level of experience or self-proclaimed expertise, refining the basics down to perfection is what separates being good at something to being great at it. Simple repetitions of lifting an 8 lbs. rifle up to your line of sight, finding a good pocket in your shoulder and getting a good cheek weld. Squeeze the trigger, break the shot; again and again and again.
So while at SHOT Show I posed the question to SIG, "what's going on up at your academy?"
Their response was short and sweet, "Come see for yourself."
Fast forward 3 months and there I am strapped into the driver's seat of my truck and burning tire rubber up I-95, escaping the Peoples Republic of New Jersey & New York to a little piece of paradise called Epping, New Hampshire.
When you arrive, you will turn off State Route 101 and see a sign "SIG SAUER ACADEMY – Where the Professionals Train". Little white doves flutter through tree tops and the sun is shining perfectly on that sign, letting you know that you are home.
Turning into the Academy's entrance you immediately get the sense that this is one of those dream ranges. When you take a look at their map you can see they have ranges for just about every discipline of firearms training from their 1000 yard range, to multiple outdoor bays, shoot houses, a state of the art indoor 50 yard rifle/pistol range, and an incredible Pro Shop. They even have a 15 ft-deep pond for maritime training!
Be forewarned: if you own SIG products, or find their firearms evoke visceral urges in you, there is a high probability you will be breaking out the wallet in their pro shop.
As soon as I got there I went inside and found Dawson Precision fiber optic sights for my P320 that I have been meaning to get a hold of. Then I saw a holster from Comp-Tac with a drop-offset system included, and just like that I was celebrating a personal Christmas morning in the SIG SAUER Pro Shop!
With my shopping done, I went and checked in for my class at the front desk of the Pro Shop. The two women behind the counter welcomed me and handed me two booklets marked: Rifle 101 and Rifle 102. They told me to go down to classroom 4 and I would find everything I needed there, which was good since I opted to go without a rifle to a rifle fundamentals course, but we will get back to that decision and SIG's loaner program later.
Walking into the classroom was very reminiscent of every educational setting I have ever been in from college to elementary school. I popped my head into the room and asked, "is this rifle fundamentals?" The class this day was small and not full, only 6 shooters would be on the line and from what I have seen SIG usually caps the classes at 10 students with 2 instructors for each class.
Introductions and classroom discussion were first on the agenda and took up most of the morning. The classroom section of the course is really designed for the very first-time gun owner or shooter. It is very informative and covers important subjects such as proper storage and locking of rifles, possible choices for building a rifle and considering its role when building it (defensive, competition, long range, etc.), and most important good gun handling habits.
Before noon we made our way from the classroom into the 50 yard indoor rifle and pistol range. For March in New Hampshire the weather was actually nice enough to shoot outside, so at first I was slightly disappointed that we'd be inside. Once inside, I was pleased to see we would all have plenty of room to stand on line throughout the day.
No live fire exercises took place until the afternoon and after lunch, which I think was because we took a little extra time in the classroom to go over things for some first time users of the AR-15 platform. This wasn't surprising at all to find a new shooter in the class and it was actually refreshing to see instructors work with each individual throughout the day.
One thing I noticed with the Academy was the structured focus on safety. There were established routines in case of an emergency, with class members agreeing to either call 9-1-1 if they had a cell phone on them (like I did), or run to the Pro Shop to alert employees that an ambulance would be arriving. Also, most important, both instructors were certified to handle any emergency medical issue that could arise on the range. I am happy to report all of the fuss over safety paid off and everyone left with the same holes they came in with.
After establishing safety routines within the range it was time for the rifles to come out. As I said before I did not bring a rifle for two reasons. One was that I was driving through New Jersey and New York, it seemed to be the safest legal bet to leave my rifle at home. The second was that included in the tuition for a SIG course was loaner firearms, magazines, holsters, hearing and eye protection. To be honest the third hidden reason was that I had a feeling that I'd get to use an MCX for the day, and I was not disappointed at all!
Possibly my favorite part of the course other than what I learned was getting the chance to shoot the SIG MCX VIRTUS for the entire day. This isn't the place for a review, I only put 250 rounds through it in the class. But, the MCX was a pleasure to shoot and is definitely a firearm I would like to become more friendly with. There are so many features about this rifle that could be considered a direct improvement to the AR-15 including: the quick change barrel system, folding collapsible stock, and gas piston system for easy suppression.
Other gear provided from SIG included the ROMEO5 1x20mm RDS, which performed as well as any red dot I have used. The ROMEO5 comes at pretty solid price point compared to some other RDS out there, and is a solid option for any semi-automatic rifle.
So other than figuring out that I want to buy an MCX in 300BLK, what did I learn at the Academy? Quite a lot actually.
For a rifle fundamentals class there were some things I had done before with other trainers. Zeroing a rifle, position work from kneeling to prone, and clearing basic malfunctions are all common basics in rifle marksmanship. One drill in particular I've done elsewhere but is nonetheless a great training tool is shifting between two targets, driving your gun on target by looking and then pivoting with your hips to get on target fast. I think that is the best takeaway from any class, recreating the drills on your own range, but you have to have a basis for doing it the right way.
That is where going to a certified instructor, like the ones at the Academy, will greatly benefit what you do once you return home. Having a trainer to act as a coach and clarify the issues or improvements necessary to elevate your abilities is what makes training effective.
Specifically there were a few things I figured out about my gear that I brought for class. For instance, once I started using my High Speed Gear belt in class I discovered there are some differences from my competition Safariland belt that affected the way I was grabbing my mags to load the rifle. At the suggestion of the instructor I switched the direction that my rifle magazines were facing in my belt pouch. Since the class and from now on I will be employing a beer can grip during rifle mag changes.
Obviously, I don't want to give away the secret sauce or seemingly speak as if I were a trainer. I am just some dude that enjoys shooting and genuinely wants to improve my skillset. In my opinion, I was a better shooter after leaving the Academy that day then when I walked in. By the end of the day both instructors were commending each student for their safe gun handling, but more important, encouraging all of us to return for the next step in SIG's rifle coursework: Defensive Rifle.
As a Rifle Fundamentals course this is only the first step in the line of rifle courses offered at the Academy. After taking this course, you will more than likely be looking to take the next course and then the one after that! The good news is that after completing a course at the Academy you will be given a certificate with a coupon for a class of your choice.
The SIG SAUER Academy represents one of the best options for civilians to obtain high-quality firearms training across multiple disciplines in a professional and safe environment. Similar to SIG SAUER's recent drive to become the complete systems provider, the Academy seeks to provide an A through Z path for firearms training. At the Academy all shooters have to start at slate one, which means everyone that goes gets the same introductory training in Rifle Fundamentals. Creating this sort of general education amongst firearms owners is incredibly important as we all have a responsibility far greater than those who choose to remain unarmed. What is more important is that general education will become the basis for far more extensive training available at the Academy.
Which brings me to the one thing people are probably wondering: how much is a day at the Academy going to cost me?
After you add the class, ammo (unless you bring your own), and the cost of getting to and staying in Exeter, NH you are basically on par with going to any other trainer in the country. I will drop some rough estimates below, but if you are deterred by these numbers remember the purpose of all this training, then evaluate if that cost is really too high for the skills you will learn.
Rifle Fundamentals — $250
Round Count — $90 ~~ 250 rounds of .223
Travel & Stay — Depends on you.
---
About Duncan Johnson: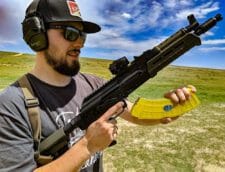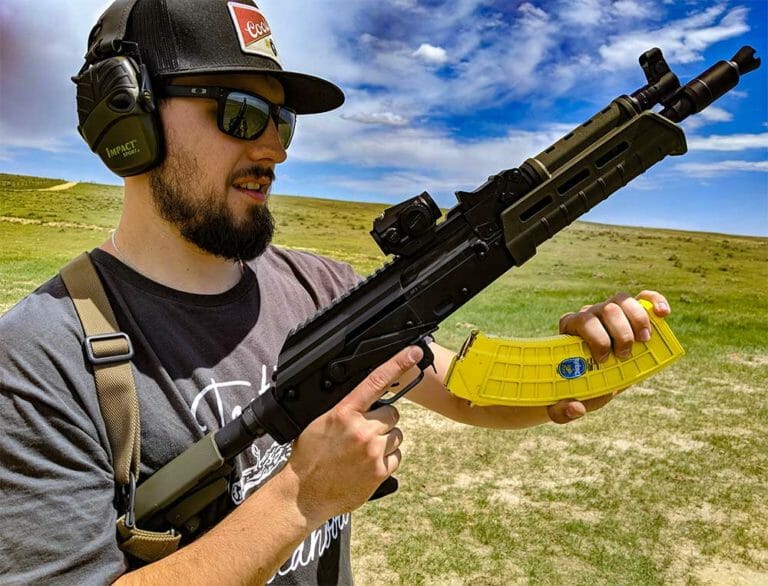 Duncan is a firm believer in the Second Amendment and that "shall not be infringed", means exactly that.  A life-long firearms enthusiast and a graduate of George Mason University, now competing regularly in 3 gun competitions, Duncan is always looking to improve his shooting skills. Duncan is a regular contributor to AmmoLand and assists in the everyday gun-news publishing as an assistant editor.