U.S.A. –-(Ammoland.com)- CMMG has been churning out some great guns for 17 years now.  The Boonville, MO based manufacturer has gained fairly widespread namebrand recognition on the backs of such guns as the Mk47 "Mutant" and the Anvil, as well as accessories like the Ripstock.  Recently CMMG re-branded their firearms line-ups as the old nomenclature scheme got a bit unwieldy.  Now all of CMMG's guns are divided into three categories.  As per CMMG, "The Banshee line will include pistols and short barrel rifles (SBR), Resolute will consist of rifles and carbines, with Endeavor designed for marksmen and precision-oriented shooters".  Within those categories are sub-classifications based on size.  There are the 100, 200 and 300 series sub-classifications.  The rifle I was sent for testing and evaluation was the Endeavor 300 Series, chambered in 6.5 Creedmoor.
I haven't found a new chambering as divisive as the 6.5 Creedmoor since the .40 SW came out.  Many are jumping on the 6.5 Creedmoor as the .308/7.62 killer, with better ballistic trajectory at long range.  Others are claiming it's a fad that doesn't bring anything truly new and different to the table, just a rehash of the .270 Winchester or 25-06 (among other, older cartridges).  I don't take this stuff too much to heart, I just want to know how it shoots and how well it performs when it hits an appropriate mammal.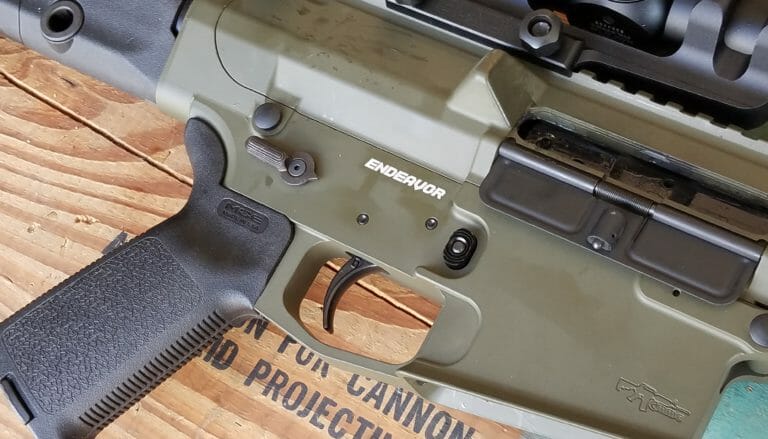 Let's cover the tech specs on the Endeavor 300 series.  As per CMMG's website:
Caliber: 6.5 Creedmoor
Barrel: 24" 1:8 Twist, 6.5 Creedmoor, Heavy Taper 416SS, SBN
Muzzle: CMMG SV Brake, threaded 5/8-24
Gas port location: Rifle Length
Receiver: Billet 7075-T6 AL upper, Billet 7075-T6 AL Lower
Hand guard: CMMG RML15 M-Lok hand guard
Finish: Cerakote Standard
Charging handle: CMMG Oversized Ambi
Butt stock: Magpul PRS
Trigger: Geissele Automatics SSA 2-Stage
Trigger guard: Integrated Into Lower
Safety selector: CMMG Ambi
Magazine: 20rd Magpul PMAG (LR-308)
Weight: 11 lbs 5 oz (unloaded)
Length: " 45.2″
Among the first things I like to check on a rifle I'm considering hunting with are the length and weight.  The 300 series is an absolute log at 11+ lbs.  The 100 (8.0 lbs) or 200 (9.1 lbs) series would make far more portable rifles for field use, but I'm also testing this as a long distance precision rifle where I think it will shine.  My hope during this elk season is to hike up to a hill that dominates the nearly terrain and plop down in overwatch of some target-rich elk country.  That should minimize the time spent hiking with the 300 and reduce the chance that I'll need to make a snap shot with it.  I figured since the Endeavor 300 is already 45″ long, I may as well go all out and put on a suppressor, an AAC 762sdn-6.
Initial inspection of the rifle was positive.  Receiver fit is tight, no sloppy machining marks and the cerakote was applied well.  These are simple signs that care and craftsmanship have been poured into this rifle from the get-go.  Yes this rifle is heavy, but it is well-balanced.  I mounted a Nikon Black FX1000 6-24×50 optic cradled in a Nikon scope mount.  I used Nosler Long Range Trophy Grade ammo (Accubond) in 129 gr for the first range day, and have Federal Premium ammunition in 130, 135 and 140 gr. variants in the mail for the next range trip.
I tossed the rifle into my Caldwell Stinger shooting rest.  It's not a vice, so human error can still play in, but it's a very stable platform.  I got a quick zero at 50 yards, chrono data, then a couple groups at 100 yards.  Here's a quick video from range day, then we'll cover the data.
The Nosler Accubond 129 gr round chrono'd in at an average of 2878 feet per second (FPS), for 2373 ft/lbs of energy at the muzzle.  My group at 50 yards was .64″ (1.22 MOA), or 1.24″ (2.36 MOA) with a called flyer.  Moving out to 100 yards, my best group was .48″ (.45 MOA), with my worst coming in at 1.22″ (1.16 MOA).  As far as initial range trips mostly intended to start breaking-in and getting a feel for the rifle go, this was a good start.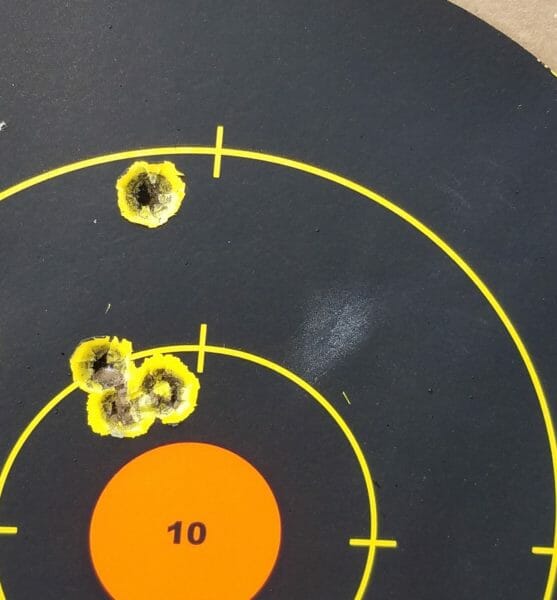 I set up my CTS mini E-type steel target (9″x15″) at 190 yards and got back behind the rifle.  Zeroed at 100, I was expecting a ~3″ drop at 200, or a little less than .5 MIL holdover on Nikon's reticle in the 6-24x Black FX-1000 scope.  I'm not going to try and convince anyone that a 9″x15″ steel plate at 190 yards is any kind of an uber-challenge, it's not.  But watch that video above and you'll notice the last 5 rounds all hit fairly near each other.  I wasn't shooting for a group, just centering the crosshair on the "head", which put my holdover in the upper third of the "torso".  Those last 5 rounds hit within 3.3″ (1.65 MOA) with a couple fired in rapid succession.  Again, not grouping just pinging some steel while getting a feel for the rifle's recoil pulse and the trigger.  I'm very excited to see what comes out of this rifle given more extensive range time dedicated to accuracy testing, additional variety in ammunition and a little less coffee beforehand.
Shooting the CMMG Endeavor 300 series is a dream.  I ran about half of the rounds suppressed, and didn't have any issues with excessive gas blowback.  The Geissele trigger is fantastic, with the two-stage pull lending itself well to precision marksmanship.  Recoil with this rifle is significantly less than any of my .308/7.62 variants, showing yet another reason so many are switching to 6.5 Creedmoor.
The bottom line is that CMMG is continuing to bring excellent design and execution to their rifle lines.  I can find no fault or complaint with the machining of the Endeavor 300.  While the accuracy testing is still preliminary, so far I can tell this rifle shoots better than I do, now it's up to me to make up the difference.  I'll be bringing updated range reports as well as a hunt report later this year.  In the meantime, check out CMMG's website and the Endeavor 300 series rifle.  MSRP on this rifle is $2349.95.
A special thanks to Nikon Sport Optics and Nosler Ammunition for providing optics, mounts and ammo for this series of articles.
---
About Rex Nanorum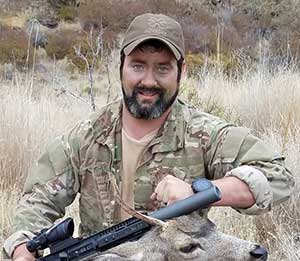 Rex Nanorum is an Alaskan Expatriate living in Oregon with his wife and kids. Growing up on commercial fishing vessels, he found his next adventure with the 2nd Bn, 75th Ranger Regt. After 5 tours to Afghanistan and Iraq, he adventured about the west coast becoming a commercial fisheries and salvage SCUBA diver, rated helicopter pilot instructor (CFII) and personal trainer, before becoming a gear reviewer and writer."