U.S.A. – -(Ammoland.com)- "As President Trump wants to fight drugs and migrants pouring into the U.S., Mexico is reeling from bloodshed fueled by American guns, bullets and grenades pouring into Mexico," San Diego's KPBS News reported Tuesday. "More than 33,000 people were murdered in Mexico last year, an all-time high. The police chief of Tijuana, Mexico's most violent city, told KPBS 'nearly all' of the more than 2,000 weapons seized in the city since 2016 were American-made: AK-47s, AR-15s, Glocks and more."
They're getting American grenades? Really?
Jefe Marco Antonio Sotomayor says the guns are coming in from the U.S. because of our "weak gun laws." One of the source states he blames is #1 Brady-rated California. He says there is "no way for people to buy them" in Mexico because there's only one gun store, it's controlled by the army, they restrict what people can buy, impose a six-month background check and they maintain a federal registry.
Disregard for a moment allegations that "corruption is deeply embedded within the municipal and state police forces in Tijuana." If the chief says so, it's got to be America's fault.
If so, it's an admission that the four Southwest border state multiple long gun transfer reporting requirements imposed by the Obama administration didn't work. It's also an admission that laws forbidding transfers to prohibited persons like criminal aliens, which also apply to private sales, don't work either. Neither do background checks for dealer sales going through NICS. Ditto for waiting periods and registration, by including California in the mix…
"About 70 percent of the 15,316 weapons submitted to the U.S. Bureau of Alcohol, Tobacco, Firearms and Explosives (ATF) by Mexican authorities nationwide in 2017 were traceable to the U.S.," the KPBS article continues.
Do they really want to play this game again?
When gun-grabbers first started throwing around that claim, they were assuring us it was "95 to 100 percent." The con they're pulling is limiting numbers to what is being submitted for tracing. The total population of guns recovered but not submitted is much larger. And the total number of guns in the hands of Mexico's warring cartels equips armies.
Speaking of which, since KPBS brought up "grenades," who thinks the cartels get their weapons onesie-twosie from U.S. gun stores and gun shows? How about their "U.S.-military issued rifles, machine guns, grenade launchers and explosives"?
In reality, many of the weapons are obtained from police, Army deserters and corrupt administrators.
As I explained in a 2013 report:
"In January 2011, news reports explained not only how weapons were being smuggled into Mexico across its southern border, but even identified the criminal enterprise behind the operation: Los Zetas. As the gang was started by defecting military and has been abetted along the way by cartel/police alliances and corruption extending into the highest offices, there's also a largely unexplored diversion of U.S. weapons approved for transfer to the Mexican government by our State Department."
"Those weapons are being used by drug cartels to enforce their business, to go after law enforcement, Mexican authorities and innocent civilians," Ernesto Diaz, an assistant special agent in charge with the ATF, weighed in for KPBS. The thing is, he's intentionally bolstering the meme that it's America's fault via "U.S.-based smugglers." That way, politicians and the media can exploit Mexican violence to step up American demand for citizen disarmament.
Good ol' ATF. This was exactly the rhetoric when Operation Fast and Furious "gunwalking" got its start, as a shortcut to spook the herd into agreeing "something must be done." Eric Holder was hoping for a semi-auto ban.
Still, seeing as how Democrats, their media cheerleaders, and the Mexican government are once more in a lather over accusations about U.S. guns in the hands of Mexico's homicidal underworld, perhaps a bipartisan, commonsense reasonable restriction through compromise is in order:
How about if both governments enforce the damn border?
---
About David Codrea: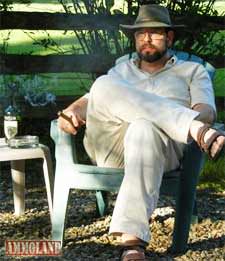 David Codrea is the winner of multiple journalist awards for investigating/defending the RKBA and a long-time gun owner rights advocate who defiantly challenges the folly of citizen disarmament. He blogs at "The War on Guns: Notes from the Resistance," is a regularly featured contributor to Firearms News, and posts on Twitter: @dcodrea and Facebook.